Where to Find Charlotte the Alligator in Bear and Breakfast
This half-tailed alligator is sweeter than she seems!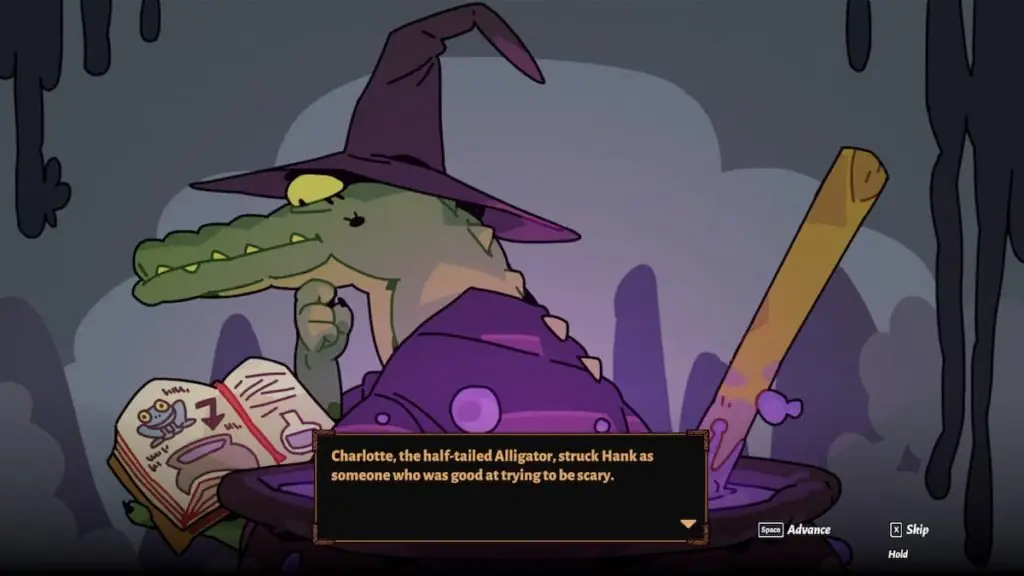 Bear and Breakfast is bursting with adventure and unique characters! If you love games like Animal Crossing which feature snugglable animals, this game is perfect for you. Although there are a few human characters littered throughout the game, most of the main characters are animals. One character that many people are gushing about is Charlotte, the half-tailed alligator. Charlotte may not be too cuddly, but she's much nicer on the inside than she'd have you believe! If you want to know how to find this gator witch, you're in luck! This is a detailed guide on how to find Charlotte in Bear and Breakfast!
Where to Find Charlotte in Bear and Breakfast
Charlotte is a talented witch that resides deep within the Blackmoss swamp. Similar to Gus the Possum, Charlotte tries her best to make others think she's rude and apathetic, when in reality, she is actually very kind. You can first meet Charlotte on the Rat Pack quest, while you're trying to find Wade, the rotund rat.
You'll be able to find Wade snuggled up in Charlotte's hut, where he was brought once Charlotte found him wandering around the swamp. You can easily complete this quest by hunting down some Charcoal Lillies for Charlotte; thankfully, you can find these flowers growing everywhere in the swamp! You can't reach her hut in Blackmoss by just any route though, you'll need to take a hidden Blackmoss route to find her. To find Charlotte in Bear and Breakfast, carefully follow these steps:
Open Bear and Breakfast on your PC or Nintendo Switch.
Go to Timber Crossing via Fast Travel or on foot.
From Timber Crossing, go to the path that leads to the A24, and walk down it. Once you're in the A24, keep walking for a few yards, then stop. Turn left, and keep going for a few more yards.
Along the left side of the A24 map, there should be a marked, grass pathway that leads to a secret, otherwise unreachable portion of Blackmoss. Walk down this pathway until you enter Blackmoss.

Be sure to accept the Rat Pack quest from Anton before you try to search for Charlotte, so this pathway will become unlocked for you.

Once you're inside the swamp, go all the way to the left of the map. In the bottom, left-hand corner of this portion of Blackmoss, there should be a small hut.
Once you reach the hut, Charlotte should be waiting inside or wandering around the swamp close by.
Congratulations! If you followed all the steps, you should have easily found Charlotte in Bear and Breakfast!
Related: Where to Find the Travel Itinerary in Bear and Breakfast
Charlotte is a lovable, half-tailed witch that's not nearly as difficult to find once you know where to look! There are many more lovable characters in Bear and Breakfast, however, like Took the scruffy Racoon and Ipswitch the distinguished Turkey! If you ever find yourself stuck in this beary entertaining game, be sure to check out Gamer Journalist's numerous other Bear and Breakfast guides!