How to Build a Dining Room in Bear and Breakfast
You can't have a Bed and Breakfast without a place to serve breakfast!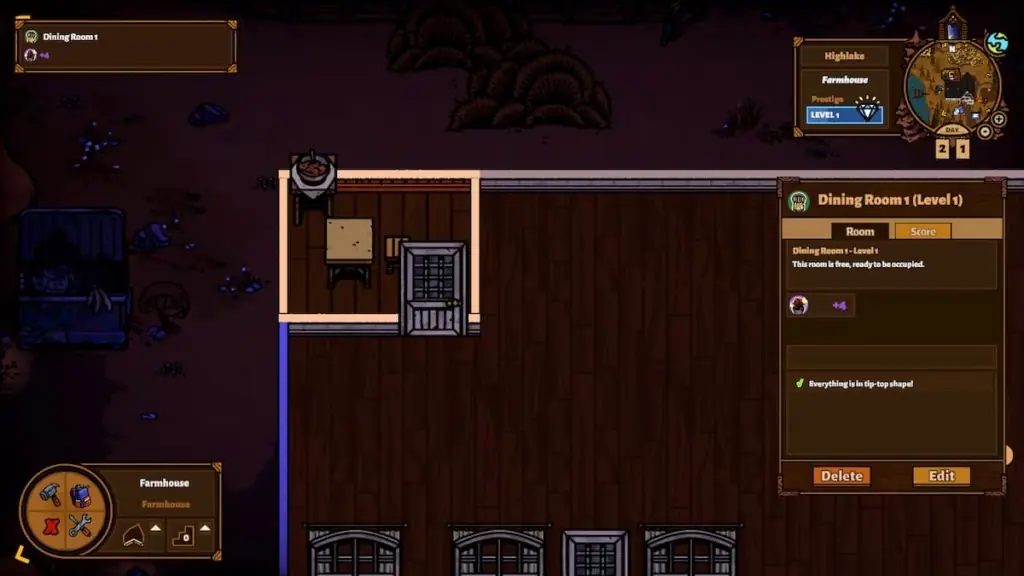 Bear and Breakfast is all about building the B&B of your dreams and going on adventures! If you've always wanted to build a bed and breakfast in the middle of the woods (for whatever reason) and go on magical adventures with your friends, you definitely need to invest in Bear and Breakfast! You can deck out your B&B with whatever your little heart desires, but first, you need to ensure that your establishment has all the essentials. Before you can start decorating for real, you'll need rooms like a bathroom, bedrooms, and a dining room! Dining rooms are especially important; you can't have a bed and breakfast if you've got nowhere to serve breakfast! Thankfully, dining rooms are easy to build and only take a few pieces of craftable furniture to set up. This is a comprehensive guide on how to build a dining room in Bear and Breakfast!
How to Build a Dining Room
Building a dining room in Bear and Breakfast sounds complicated, but it's actually incredibly simple! You can build your first dining room about midway through the game in the Farmhouse. You will get the basic crafting recipes you need by completing a quest for Julia, the goat that looks after the property. You'll be able to unlock crafting recipes for nicer dining room furniture later in the game, but this will be the earliest point that you can build a dining room in Bear and Breakfast. To build your dining room, follow these steps:
Open Bear and Breakfast on your PC or Nintendo Switch.
After you complete a quick quest for Julia, she will give you the crafting recipes needed to build a dining room, which are: the Little Dinner Stool recipe, the Small Playwood Table recipe, and the Tiny Buffet recipe.
After you have the recipes unlocked, head to the crafting table on the side of the Farmhouse. Open up the crafting table and look to the "Recipes" column to your right. Locate the crafting recipes that Julia unlocked for you, and begin crafting them.

To craft an item, all you need to do is click on the recipe in the column. Clicking on it should bring it up to the main part of the table, where you'll need to select the required materials, and then click the icon that looks like a small hammer at the bottom of the screen.
The Tiny Buffet only takes two Plywood Planks to build, the Small Plywood Table takes two Plywood Planks and one Iron Nail to build, and the Little Dinner Stool takes only one Plywood Plank to build.

Once your furniture has been crafted, you will be able to build a dining room! Click the button that says "Build a Room", click "Food", and then click "Dining Room". Place your dining room wherever it fits inside the Farmhouse.

The room will need to at least be 3×3 in size.

Once you've got the room build, place a door down where you want the entrance to be. Then place your freshly crafted furniture down in the room; you don't need to place them in any particular order, so long as all the required furniture is inside.
Congratulations! You've successfully built a dining room in Bear and Breakfast!
Related: How to Craft a Shabby Palette Bed in Bear and Breakfast.
If laid-back gameplay and mysterious subplots are your thing, then you definitely need to consider adding this game to your collection. If you want to focus on the building and decorating aspects of Bear and Breakfast, don't worry! Although adventurous quests are always available to you, the game never pressures you into completing them and allows you to go at your own pace. If you ever find yourself stuck in this game, be sure to check out Gamer Journalist's numerous other guides for Bear and Breakfast!