Where to Find Ipswitch the Turkey in Bear and Breakfast
Ipswitch is an incredible asset to anyone's playthrough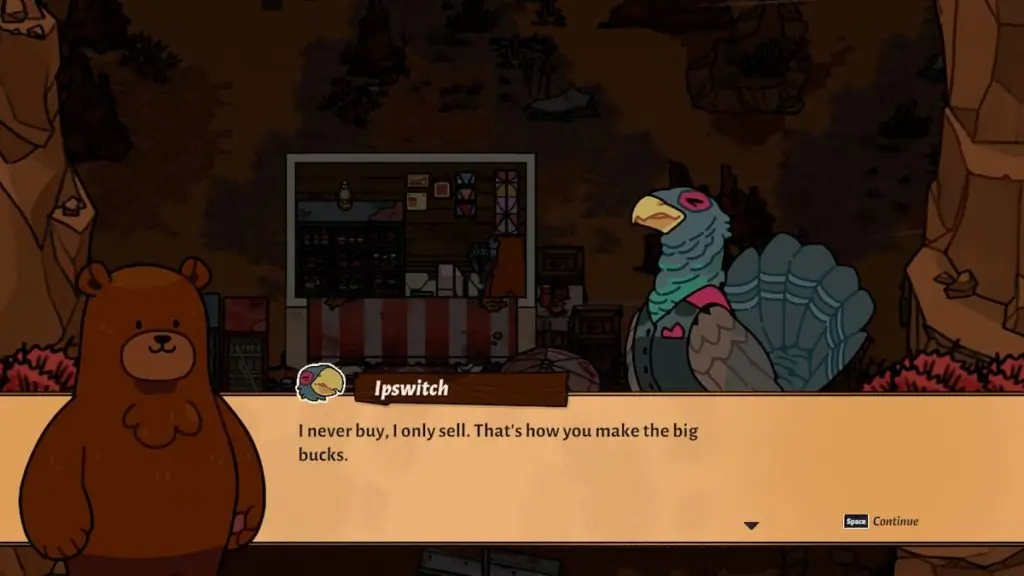 Bear and Breakfast is a charming, cozy management adventure game with an adorable twist: you get to play as a grizzly bear! This game is a dream come true for animal lovers everywhere. In addition to being delightfully endearing, Bear and Breakfast is embearassingly addictive; if you want a game that you'll have trouble putting down for hours upon hours, Bear and Breakfast is the right game for you! This game has a whole cast of adorable characters, such as Anni the karelian hound, Will the poorwill, and Ipswitch the turkey! Ipswitch is especially beneficial to your playthrough of Bear and Breakfast, he has tradable wares that you can't get from anywhere else! Keep reading if you'd like to know where to find Ipswitch in Bear and Breakfast!
Where to Find Ipswitch the Turkey in Bear and Breakfast
Ipswitch is an incredible potential asset to your playthrough of Bear and Breakfast! Ipswitch has numerous items in his shop for sale, including food, cooking recipes, crafting blueprints, and clothing. If you found Took's shop lacking in any way, you definitely need to pay this turkey's shop a visit. Thankfully, this respectable turkey can be found fairly early in the game. If you want to be able to trade with Ipswitch in Bear and Breakfast, follow these simple steps:
Open Bear and Breakfast on your Nintendo Switch or PC.
First, make sure you've completed at least 4 guest stays at your B&B. Many guests only require one night's stay, so this shouldn't take too long, especially if you sleep through the nights.

You'll need to have also finished the "What Did I Say" quest.

After completing the "What Did I Say" quest, Anton should come to speak with you. Anton will tell you that he has cleared one of the roads and subsequently opened a new part of the map (the A24) to you.

Anton will also ask that you come to visit him for a chat. Once you get to this location, you can locate and talk to Anton first if you want to, but you don't need to if you just want to find Ipswitch.

Travel to the new part of the map (the A24) that Anton has opened for you. Locate the Dump that Anton asked you to travel to, and then head immediately Northwest from it (down and to the left).
You'll be able to easily locate Ipswitch inside a small, brightly colored shop.

Although you can go inside and speak with Ipswitch at this point in the game, you have to complete the "Rat Pack" quest given to you by Anton before you can trade with him.

Congratulations! You've successfully located Ipswitch in Bear and Breakfast!
Related: How to Find Clementine in Midtown in Stray.
Ipswitch in Bear and Breakfast is only one of the numerous adorable characters in this game! If you love games like Bear and Breakfast which feature adorable furry friends, be sure to check out Gamer Journalist's guides for Animal Crossing and Stray!