Terraria Journey's End Whip Locations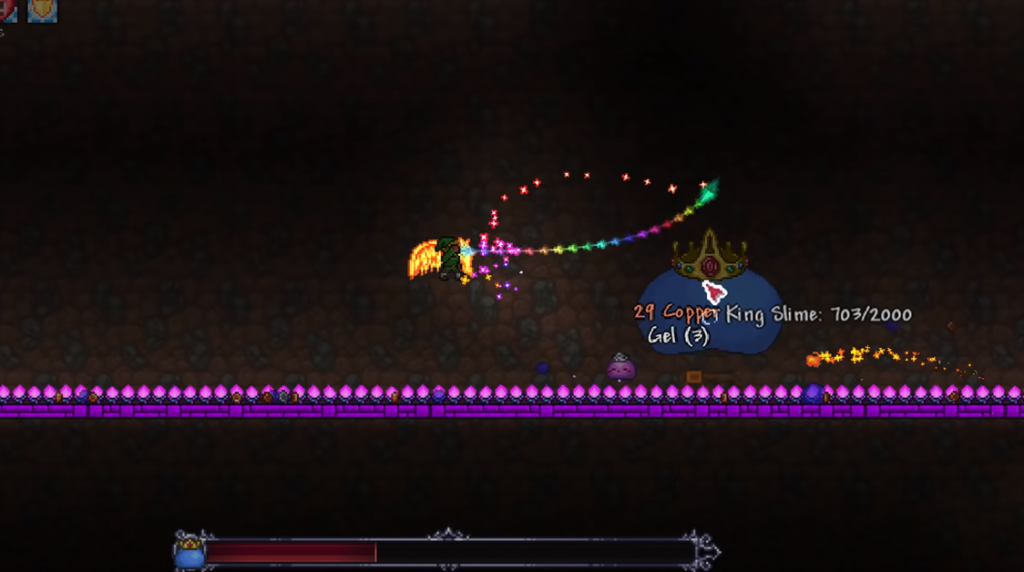 The fourth and final update for Terraria is here. Journey's End released this past weekend, bringing the concurrent Terraria player count to record highs. Tons of new content was added into the game, including over 800 new craftable weapons. In this guide, we're going to show you all of the Terraria Journey's End Whip locations.
Whips are a new type of weapon for players who like to go with Summoner loadouts. Whips are mostly found throughout your journeys in the world. Though, some can be made and others can be bought from vendors.
Terraria Journey's End Whip Locations
Leather Whip
Snapthorn
Firecracker
Cool Whip
Durendal
Dark Harvest
Kaleidoscope
Morning Star
Leather Whip
Damage: 14
Location: Sold by Zoologist
Requirements

Empty house for the Zoologist to move-in
Beastiary must be over 15% complete

Damage Modifiers

Knockback: 0.5
Use Time: 30
Deals four summon tag damage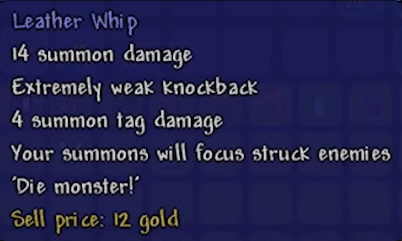 Snapthorn
Damage: 40
Location: Crafted at Iron/Lead Anvils
Requirements:

Jungle Spores x3
Vines x3
Stingers x12

Damage Modifiers

Knockback: 1
Use Time: 30
Attack speed increases as enemies are hit
Inflicts poison debuff
Six summon tag damage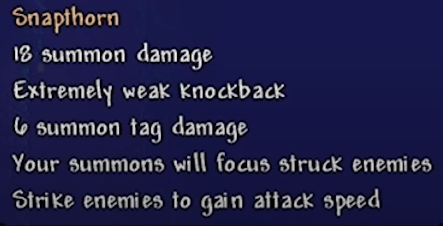 Firecracker
Damage: 40
Location: Drops from Wall of Flesh Boss, Underworld
Requirements: Hardmode
Damage Modifiers

Knockback: 2
Use Time: 30
Deals burning damage
Enemies explode when hit with a summon strike

Cool Whip
Damage: 50
Location: Crafted at Mythril/Orichalcum Anvil
Requirements: Hardmode

Frost Core x1
Soul of Night x8
Soul of Light x8

Damage Modifiers

Knockback: 1.5
Use Time: 30
Creates snowflakes that lock onto enemies and deal AoE damage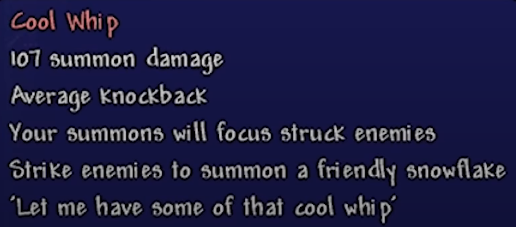 Durendal
Damage: 55
Location: Crafted at Mythril/Orichalcum Anvil
Requirements: Hardmode
Damage Modifiers

Knockback: 2
Use Time: 30
9 Summon Tag Damage
Your summons will focus struck enemies
Strike enemies to gain attack speed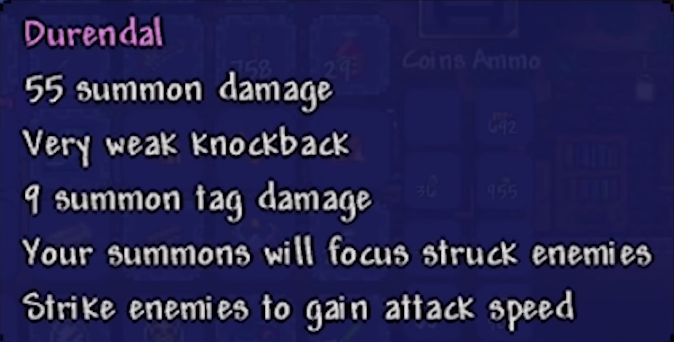 Dark Harvest
Damage: 130
Location: Drops from Pumpking
Requirements: Hardmode
Damage Modifiers:

Knockback: 3
Use Time: 30
Your summons will focus struck enemies
Strike enemies with dark energy to gain attack speed
Dark energy jumps from enemies hit by summons
Kaleidoscope
Damage: 165
Location: Drops from Empress of Light
Requirements: Summon Empress of Light
Damage Modifiers

Knockback: 4
Use Time: 30
20 summon tag damage
10% summon tag critical strike chance
Summons focus struck enemies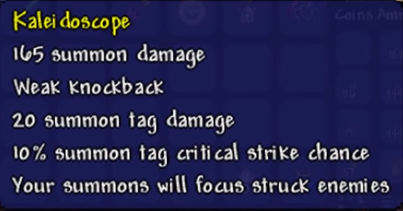 Morning Star
Damage: 180
Location: Drops from Armored Bones in the Dungeon
Requirements: Hardmode
Damage Modifiers

Knockback: 11
Use Time: 45
Minions attack targets with increased damage
Inflicts 5 summon tag damage
5% critical strike chance
Summons focus on hit enemies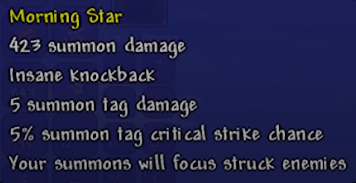 About the author