How to Find Aether Biome in Terraria
Don't jump into that pool. Really.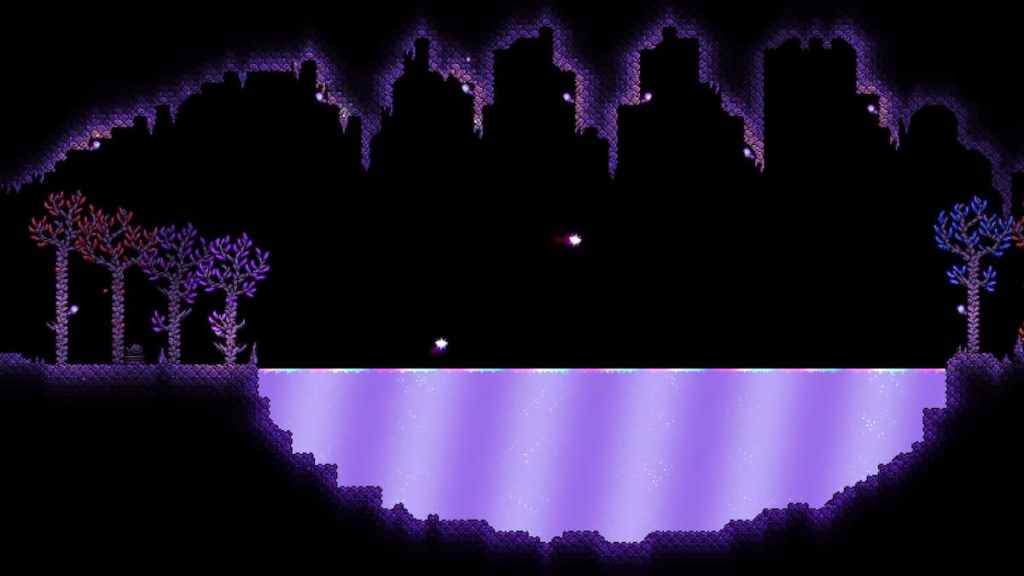 The world of Terraria is a big one. In fact, I assure you that you would never get bored while finding new areas that will defy your imagination. I mean, the amount of different biomes in the game is remarkable: a space biome, an evil biome, desert biome, snow biome, even the Underworld! Well, we may not be visiting Hades and paying Charon a couple of coins, but we will be very close. Here is how to find the Aether Biome in Terraria.
How to Find Aether Biome
In order to find the Aether Biome in Terraria, you will have to start a new world. Once you are inside it, you will have to locate on which side of the world the Jungle is. Once you have located it, travel over there and, in the same direction, find the Ocean. You will have to start digging on the land next to the ocean, and make your way down to find the Aether Biome. Prepare for some digging, you will have to pass the Underground layer all the way down to the Cavern layer.
It will take around 300 blocks to dig in order to get to the Aether Biome. You will know you are there once the stones get darker, and you have a starry background. Oh, and because there is a large pool of purple Shimmer over there. The Shimmer liquid you find here will become of use for you, since it will grant permanent bonuses if you throw specific items into it. So you better collect some of it once you are here, by pumping.
Related: The 10 Best Terraria Texture Packs Of All Time
Well, this biome is really calming. For now, this is the only source of Shimmer, so make the best out of it. Just so you know, the benefits will not work in lands where the Moon Lord boss is still alive, so you better get rid of him. Moreover, after defeating him, you will be able to get the Bottomless Shimmer Bucket that will be able to pour endless amounts of Shimmer.
---
Terraria is available now on PlayStation 5, PlayStation 4, Xbox Series X/S, Xbox One, Nintendo Switch, Windows, macOS, Android, and iOS. Please check out Gamer Journalist on Facebook to join the discussion and keep up to date with our content. You might also like to check out or guides on How To Get Shadow Scales in Terraria or How to Favorite Items in Terraria.