Fortnite: Obi-Wan Is Coming to the Island
Two Weeks of Celebrations in a Galaxy Far, Far Away!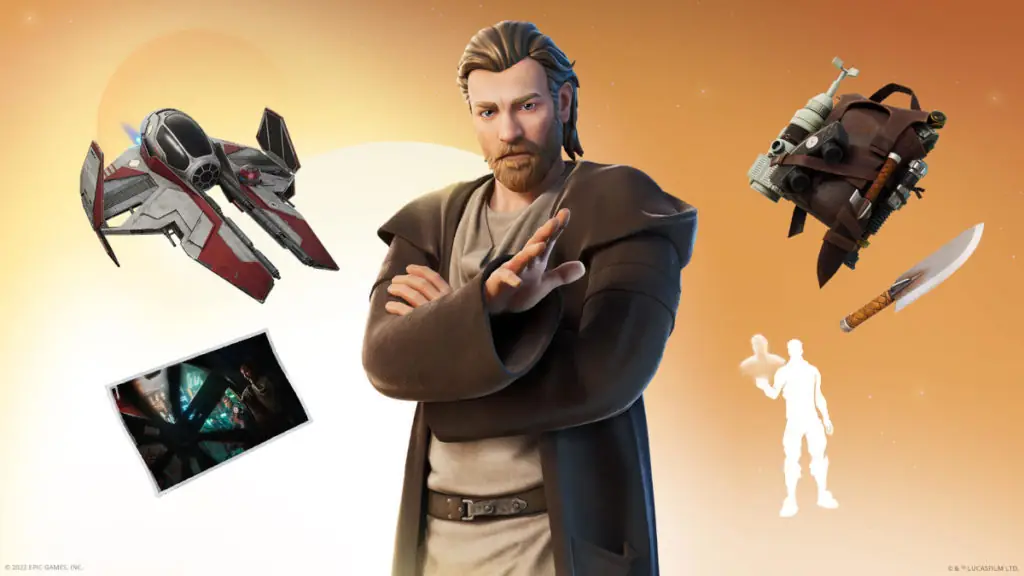 UPDATE (5/20/2022):
It turns out the rumors were true! Epic Games has announced that an outfit themed after Obi-Wan Kenobi will be made available starting Thursday, May 26, 2022 at 8 PM ET. In addition, the Fortnite Item Shop will be carrying an Obi-Wan Back Bling, Glider and Pickaxe, and more! It's just in time for Kenobi's first two episodes on Friday.
But, that's not all!! Players who are interested in earning the outfit and back bling early can compete in the Obi-Wan Kenobi Cup, which begins on Sunday, May 22. In this duos tourney, lightsabers and E-11 Blaster Rifles will make their return after the official Star Wars x Fortnite came to an end on May 17.
According to Epic Games, cup competitors "can play up to ten matches within their region's three-hour time window, and the specific event timing for each region can currently be found in the Compete tab in-game."
Included in the Obi-Wan Kenobi Bundle is:
Desert Essentials Back Bling (included with the outfit)
Obi-Wan's Blade Pickaxe
Jedi Interceptor Glider
Obi-Wan's Message Emote
Kenobi, Surrounded Loading Screen
Each of these items is available either separately or as part of the bundle — except the loading screen, which seems to be exclusive to the bundle).
The original story, published on 5/3/2022, will follow:
—
It's that time of year again: May the fourth be with you.
As millions prepare to celebrate their love of all things Star Wars, Fortnite may have something extra special in mind. In addition to the inclusion of lightsabers in the beloved free-to-play Battle Royale, a leak would suggest a new Obi-Wan Kenobi skin will be made available to celebrate the Obi-Wan series coming to Disney+ on May 27.
The supposed leak, posted to Twitter by @HYPEX, is a still-frame showing a robed character holding a blue lightsaber. Admittedly, it isn't much to go on, but it would certainly make sense given the timing of the upcoming series.
Fortnite's event celebrating Star Wars also brings some new goodies for players to take advantage of.
Lightsabers — belonging to Luke Skywalker, Kylo Ren, Mace Windu, and Obi-Wan Kenobi — can be found across the island, in addition to E-11 blaster rifles, which can be found at various checkpoints set up by Stormtroopers.
Players can also receive training to become a Stormtrooper by accepting quests, which will involve confiscating vehicles, lightsabers, and more. Quests are only available until May 17 at 12 AM ET, but you'll earn an Empire Banner if you complete five.
Lastly, a variety of Star Wars-themed skins will make a comeback. In fact, according to Epic Games, every non-Battle Pass outfit that's been in the item shop will be returning, including:
Imperial Stormtrooper
Kylo Ren
Zorii Bliss
Finn
Rey
Sith Trooper
Boba Fett
Fennec Shand
Krrsantan
If you would like to take part in the intergalactic celebration, it will be held through May 17, so make sure to drop in and check it out before it ends!