Roblox Block Miner Codes (April 2023)
Destroy Blocks, Acquire Currency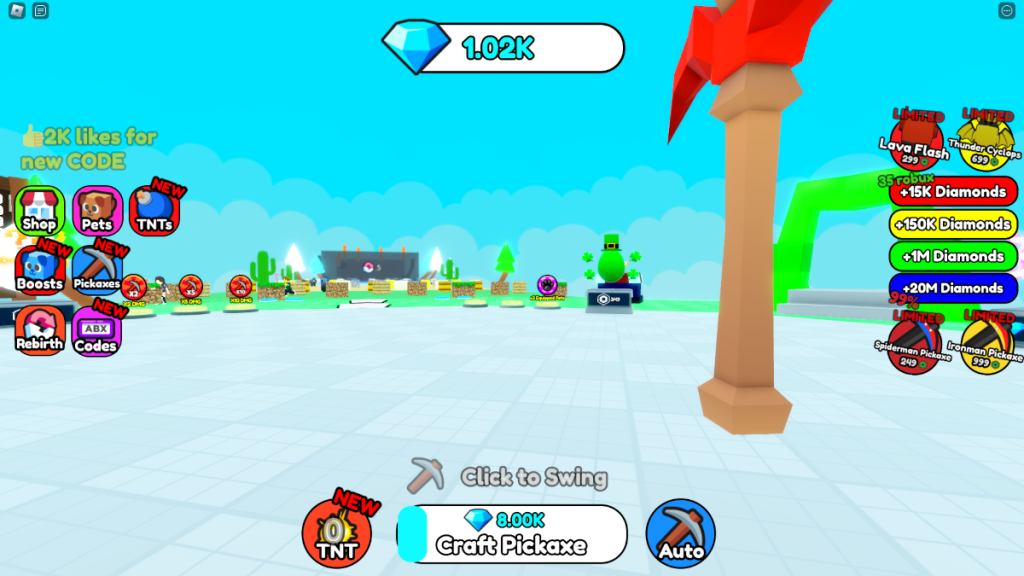 At the end of the road, a lot of Roblox experiences are nothing more than resource management sims. I mean, you start with nothing, you earn currencies, and must then decide if it's worth it to spend said currencies on the potential of earning more currencies. Rinse and Repeat, ad nauseum. In Block Miner, this is made true to a disturbing degree, as you must mine a seemingly infinite amount of blocks.
In this specific instance, it'd seem that all codes for Block Miner can be redeemed for a hefty amount of diamonds, which can be used to upgrade your axe, or give you rebirths, which in turn can increase your overall power if used strategically. If you'd like to take advantage of these codes, you're in the right place!
All Block Miner Codes List
Block Miner Codes (Working)
These are all the working Block Miner codes.
OhMyGod — Unlocks: 15,000x Diamonds!
ImDreaming — Unlocks: 15,000x Diamonds!
Block Miner Codes (Expired)
These are all the expired Block Miner codes.
There are no expired codes!
Related: Roblox Smasherman Simulator Codes (March 2023)
How to Redeem Codes in Block Miner
Follow these instructions in order to redeem codes in Block Miner.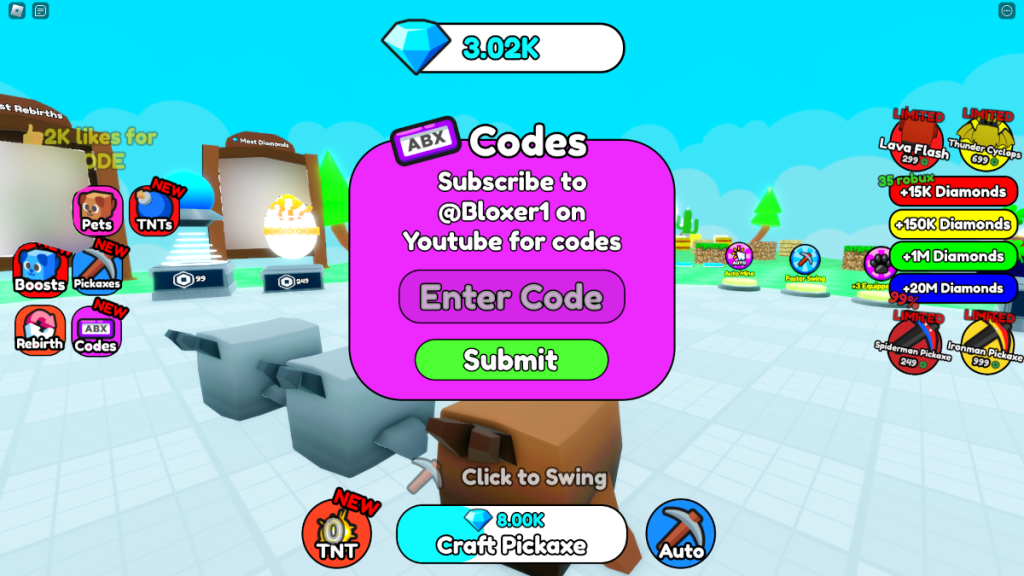 Launch Block Miner on Roblox.
In the main hub world, click the button on the left-hand side with a CODES label.
Input the codes into the space provided and click SUBMIT.
How Can You Get More Block Miner Codes?
As in many other experiences on the Roblox platform, it looks like developers Bloxer2 are planning to release new codes as the game reaches new milestones. At the time of writing, the next code is planned to drop when the game reaches 3,000 likes, of which it's reached nearly 2,200. So, if you'd like to be on the ground floor for the next Block Miner code, be sure to give the game a 'like' on Roblox!
Why Aren't My Block Miner Codes Working?
If the codes you're inputting are not being accepted by the game, there are a number of reasons why this could be happening. To start, make sure you're copying and pasting the codes into the space provided, rather than inputting them manually. This is to avoid any user error from being introduced in the input process. If you're already doing this, then there's a chance the codes have expired.
Other Ways to Get Free Rewards in Block Miner
If you'd like another free reward outside of codes for Block Miner, then do we have good news for you! If you join the developer's group before loading the game, you can earn an additional +25% damage boost! Just make sure to do this before opening the game, or it may not register that you're a member of the group! This boost will assist you in destroying more blocks, which will help you earn more diamonds!
What is Block Miner?
Block Miner is an experience developed by Bloxer2 for the Roblox platform. In the game, players are tasked with destroying a series of increasingly powerful blocks, which will net them diamonds. These diamonds can then be used to upgrade their axe or earn them 'rebirths,' which will increase their power! If they are strategic in using the tools at their disposal, players will soon be decimating blocks with a touch in their quest to become the strongest (and most wealthy) in the game!
If you're looking for more codes, there's definitely more where these came from! Check out Gamer Journalist's veritable treasure trove of codes and guides for all your favorite experiences in our dedicated Roblox section! And, in the meantime, be sure to check out our other, non-Roblox work here!