Psychonauts 2 Voice Actors
A full list of the Psychonauts 2 voice actors, including returning cast and some of the major players from the new cast.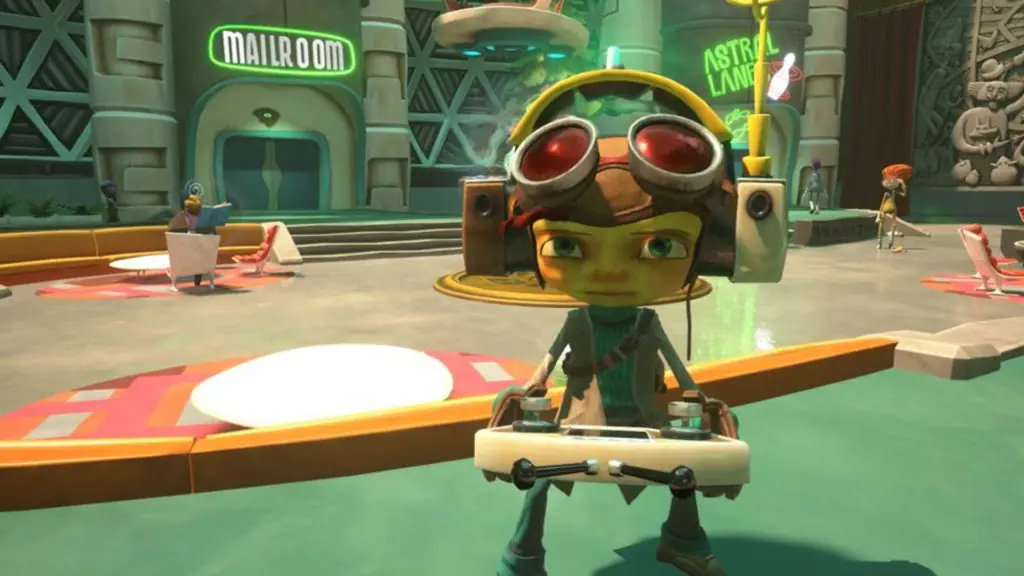 Part of what made the original Psychonauts so memorable (besides its awesome art design, hilarious script, excellent platforming, and a bunch of other things) was its talented cast of voice actors. Those actors brought every character to life with an expertly tuned sense of purpose and personality, and while it's been sixteen years, the cast's talent hasn't diminished in the slightest. Here are the voice actors for Psychonauts 2.
We'll start with the returning cast from the first game, and move on to some of the major players from the new cast.
The Psychonauts 2 Voice Actors
Razputin Aquato: Richard Horvitz
Our protagonist, Razputin "Raz" Aquato, runaway circus acrobat and psychic prodigy, is played by Richard Horvitz. Horvitz is best known for his work as Zim in Invader Zim, though he's been making waves recently in his role as Moxie in the web series Helluva Boss.
Lili Zanotto: Nikki Rapp
Raz's girlfriend and the daughter of the Psychonauts' Grand Head is played by Nikki Rapp. Rapp's been in and out of the business in recent years, though you may remember her as Lily in The Walking Dead: The Final Season.
Coach Oleander, Dr. Loboto: Nick Jameson
Pulling double duty as two reformed(ish) villains from the first game is Nick Jameson. While he doesn't have many starring roles, you may have heard Jameson in passing, as he's provided NPC lines for a bunch of different games in the past decade.
Sasha Nein: Stephen Stanton
Returning as the expert psychic scientist and one of Raz's mentors is Stephen Stanton. Despite what his serious demeanor as Sasha may imply, Stanton's got some serious range. You can see him right now as the bumbling duo of Needleman and Smitty in Disney's Monsters at Work. Yes, he's both of them.
Milla Vodello: Alexis Lezin
Once again playing the fun-loving levitator of the Psychonauts is Alexis Lezin.
Ford Cruller: David Kaye
As the founding Psychonaut with the fractured mind, Ford Cruller, we once again have David Kaye. Kaye's had a long and successful career, and as his role as Ford may imply, he has an affinity for older characters such as Grandpa Max in Ben 10.
Next, here are some of the major players from the new cast.
Hollis Forsythe: Kimberly Brooks
As the super-serious Second Head of the Psychonauts, we have Kimberly Brooks. Brooks has provided backup voices in lots of cartoons, though her most prominent recent roles are as Bumblebee in DC Super Hero Girls and Teela in the recent He-Man reboot.
Truman Zanotto: Darin DePaul
As the Grand Head of the Psychonauts and Lili's dad, we have Darin DePaul. DePaul's an expert at gravelly-voiced characters like Truman, evidenced by his role as Samuel Hayden in DOOM, though he's also an accomplished live performer, appearing on late-night shows hosted by Jimmy Kimmel and James Corden.
Lizzie: Grace Kaufman
As punk rocker intern Lizzie we have Grace Kaufman, who's appeared in a myriad of cartoons and live-action productions, ranging from several Mickey Mouse cartoons to the much more serious The Last Ship.
Morris: Giancarlo Sabogal
As psychic intern and radio enthusiast Morris we have Giancarlo Sabogal. A fairly fresh face in the scene, Sabogal's first named role was as Schuri in Epic Seven.
Adam: Tru Valentino
As telekinetic intern and history buff Adam we have Tru Valentino. Valentino most recently appeared as Black Panther in Spidey and His Amazing Friends, and he'll also be appearing as Cuphead in the upcoming Netflix adaptation of the hit game.
Norma: Catherine Taber
As Lizzie's sister and major teacher's pet Norma, we have Catherine Taber. Taber has a regular role as Lori Loud on The Loud House, and she'll also be playing Princess Leia in the upcoming Star Wars: Detours.
Sam: Kate Higgins
As the older sister of Dogen Boole from the first Psychonauts, Sam Boole, we have Kate Higgins. Higgins has held a ton of major names in game and animated productions, including Tails in Sonic Colors, Pauline in the recent Mario games, and Lady in Devil May Cry 5.
Gisu: Poonam Basu
As skateboarding engineer Gisu we have Poonam Basu. If you play Genshin Impact, you've heard her voice before, though perhaps in a different tone; Basu provides the voice of the hyperactive Klee.
Finally, it would be remiss of me not to mention the game's two very special cameos: Jack Black and Elijah Wood. I can't say precisely what their roles are, as it's a bit of a spoiler, but trust me, you'll know them when you hear them.
For more related content, make sure to check out our website's Psychonauts section!