Where to find the Traveling Merchant in Pet Simulator X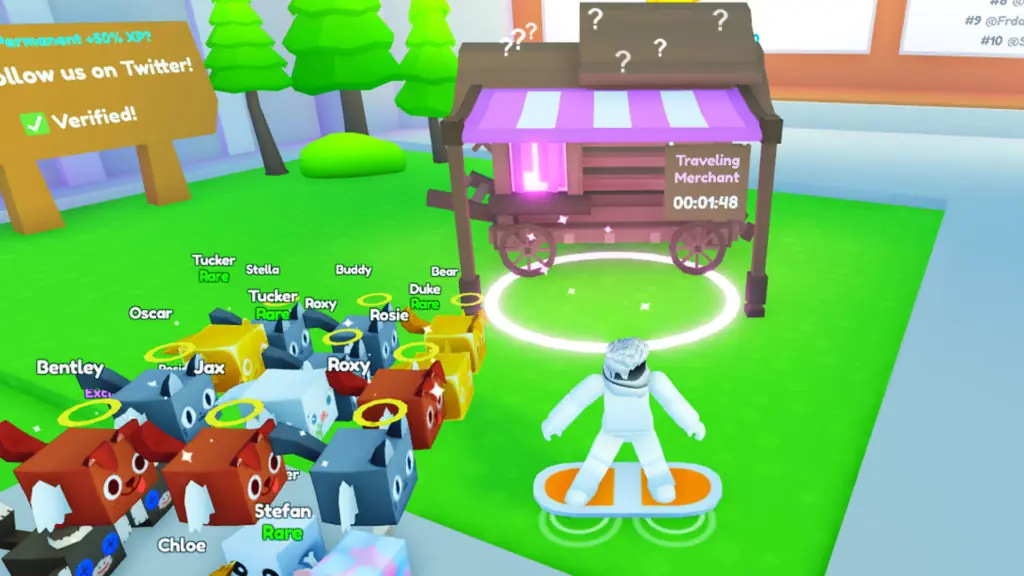 Pet Simulator X introduced the Traveling Merchant to the game on its September 4, 2021, update. The new Merchant allows players to purchase some amazing pets in exchange for Diamonds. The number of pets is limited, but if you need better pets, this is a good option. In this guide, we will show you how to find the Traveling Merchant in Pet Simulator X.
The Traveling Merchant can be hard to find, so you may want to read through our guide to know how it works. A lot of this comes down to luck and persistence, so don't give up on looking for the Merchant if you really want some pets!
Remember to check out our Pet Simulator X codes to take advantage of free Gems, Boosts, and more!
Where to find the Traveling Merchant in Pet Simulator X
The Traveling Merchant shows up in the Spawn World in front of the player leaderboards. It is not always available on every server, though. If you're looking for one, you may need to server hop until you finally find the Merchant. You can also join Discord and look for people advertising their game that has the Traveling Merchant.
When you finally find the Traveling Merchant in Pet Simulator X, you can interact with it to browse its inventory. Pets can cost anywhere from 100,000 Gems all the way up to 24 million Gems! You will need to make sure you have the proper amount of Respect Level to buy certain pets.
There is also a limited number of pets available, so you'll need to try and act fast when you find a Traveling Merchant in your game. They are well worth the search, though, as these Pets are very powerful and can easily replace some of the best pets in the game.
How to earn more Respect in Pet Simulator X?
To earn more respect in Pet Simulator X so you can purchase pets from the Traveling Merchant, you'll need to buy some pets from the Merchant. Currently, that's the only way you can raise your Respect Level.
For more related content, make sure to check out our website's Pet Simulator X to learn everything there is to know about the most popular pet collection game on Roblox!