Pet Simulator X Halloween Update
Here's everything new in the Pet Simulator X Halloween Update.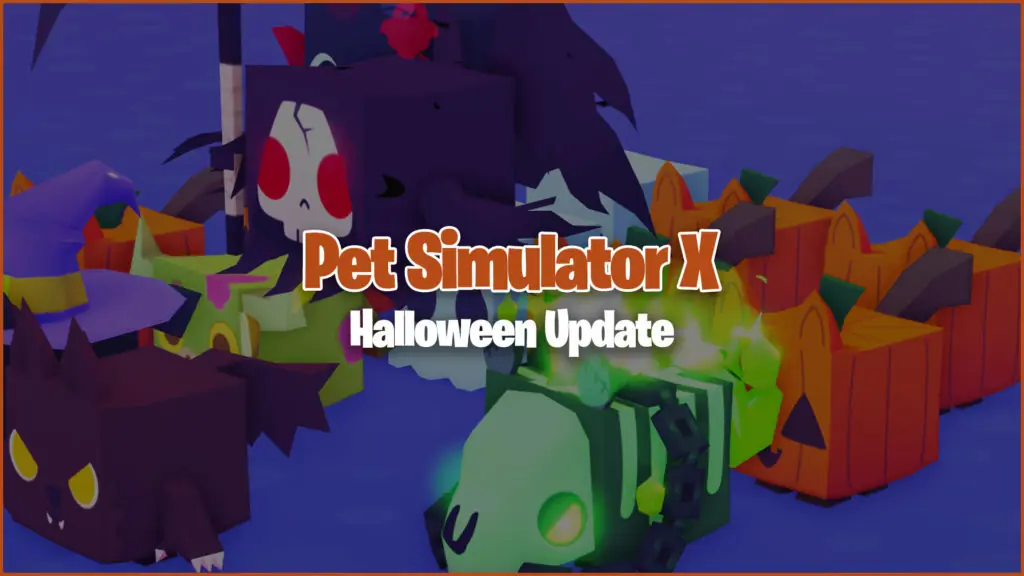 The Pet Simulator X Halloween Update is now live in the most popular pet-collection game on Roblox. In the spirit of the spooky month of October and the Halloween holiday, the Pet Simulator X Halloween update brings a lot of seasonal content into the mix, including new eggs, pets, pumpkins, and more. You can read all about the update and what to expect below.
Get free in-game rewards and boost with our Pet Simulator X codes.
Pet Simulator X Halloween Update
Here's a look at all of the official changes and update log for the Pet Simulator X Halloween Update:
Official Changes:
Adjusted Currency Interface – Currency UI is now smaller, which should help free up more screen real estate.
Exclusive Shop – Changes to the exclusive shop include fifteen rebranding for the 15 Pets Equipped to explain more about what it does.
Adjusted Music Volume – Adjusted the music volume of some tracks.
Update Log:
Halloween Event!
Halloween Candy!
13 New Pets!
3 New Eggs!
Halloween Makeover!
Giant Pumpkin!
Exclusive Pets Refresh!
Trading Plaza Changes!
Interface Upgrades!
Candy
It's time to trick-or-treat because Candy has been added as a limited-time currency for Pet Simulator X. You can get Candy by playing normally, as you would any other type of currency, at no extra cost.
New Eggs
There are three new Eggs available in the Pet Simulator X Halloween Update. New eggs are only available for a limited time and include:
Cursed Egg – 666K Candy
Pumpkin Egg – 25K Candy
Golden Pumpkin Egg – 225K Candy
Eerie Egg – 120K Candy
Golden Errie Egg – 1.08M Candy
New Pets
A total of thirteen new pets have also been added to the game, including a brand new Mythical Pet! See if you can hatch them all and complete your Pet Simulator X pet collection! New pets include:
Bladee
Dominus Darkwing
Grim Reaper
Ghoul Horse
Ghost Cat
Pumpkin Cat
Vampire Bat
Werewolf
Witch Cat
Giant Pumpkin
Pay attention to any Giant Pumpkins spawning in random worlds. These can show up anywhere between ten to fifteen minutes apart, and you can crack them open for some bonus Candy!
Halloween Makeover
The Trading Plaza and Spawn World now have a Spooky Makeover, so visit them and see if you can find all of the Jack O'Lanterns. The Trading Plaza was also revamped with a new design.