Mirage Perfect Skyline Codes (August 2022)
Earn tons of free in-game rewards by redeeming the latest Mirage Perfect Skyline codes.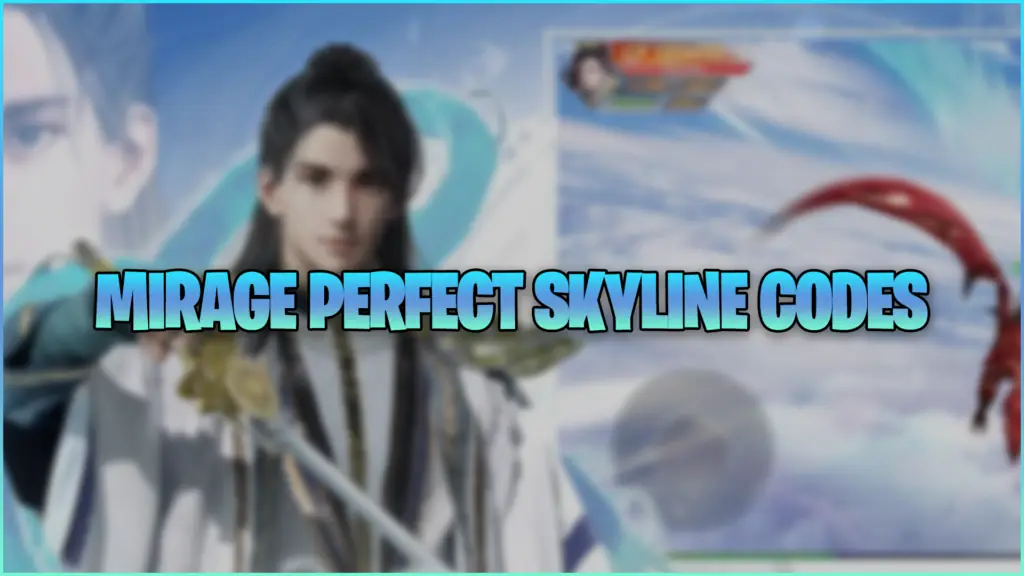 Developed by EYOUGAME, Mirage Perfect Skyline is a god and demon-themed MMORPG available on Android and iOS. Choose from over eight classes and try to become a god—travel across a fantastic 3D world, battle in a challenging multiplayer arena, and much more. Mirage Perfect Skyline developers constantly hold events and add new content to explore.
Using Mirage Perfect Skyline codes is a free and easy way to get free in-game rewards. Most of the codes will drop chests filled with various in-game currencies. You can get gold, Sycess, Jade, B. Jade, and more. The different currencies can be used to purchase various items; for example, you can use B. Jade to buy potions and Sycess to buy mounts. Codes may expire at any moment, so make sure to use them while they last. Bookmark this page, so you never miss a new code.
All Mirage Perfect Skyline Codes
Latest Mirage Perfect Skyline Codes
MIRAGERETURN – Redeem Code for Reward
Discordxmirage – B. Jade x100, Pri. Wings Essence x10
MIRAGEFB

– Sycees x200, Pri. Enhance Gem x10

MIRAGE100000 – Nurturing Talent Outfit and Weapons, Dragon Key x9, Sycees x2000, Gold x500k
MIRAGE80000 – School Bike x1, Dragon Key x8, Sycees x1500, Gold x300k
MIRAGE50000 – KF94 3ply Facemask x1, Dragon Key x8, Sycees x1000, Gold x200k
MIRAGE30000 – Pet Egg x1, Dragon Key x6, Sycees x500, Gold x150k
MIRAGE10000 – B. Jade x500, Dragon Key x5, Sycees x200, Gold x100k
MIRAGE3000 – 1 Million Gold, Sycess x2000, Pri. Enhance Gem x10, Mount Advance Orb x10
MIRAGE2021 – Black Kylin Spirit x2, Mount Advance Orb x15
MIRAGE1314 – Pri. God Psyche x20, Brutal Might x3, Vitality's Might x3, Sycess x500
MIRAGE666 – B. Jade x100, Pri. Wings Essence x10
MIRAGE456 – 500k Gold, Sycees x1000, Dragon Key x10
MIRAGEPS22 – Sycess x1000, Pri. Pet Biscuit x20
JOINMPS – Pri. Wings Essence x20, B. Jade x200, Sycess x300
Expired Codes
None at the moment
How to Redeem Mirage Perfect Skyline Codes
To redeem codes in Mirage Perfect Skyline, follow these steps:
Launch Mirage Perfect Skyline on iOS or Android
Tap the Setting Gear icon on the bottom right
On the right side tap on Redeem
Enter your code in the box provided
Tap Claim Reward
Close the settings menu and hit your Mail Icon on the middle bottom of your screen
Open your new mail to claim your reward.
Where to get more Mirage Perfect Skyline Codes
This page can be your one-stop shop for all codes; we will update them as soon as they release. However, you can also follow the Mirage Perfect Skyline Facebook page for game updates. Besides just codes, the developers will also post new events and game update details there. Don't forget that you can hit CTRL+D to bookmark this page, so you never miss any future updates.
If you like other mobile MMORPG or Gacha games, you can check out our pages for Infinity Kingdom codes, Mythic Heroes codes, and Alchemy Stars codes.