How to Watch Astronomical Concert in Fortnite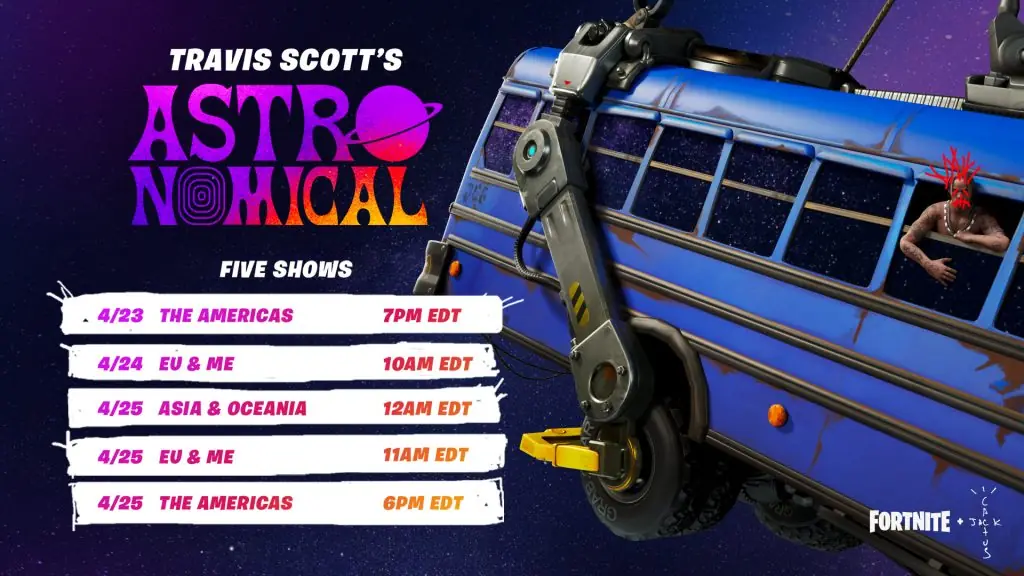 A new event featuring Travis Scott will soon be coming to the Fortnite world. Scott's Astronomical Tour will be kicking off at the end of this week throughout the weekend. This is the second performer to host an in-game concert, second to Marshmello at the beginning of last year.
You are probably wondering how to watch Travis Scott's Astronomical concert in Fortnite, so we'll tell you everything you need to know here in this article.
How to Watch Astronomical Concert in Fortnite
First thing's first. There is a stage located somewhere on the map where the concert will take place. It's currently under construction but you can see the stage being built if you head over to the large island west of Pleasant Park and north of Sweaty Sands.
Two challenges have been released so far in preparation for the event:
When Is the Astronomical Concert?
Travis Scott's Astronomical Tour takes place between April 23 and April 25 at the following times:
April 23 – 7 PM EDT
April 24 – 10 AM EDT
April 25 – 12 AM EDT
April 25 – 11 AM EDT
April 25 – 6 PM EDT
Be at the location during the time slots posted above if you want to see the event happen live.
What Songs Will Travis Scott Play At Astronomical?
Judging by the title of the event, the concert will likely revolve around the 2018 album Astroworld. Travis Scott will also be premiering a brand new track at the event, which is exciting news for fans of his.
Astronomical Event Skins
As is the case with every major Fortnite event, there will be some new skins players can get their hands on. The new skins include two exclusive loading screens, a special glider, and likely some sort of Travis Scott skin that has yet to be released.
You can get more details about the event at the official Fortnite Astronomical page, and we'll keep you posted with more details when we get them.