How to Complete Flashback Thomas Müller SBC in FIFA 22
The requirements and cheapest solutions for the Thomas Müller SBC in FIFA 22.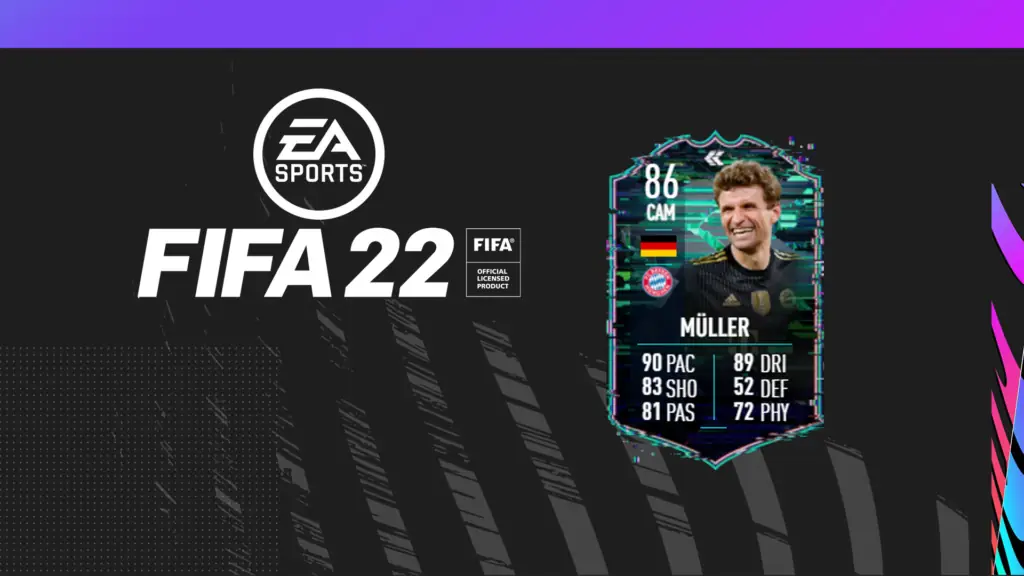 A new SBC has been released in FIFA22 – Thomas Müller Flashback SBC. We've got our review for this new card, along with the requirements and cheapest solutions for this Squad Building Challenge.
FIFA 22 Flashback Thomas Müller SBC Requirements and Cheapest Solutions
You only need to build one squad to finish this SBC. The following solution will cost 49,500, 51,000, and 60,600 coins to complete on PlayStation, Xbox, and PC platforms. Solution courtesy of Futbin and cost is subject to change.
Requirements
Number of players from FC Bayern Munich: Min 1
Squad Rating: Min 85
Team Chemistry: Min 70
Number of players in the Squad: 11
Solutions
GK: GK 86-rated Samir Handanovic (Slovenia)
LB: LB 84-rated Luke Shaw (Manchester United)
CB: CB 84-rated Harry Maguire (Manchester United)
CB: CB 83-rated Stefan de Vrij (Inter Milan)
RB: GK 86-rated Koen Casteels (VFL Wolfsburg)
CM: CM 84-rated Youri Tielemans (Leicester City)
CAM: CAM 84-rated Kai Havertz (Chelsea)
CM: GK 85-rated Kasper Schmeichel (Leicester City)
LW: LW 84-rated Jack Grealish (Manchester City)
ST: ST 85-rated Edison Cavani (Manchester United)
RW: RM 84-rated Leroy Sane (Bayern Munich)
Müller will also be incredibly valuable for Bundesliga-centered objectives or SBC in the upcoming time. This SBC only lasts for one week, so you should make up your mind soon if you want to get this German veteran to your team.
Flashback Thomas Müller SBC Review
Shooting: 8/10
Passing: 8.25/10
Movement: 7.75/10
Dribbling: 7.75/10
Speed: 8/10
Physicality: 8.25/10
This SBC is to celebrate his early seasons with Bayern München. This German is best known as a versatile player when Müller can play as a midfielder or forward. Also, he has been deployed in various attacking roles – as an offensive midfielder, second striker, center forward, and on either wing.
Müller has been praised for his excellent positioning, infinite stamina, and consistency in both scoring and creating goals. This Flashback card is believed to commemorate his 2009-10 season when he played almost every game as the club won the double and managed to reach the Champions League final.
The first thing you need to know if you want to use Thomas Müller in your Squad's Starting XI is that he is famous for his immaculate positional awareness, which makes him widely regarded as one of the best off-the-ball players of all time. However, that means it's not easy to make full use of this guy's potential.
The reason is, if you let him have the ball, you will see that he could do everything "decently." He is quite fast but not too agile. Apparently, his Pace could not be 90 as his assigned stats. Then, with only 3-star skill, you will also know that 89 Dribbling of him is just a number.
For Shooting, with 95 Positioning, he has a natural penchant and excellent intuition for scoring. However, with 80 Shot Power and 80 Long Shots, I am not going to say it's bad. However, it's just merely enough for a CAM or CF.
Then, his Physicality is not too impressive. Although having the Solid Player Trait, but with only 62 Strength, a physical 1vs1 duel with opponents' defenders seems not a good choice for him.
But, if you can master and understand Thomas Müller's signature mechanism, he will be a real threat to every defense that has to play against him. His off-the-ball tendency makes sure that whenever there is a chance, the German will be there and convert it to a goal.
Also, because he could do everything decently, that means on a beautiful day, he can score a banger from outside of the box, score a solo goal like Messi or jump highest among everyone inside the penalty area like Ronaldo. Let his AI do its work because he will know what he should do.
With his only cost of around 50.000 coins to obtain, I highly recommend doing this SBC if you are looking for a midfielder with a high price-performance ratio and easy to form links.