Happy Home Academy in Animal Crossing New Horizons
So, what exactly is the Happy Home Academy in Animal Crossing New Horizons? A big part of any Animal Crossing game is designing your home and putting those interior design skills to the test. This has remained true in all Animal Crossing games since the original.
Older Animal Crossing games had the Happy Room Academy that would rate your home based on the value of items in your home. The higher the score, the better rewards players would receive from the HRA.
To this day, the overall concept still exists, but in Animal Crossing New Horizons, it is now known as the Happy Home Academy or HHA for short. This name popularized in New Leaf and remains the same in New Horizons. In this article, we'll explain everything you need to know about the Happy Home Academy (HHA) in Animal Crossing New Horizons.
Happy Home Academy (HHA) in Animal Crossing New Horizons
The system used by the Happy Home Academy to rate your home in Animal Crossing New Horizons is much more complex than it's ever been in previous games. Overall, players earn points for placing furniture in rooms and additional points for having matching themed furniture like Ironwood Furniture, for instance. Color coordinating your furniture also provides bonus points.
Happy Home Academy Rewards
The Happy Home Academy rewards you with plaques and trophies depending on how many points your home earns in New Horizons. Here's the breakdown of the rewards:
Gold HHA Trophy – 150,000 points
SIlver HHA Trophy – 100,000 points
Bronze HHA Trophy – 70,000 points
Gold HHA Plaque – 50,000 points
Silver HHA Plaque – 30,000 points
Bronze HHA Plaque – 20,000 points
HHA Pennant – 10,000 points
These rewards can be placed in your rooms to provide an even further HHA point bonus as well, so keep that in mind.
Happy Home Academy Ranks
In addition to rewards, the Happy Home Academy also ranks your house. Here are the points required to obtain each rank from the HHA based on the size of your home.
| | | | |
| --- | --- | --- | --- |
| House Size | B Rank | A Rank | S Rank |
| First House | <9,999 | 10,000-14,999 | 15,000 |
| Upgraded House | <16,999 | 17,000-22,999 | 23,000 |
| 2 Room House | <24,999 | 25,000-34,999 | 35,000 |
| 3 Room House | <37,999 | 38,000-46,999 | 47,000 |
| 4 Room House | <49,000 | 50,000-59,000 | 60,000 |
| House with 2 floors | <63,999 | 64,000-74,999 | 75,000 |
| House with 2 floors, basement | <79,000 | 80,000-89,999 | 90,000 |
ACNH HHA Rank Point Requirements
How to Boost Happy Home Academy Scores
Now that you understand the scoring system from the HHA, it's time to explore how you can earn those points. Feng Shui plays a major role in boosting the Happy Home Academy scores. Bonuses for Feng Shui can be earned by making sure you do a few things with your interior decorating.
Feng Shui in Animal Crossing New Horizons
Feng Shui deals with placing color specific items at certain sides of the room. There are three cardinal directions in your rooms: East, South, and West. Specific colored items should be placed accordingly.
Red items should go on the East, Green items should go on the South, and Yellow items should go on the West. If we look at the room as an 8×8 tile diagram, make sure the specific colored items are placed within 2 tiles of the wall in the correct zones. Here's a diagram for reference: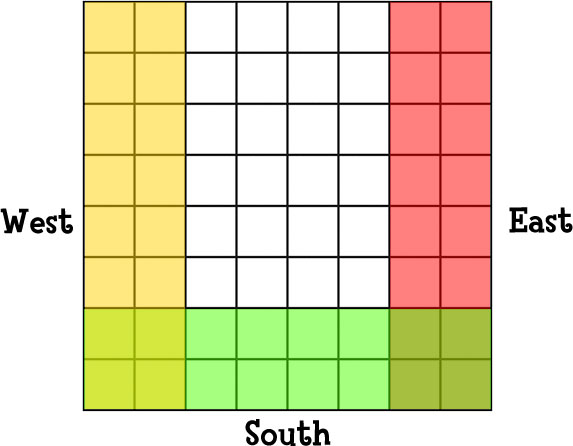 Each valid item placed in the zones will earn you a bonus of 500 HHA points, for a maximum possible bonus of 1500 points per room. This means you only need to have three items placed correctly in each room to receive the maximum Feng Shui Bonus. If you have four rooms, that means you can earn 6000 bonus points.
Items placed on the wall also count as being within the zones, so your Feng Shui bonus is not only limited to furniture. Sometimes it can be difficult to judge what color the items actually are, but a general tip is to look at the primary color of the object and assume that's the color.
Basements do not contribute to Feng Shui bonuses. For that reason, you can ignore any basement Feng Shui.
Item Sets
As we previously mentioned, another way to score HHA points is by using items within the same theme. Throughout the game, you'll find recipes for various different sets. Some different themed items include but are not limited to:
Having a complete set in a room grants a large HHA bonus.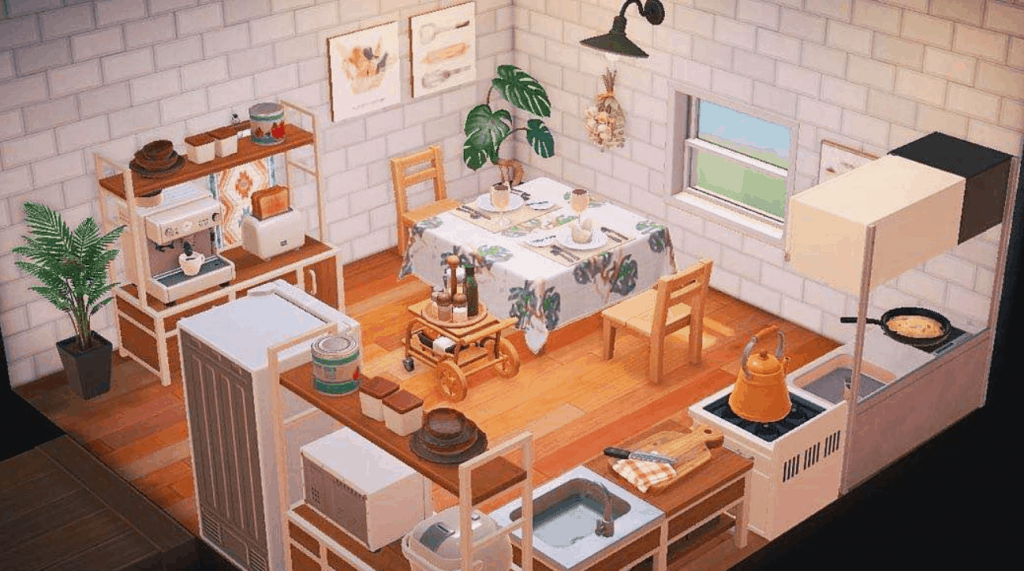 Color Coordinating
There is another trick to maximizing your HHA points: color coordinating a room. If you have over 90% of the same color items in a particular room, you will get a large HHA point bonus.
You can also maintain the 90% same color item requirement while also meeting the Feng Shui bonus in the same room if you have a ton of furnishings.
The wallpaper and floor do not need to match the color in order to obtain the color coordination bonus.
Other Tips for HHA Bonus Points
Aside from everything else we've mentioned, here's a few other tips and tricks we find to be helpful in increasing your HHA points.
Have a purpose for each side room, such as a Kitchen or Bathroom.
Seasonal items can be used for easy set bonus points.
Make sure your home is clean, don't leave trash around.
Keep your home tidy so you don't get cockroaches!
Use HHA Rewards in your rooms for extra bonus points.
Place items in areas that make sense. Don't put a couch facing the wall, for instance.
Decorate your walls and floors with wallpaper and rugs.
That's all the information we have for you about the Happy Home Academy (HHA) in Animal Crossing New Horizons. I hope this guide helped you on your way to obtaining S Rank and getting the Gold HHA Trophy!