Fortnite Ghost and Shadow Recruitment Posters Locations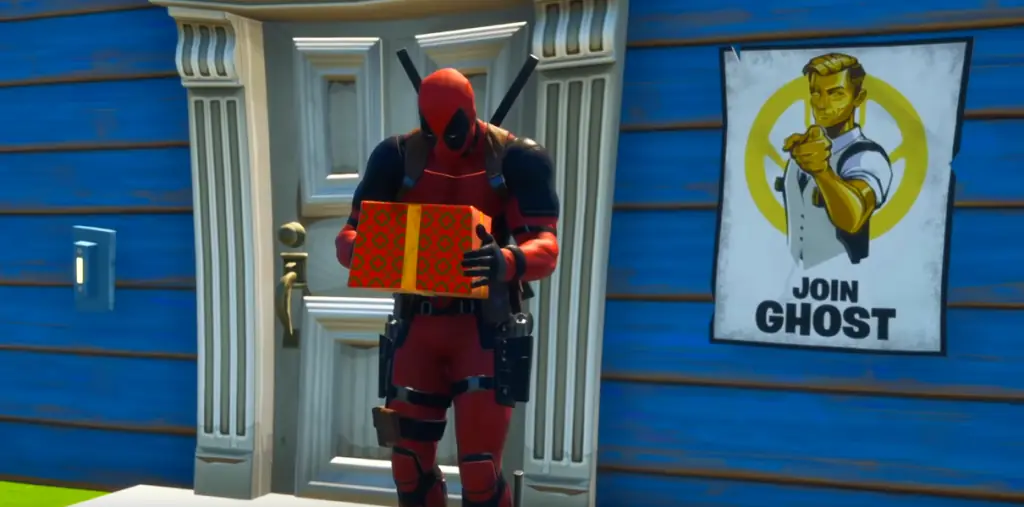 The Week 6 Deadpool Challenges have arrived in Fortnite. One of them asks players to deface Shadow and Ghost recruitment posters around the map. To do this challenge you will need to know a few of the locations and this guide will help you out with that.
Fortnite Shadow Poster Locations
Frenzy Farm
The first two Shadow recruitment posters can be found at Frenzy Farm. You will find one Shadow poster on the side of the big red barn at this location.
Another Shadow poster can be located on the side of the main house at Frenzy Farm. Look to the left of the main door to the big house in Frenzy Farm and you can't miss it.
Holly Hedges
Holly Hedges is another location that has two Shadow recruitment posters. On the backside of the main warehouse next to the dumpster, you will find one of the posters.
Another poster is located in Holly Hedges close to the one we just found. Turn right and follow the road down to your left, and you'll see a small building on your right (southwest corner of Holly Hedges) with a poster on the side of it.
Pleasant Park
Head to the gas station in Pleasant Park, and you'll see a Shadow poster on the side of it.
Next, head to the southwest of Pleasant Park and look for the greenish wood house. On the north side of it, you'll see another Shadow recruitment poster.
Fortnite Ghost Poster Locations
Slurpy Swamp
Slurpy Swamp contains two easy to find Ghost Recruitment posters that you can check off your list. The first one is located on the west side of the location, on the side of the largest building.
Next, head to the center area of Slurpy Swamp and head down the stairs. You'll see the poster on the wall next to a dumpster.
Salty Springs
The first Ghost Recruitment poster location at Salty Springs is in the Gas Station. Head inside and you'll see it on the wall to your right, next to the magazine rack.
Next, head to the west past the red brick house and you will come to a wooden blue house. On the front side of the house, you will see a Ghost Recruitment poster next to the door.
Weeping Woods
If you head to the outhouse with the showers at Weeping Woods, you'll find one of the Ghost recruitment posters on the side of the building.
Walk north of the previous location to the first mobile home and you will see the next Ghost poster on the side of it.
Go even more north to the biggest building in Weeping Woods. This is the main building in the area. On the right side of it, when you're looking at it towards the north, you'll see a tree. Next to that tree is the Ghost poster on the side of the lodge.