Fortnite Deadpool's Toilet Plunger and Toilet Locations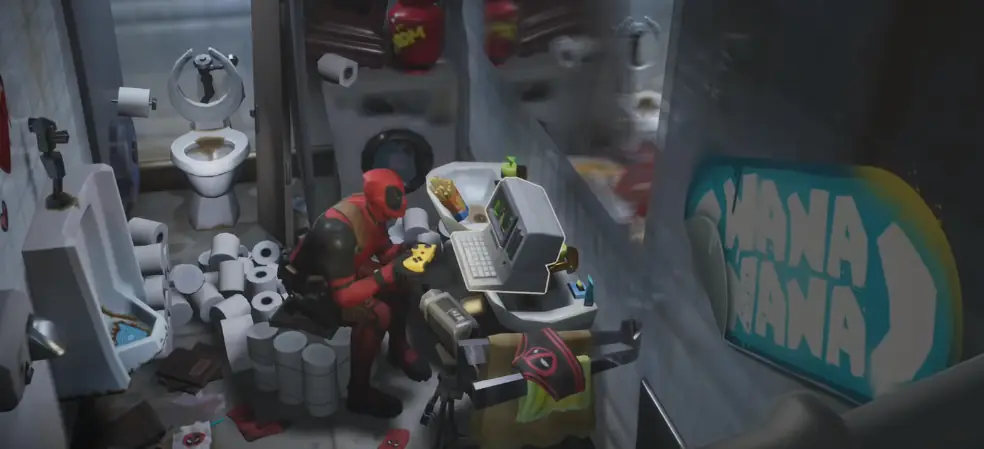 The second part of the week 3 Deadpool Challenges asks players to find Deadpool's Toilet Plunger. After that's complete, you'll have to destroy some toilets. This guide will show you where you can find Deadpool's Toilet Plunger and reveal some toilet locations so you can easily complete this challenge.
Let's start with Deadpool's Toilet Plunger.
Deadpool's Toilet Plunger
From the main screen head over to the 'Agents' screen. This can be accessed from the top left doors on the main screen.
Next, select the second option which is TNTina's Agency location. Once inside TNTina's room, you can find the plunger on the top right of the screen.
The next part of the challenge is to destroy three toilets, which can be found scattered around Pleasant Park.
Destroy Three Toilets
Pleasant Park is filled with homes, so all you need to do is locate the bathrooms and destroy the toilets. You will need to destroy a total of three toilets and they can all be destroyed in the same match.
The second house on the southwest row of houses contains two toilets, so land there to knock two out easily.
That's all there is to it for these two challenges. Deadpool's Week 4 challenges will ask players to find Deadpool's Katanas. Check out our guide to figure out where you can find them.
To make sure you're on track with the season achievements, check out our Fortnite Season 2 Achievement List.