FIFA 22: How to claim the Prime Gaming Pack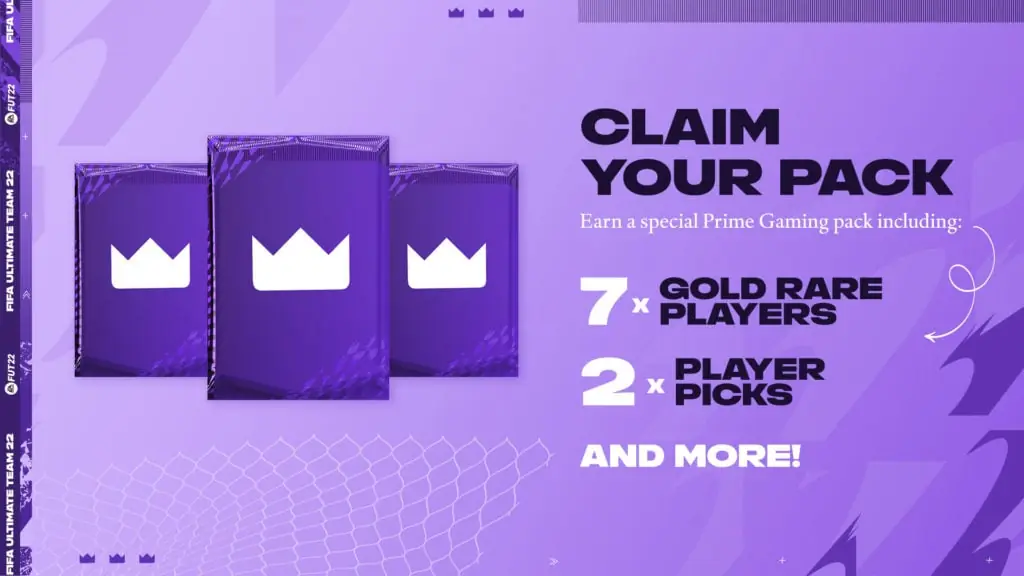 As you can see, packs are the spine of all the FIFA titles. Every year, there are collaborations between FIFA and other parties, which offer players a lot of free rewards with minimum efforts needed as a way to promote a program or an event. This year, cooperating with Amazon Prime and Twitch, EA has released the FIFA 22 Prime Gaming Pack, containing untradable cards and player picks.
How to claim the Prime Gaming Pack in FIFA 22
Here's how to claim the Prime Gaming Pack in FIFA 22:
Sign up for Amazon Prime Gaming free trial.
Link your FIFA 22 (EA Sports) and Twitch accounts.
Ensure your Twitch account is linked to your Prime Gaming Account.
Claim your Pack from the Prime Gaming FIFA 22 Loot page.
Launch FIFA 22, load into FUT, and click on My Packs to redeem it.
How to sign up for the Amazon Prime Gaming free trial?
In order to claim the FIFA 22 Prime Gaming Packs, you need to be an Amazon Prime Member. All the Amazon Prime Supported Countries and Territories are below:
Australia
Austria
Belgium
Brazil
Canada
France
Germany
India (Mobile offers only)
Italy
Japan
Luxembourg
Mexico
Netherlands
Poland
Portugal
Singapore
Spain
Saudi Arabia
Sweden
Turkey
United Arab Emirates
United Kingdom
United States
The price for the monthly Prime Member varies from each country. For example, if you are in the United States, you are eligible for a 30-day free trial and will be charged $ 12.99 per month after it. If you come from other parts of the world not mentioned above, you will still be eligible for the free trial of 7 days, and you will have to pay $ 5.99 per month. For more information, please go to the landing page of Amazon Prime Gaming.
How to link your FIFA 22 and Twitch accounts
According to the information on the landing page, there will be a total of 12 Prime Gaming Packs to be claimed. After purchasing the subscription to Amazon Prime Gaming, you need to follow the following steps:
Link your FIFA 22 account (EA SPORTS account) to your Twitch account.
Link your Twitch account to your Prime Gaming account via the Prime Gaming landing page. If successfully linked, there will be a notification like this popping up.
Head back to the looting link here and claim your Prime Gaming Pack.
Load into your FUT, click "My Packs" to find your rewards.
What is inside the FIFA 22 Prime Gaming Pack?
Here's everything included in Prime Gaming Pack 1 dropped on October 25, and all of the items are untradable:
7 gold rare Player cards
Kylian Mbappe (five-game loan)
2 81+ rare Gold Player picks
12 Rare Consumables
Road to the Knockouts player items (available in FUT 22 for a limited time).
All the rewards are subject to change for the upcoming packs, and currently, there is no information about those. After this, every Prime Gaming pack will be ready to claim at the end of each month, till September 2022, which should be the release date of FIFA 23 (or maybe EA Sports FC 2023, we haven't known about the name yet). We will keep you informed whenever there is something new.