FIFA 22: How to Complete Player Moments Phil Jones SBC
Here's the solution for the FIFA 22 Player Moments Phil Jones SBC.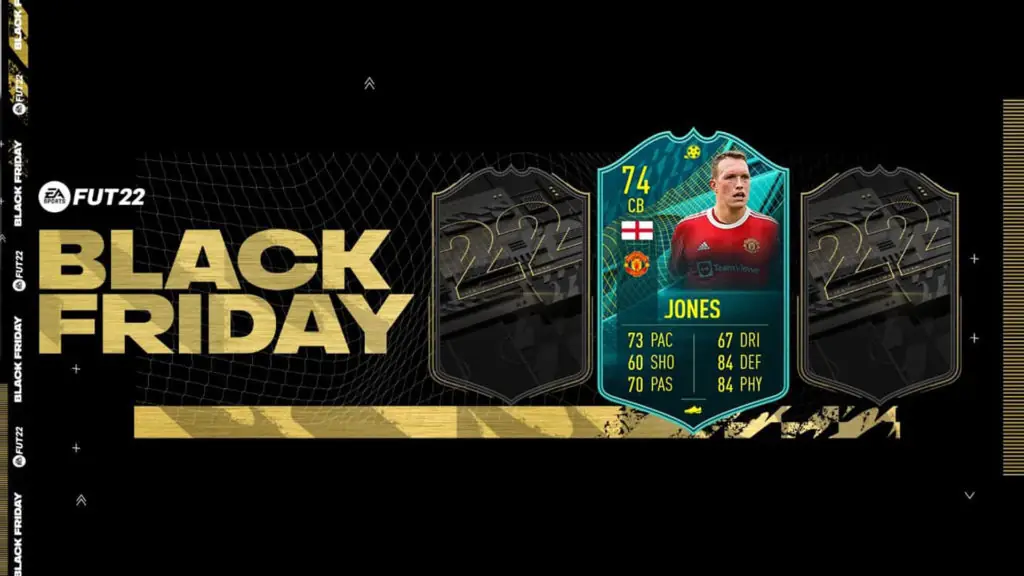 Philip Anthony Jones is an English professional footballer currently playing for Manchester United. Although primarily a center-back, he has also been used as a right-back or defensive midfielder. In October 2010, Football Manager released a list of wonderkids under the age of 21, and Phil Jones was one of the likes included. However, being an injury-prone footballer has been depriving his opportunity to make a Man Utd's first-team appearance since January 2020.
However, the infamous header in the match versus Arsenal of Phil Jones might engrave deeply into the Premier League history. In FIFA 22, EA has just released Phil Jones Silver Star Moments, celebrating his diving header clearance against Arsenal in the PL 14/15.
How to complete Phil Jones Player Moments SBC in FIFA 22
To complete the Phil Jones Player Moments SBC, you have to finish only one Squad Building Challenge with a cost of under 16K on every platform. Below are the requirement and cheapest solutions for Phil Jones Player Moments SBC:
GK: Unai Simon 82-Rated (Athletic Bilbao)
LB: Alex Telles 82-Rated (Manchester United)
CB: Ferran Torres 82-Rated (Manchester City)
CB: Lo Celso 81-Rated (Tottenham Hotspur)
RB: Ndombelle 82-Rated (Tottenham)
LM: Wilfred Zaha 82-rated (Crystal Palace)
CDM: Thomas Soucek 82-Rated (West Ham)
CAM: Martin Odegaard 82-Rated (Arsenal)
CDM: Ruben Neves 82-Rated (Wolves)
RM: Lucas Moura 81-Rated (Tottenham)
ST: Richarlison 82-Rated (Everton)
I highly recommend this SBC if you are a Man Utd's big fan or you want to seek a cheap but quality Centre Back for your Premier League's team. Again, he is an 84-rated CB, not 74 as his assigned stat shows you, and in FIFA22, actual performance is more important than a mere attribute set.
The Phil Jones Player Moments SBC expires today on November 29, 2021.
FIFA 22 Player Moments Phil Jones SBC Review
Don't let the 74 Assigned Overall deceive you at first sight when to be accurate, the exact overall CB stats of Phil Jones is 84, and if you add the Sentinel Chemistry Style to him, it will reach the number of 91.
With the height of 6'1" and 73 Pace, Phil Jones is not a slow player. Then, with 86 Strength, he is both agile and tough enough for a 1vs1 duel, even if he has to face the likes of Mbappe, Son, or the likes of Ronaldo or Klose.
Moreover, his remaining defending stats are pretty impressive. With 84 Defending Overall, 84 Physicality 86 Heading Accuracy, 90 Heading both 85 in Standing and Sliding Tackle, Phil Jones is not afraid of any ground or aerial duels.
On top of that, in regard to the fact that this is the card celebrating his famous clearance when risking his own wellness, Phil Jones Silver Star Moments is rewarded with 96 Aggression and Dives into Tackles. However, his other trait, Injury Prone, is not that favorable.
If you don't want to put Phil Jones in the middle of your defense, this English footballer could still perform well at the left-wing or at the position of CDM. Of course, you cannot ask a CB to have a considerable contribution to your attacking front. But sometimes, with amazing heading ability, Phil Jones can write his name on the scoring board with a header from the corner.
Besides, although having 82 Shot Power, with the rest of his shooting stats around 60, don't waste the ball possession with a long shot from this guy's right foot. However, his most ideal position is still CB.