FIFA 22: Lorenzo Insigne NUMBERSUP SBC Requirements and Solutions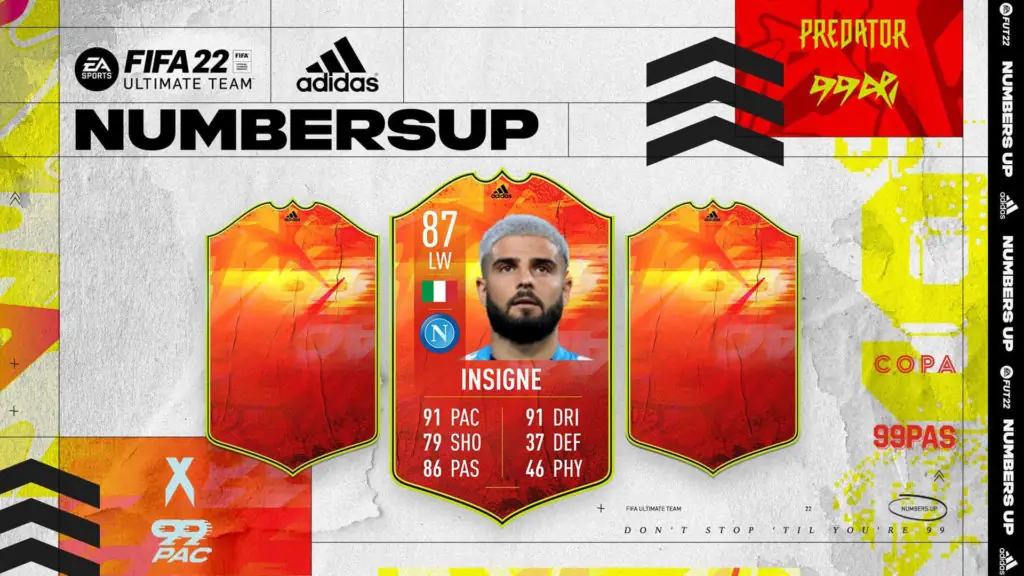 Lorenzo Insigne is an Italian professional footballer who plays as a forward for Serie A club Napoli as captain and the Italy national team. Nicknamed "Lorenzo Il Magnifico," Insigne is an agile, talented, skillful right-footed winger, allowing him to cut inside and curl shots on goal with his dominant foot, particularly from outside the penalty area. Moreover, despite his lack of physicality, he is also known for his defensive contribution and ability to cover a lot of ground during matches.
Recently, EA SPORTS has released Lorenzo Insigne NUMBERSUP SBC in FIFA 22. Overall, this new card is a real upgrade to the gold card, as every stat receives an increase. His Pace got the highest growth of 4, while the rest of his attributes, Shooting, Dribbling, Passing, and Defending, receive a +1 upgrade. Also, because Insigne is one of the players of the Adidas Predator, his Dribbling will be reaching 99 during the season in FIFA 22 Ultimate Team, which currently stays at 91.
FIFA 22: NUMBERSUP Lorezno Insigne SBC
Basically, there are a few differences between the Insigne Gold card and this NUMBERSUP card when all the upgrade seems to be too trivial to be spotted out. For example, when you take a look at Marco Asensio, the player using the same boots as Insigne, the Predator, he got boosted 8 points for his Dribbling, from 83 to 91, which is the same as Insigne while the rest receives 1-2 attributes increase.
In general, Insigne is one of the best choices for the left-wing Serie A squad. Insigne NUMBERSUP card got for himself 91 Pace, 94 Acceleration, 86 Passing, 91 Dribbling, 94 Ball Control and Balance, in company with 4-star weak foot, 4-star skills and the trait Flair, he is a mere tornado at the left corridor.
However, many FIFA players reckon that EA has evaluated Insigne Shooting, Physicality and even Defending falsely. With 20+ goals for a season, this Italian winger got only 79 Shooting and 77 Finishing. As a matter of fact, you will be witnessing Insigne missing opening goals multiple times. But, in contrast, with 85 Long Shots, 88 Curve and two traits Finesse Shot and Long Shot Taker, it seems Insigne is much more reliable when it comes to shooting from outside the box.
Playing 89% game of the league and having significant contribution for the defensive front, Insigne Physicality and Defending overall stats are being underrated in FIFA 22, stopping at the number of 37 and 46 respectively. How funny it is when you see that Insigne is quite helpless at defense, and he could rarely play for the whole 90 minutes with only 76 Stamina.
So, in conclusion, although the stats couldn't accurately depict Insigne's performance in real life, this is still an excellent player to use in FIFA22. But, keep in mind to use this guy for the offensive front only if you don't want to substitute him for someone else at the minute of 70.
How to complete the NUMBERSUP Lorezno Insigne SBC in FIFA 22
You have two complete two different sub-SBCs to earn a special Adidas NUMBERSUP Lorenzo Insigne, which will cost you around 100k coins to fulfill all of them. Below are the cheapest solutions for each.
National Duty SBC Requirements and Solution
The requirements are as follows:
Number of Players from Italy: Min. 1
IF Players: Min. 1
Squad Rating: Min. 84
Team Chemistry: Min. 75
Number of Players in the Squad: 11
Reward: 1 Small Prime Gold Players Pack
A possible solution is as follows:
GK: Sommer 86-Rated (M'gladbach – Switzerland) In-form Card
LB: Lucas Hernandez 83-Rated (Bayern Munich – France)
CB: Guerreiro 84-Rated (Borussia Dortmund – Portugal)
CB: Ginter 84-Rated (M'gladbach – Germany)
RB: Acerbi 84-Rated (SS Lazio – Italia)
CM: Marcel Sabitzer 84-rated (Bayern Munich- Germany)
CDM: Alex Witsel 83-Rated (Borussia Dortmund – Belgium)
CM: Muniain 83-Rated (Athletic Club – Spain)
RW: Kostic 84-Rated (Frankfurt – Serbia)
ST: Kramaric 83-Rated (TSG Hoffenheim – Croatia)
ST: Marco Asensio 84-Rated (Real Madrid – Spain)
Solution (courtesy of Futbin): 36,750 coins for PlayStation platform, 39,000 for Xbox platform, 37,850 for the PC platform.
Serie A SBC Requirements and Solution
Number of players from Serie A: Min. 1
Squad Rating: Min. 85
Team Chemistry: Min. 70
Number of Players in the Squad: 11
Reward: 1 Prime Electrum Players Pack
A potential solution is as follows:
GK: De Gea 87-rated (Manchester United – Spain)
LB: Jack Grealish 84-rated (Manchester City- England)
CB: Harry Macguire 84-rated (Manchester United – England)
CB: Ruben Dias 87-rated (Manchester City- Portugal)
RB: Thiago Silva 85-rated (Chelsea – Brazil)
CDM: Immobile 87-rated (SS Lazio – Italia)
CM: Dries Mertens 84-rated (Napoli – Belgium)
CM: Mateo Kovacic 83-rated (Chelsea – Croatia)
LM: Gosens 83-rated (Atalanta – Germany)
RM: Hakim Ziyech 84-rated (Chelsea)
ST: Josip Iličić 84-rated (Atalanta – Slovenia)
Solution (courtesy of Futbin): 60,450 coins for PlayStation platforms, 65,550 for Xbox platform, 67,250 for the PC platform.
Overall, this Squad Building Challenge will cost you around 100.000 coins. I don't recommend doing this SBC at the moment because it's pretty expensive in comparison with the rewards you will get. Long story short, you will have to pay for 90k coins for just +4 paces when the gold card of Insigne is valued at only around 10k at the transfer market. The Adidas NUMBERSUP Lorenzo Insigne SBC will end on November 24, so you had better make up your mind soon if you want him in your Starting XI.