How to Complete Galeno TOTGS Squad Building Challenge in FIFA 22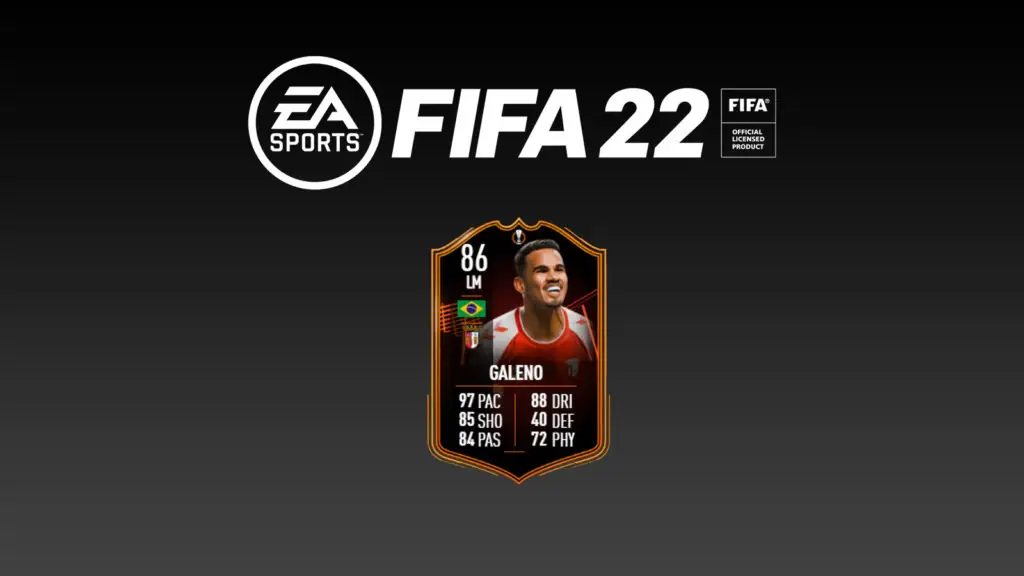 Wenderson Rodrigues do Nascimento Galeno, commonly known as Galeno or Galas, is a Brazilian forward who plays for Portuguese club S.C. Braga. After five matches at the Europa League's group stage, he has already earned himself five goals. As a corresponding recognition for his outstanding performance, he is selected as a part of the UEL Team of the Group Stage. Below are our short reviews and the cheapest solutions for the Galeno TOTGS SBC in FIFA 22.
On August 6, 2019, Galeno joined SC Braga on a five-year deal. After 111 matches for this Portugal club, he scored 22 times and had 27 times put the ball on a plate for his teammates to score. At the age of 24, Galeno is deemed a high-potential Brazilian footballer, and he is still showing that those expectations are not clueless.
Galeno TOTGS Review
Back to FIFA 22, with this TOTGS card, Galeno received a huge buff in comparison with his previous cards where his highest-rated card before this TOTGS one was his TOTW of only 81 OVR. Also, this Brazilian player's biggest weaknesses, passing and shooting, have been increased significantly.
Specifically, we must mention his 97 Pace, 88 Dribbling, and two traits, Speed Dribbler and Flair, making him a cheap version of Vinicius Jr. Also, with 4-star skill and good physicality stats of 5'10" height and 62kg weight, it is not easy for opponents' defenders to regain the ball possession from this player's foot.
However, Galeno's remaining abilities seem to be unmatched with his assigned stats. Although having 85 Shooting Overall, 92 Positioning, 91 Shoot Power, 93 Curve, and the trait Long Shot Taker, the finishing ability of this forwarder seems to be unstable and quite "decent." You could witness Galeno unable to convert an opening opportunity into a goal frequently.
Also, with only 72 Physicality, 57 Aggression, and 70 Strength, Galeno is really inferior to a physical duel from aerial to ground if you cannot make use of this guy's impressive Dribbling to avoid these.
In conclusion, Galeno can perform all of his essentials by being substituted from the bench after 60 minutes. Otherwise, you have to excel in using skills to take advantage of his Agility and Pace. If you are building a Brazil squad, but you don't have enough money for Vinicius, Galeno TOTGS is an alternative you should consider.
How to Complete Galeno TOTGS Squad Building Challenge in FIFA 22
This SBC will expire on Sunday, December 14, which means you will have plenty of time to finish it. This SBC only requires one 85-rated squad with a 65 chemistry minimum, and it will cost you around 72,000 coins if you wish to get this TOTGS Galeno version.
Below are all requirements and the cheapest solution for this SBC.
Requirements
Number of players from Brazil: 1 minimum
IF Players: 1 minimum
Squad Rating: 85 minimum
Team Chemistry: 65 minimum
Number of players in the Squad: 11
Solutions
GK: GK 85-rated Wojciech Szczesny (Piemonte Calcio)
LB: ST 83-rated Carlos Vela (Los Angels FC)
CB: CB 83-rated Stefan de Vrij (Inter Milan)
CB: CB 85-rated Matthijs de Ligt (Piemonte Calcio)
RB: ST 83-rated Álvaro Morata (Piemonte Calcio)
CM: CM 86-rated Ilkay Gündogan (Manchester City) – Team of the Week
CM: CAM 84-rated Luis Alberto (Lazio)
CM: ST 83-rated Raúl Jiménez (Wolverhampton Wanderers)
LW: LW 84-rated Jack Grealish (Manchester City)
ST: CF 85-rated Roberto Firmino (Liverpool)
RW: ST 84-rated Hakim Ziyech (Chelsea)
Cost: 51,600 coins for PS Platforms, 71,300 coins for Xbox Platform, 72,400 coins for PC Platform/ 4-3-3 Formation (courtesy of Futbin)