FIFA 22: David Neres Squad Foundations Squad Building Challenge
A deep dive into the FIFA 22 David Neres Squad Foundations SBC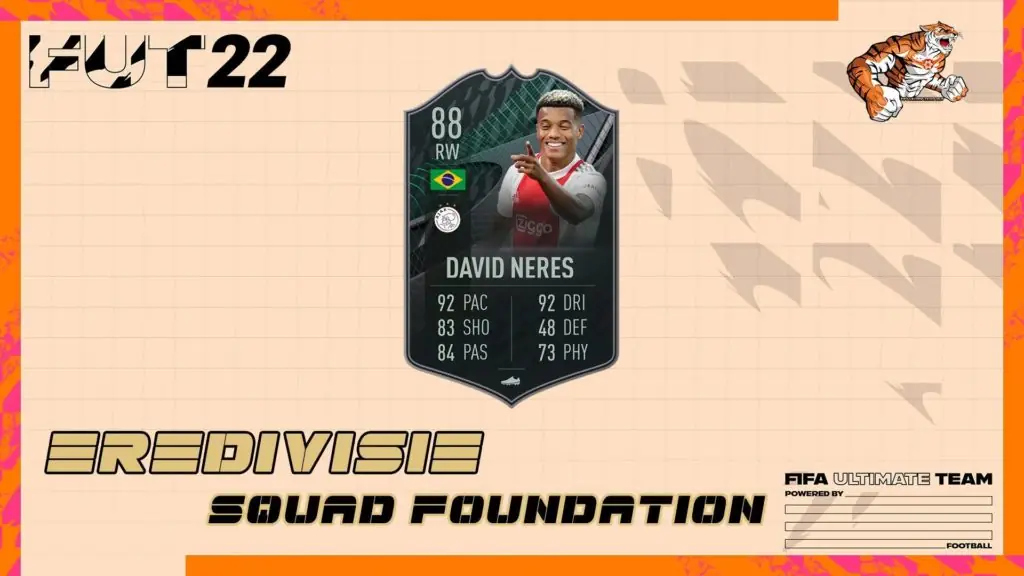 David Neres Campos is a Brazilian professional footballer who plays as a winger forward for Eredivisie club Ajax and the Brazil national team. He has earned several honors, including the Under 20 Copa Libertadores in 2016 with the Sao Paulo club, the UEFA Europa League runner-up in 2016, and qualified to the UEFA Champions League Semi-finals in 2019 with the Ajax club.
David Neres is well-known for his agility and outstanding ball control skills as a basic Brazilian winger. However, his finishing and passing should not be overlooked. After 173 matches in the Ajax Amsterdam's jersey, he has for himself 46 goals and 40 assists, which are significant numbers for a 24-year-old striker. Another noticeable stat of him is that he has been booked for 12 yellow cards during the same period but has yet to receive any red cards.
FIFA 22 David Neres SBC Challenge Review
In FIFA 22, David Neres Gold Card stops at the overall rating of 79. However, with this new card Squad Foundation, he got massive buffs at every attribute: +7 Pace, +11 Shooting, +11 Passing and +7 Dribbling. Even his Physicality and Defending is upgraded, making this new David Neres version faster, more productive and more robust than the standard version.
To be more specific, David Neres Squad Foundation has himself a fantastic attribute set for a winger. First to mention is his 5-star skill, 92 Dribbling, and two traits, Flair and Technical Dribbler, making it mostly impossible to retrieve the ball possession from David Neres's foot if he is placed in the hand of profound FIFA skill users.
Moreover, with the considerable upgrade on Physicality of 73 Strength, David Neres is a little bit tougher when being exposed to 1vs1 duel. Then, with 92 Pace, 93 Acceleration, 92 Sprint Speed and 83 Stamina, David Neres is a real tornado at the right corridor, even in the first or the last minute of the match without being substituted.
Neres versus Eusébio Base Icon
However, you might question that with nearly the same stats with Eusebio Base Icon, what is the most significant difference between them? The answer is David Neres might be fast, agile, or of outstanding ball controlling skills, however, in FIFA 22, this Dutch striker's shooting ability is not as good as his assigned attribute of 83 Overall.
David Neres's shooting is unstable, even with his dominant foot, and as a matter of fact, his 3-star weak foot is mostly helpless. Sometimes, with the trait Outside Foot Shot, he might perform a world-class trivela, but, in contrast, in his very bad day, he could miss an open goal from the range of 5 meters from goal.
Another weakness is that crossing. Although Neres's short passing ability is awe-inspiring with 90 assigned attributes, this guy's long passing and crossing miss the target almost all the time. So, David Neres is best used as an inverted winger like Hazard or Robben Prime instead of the traditional role to make the most out of his Dribbling and Pace. Also, 74 Strength and 83 Stamina are just decent numbers for a winger, so keep in mind to avoid physical duels with opponents' defenders, and try to make use of agility and flair instead.
However, with the price of around 240k, I believe David Neres is worth the money spent because, you know, this is not an Icon Card to ask for a perfectly well-rounded player. If you are looking for a right-winger to be easy-linked, versatile, and of course, productive and easy to use and master, David Neres Squad Formations is a top-notch choice for you. This is a cheap version of Eusebio Icon if you cannot afford him.
How to complete Squad Foundations David Neres SBC?
There are two sub-SBCs that you have to finish before obtaining the special Squad Foundations David Neres, which cost you around 240k FIFA coins in total. You will have plenty of time to finish this SBC since it lasts for nine weeks. So, you can hoard cards from opening packs till you have enough fodder for this SBC instead of buying them from the transfer market to save some money.
I highly recommend completing this SBC as soon as possible when it's likely for you to see him in your opponent's Starting XI in the Weekend League.
Below are all the requirements and cheapest solutions for each.
Brazil
Requirements
Number of players from Brazil: Min 1
Squad Rating: Min 85
Team Chemistry: Min 70
Number of players in the Squad: 11
Reward: 1 Prime Electrum Players Pack
Total spending: 82.050 coins for PS Platforms, 90.000 for Xbox Platform, 92.700 for the PC Platform
Solution: Formation 4-3-3 (courtesy of Futbin)
GK: Sommer 85-Rated (M'gladbach)
LB: Gaya 83-Rated (Valencia)
CB: Pique 84-Rated (Barcelona)
CB: Thiago Silva 84-Rated (Chelsea)
RB: Milinkovic-Savic 85-Rated (SS Lazio)
CM: Koke 85-rated (Atletico Madrid)
CAM: Luis Alberto 84-Rated (SS Lazio)
CM: Parejo 86-Rated (Villareal)
RW: Oyarzabal 85-Rated (Real Sociedad)
ST: Iago Aspas 84-Rated (RC Celta Vigo)
LW: Eden Hazard 85-Rated (Real Madrid)
Top Form
Requirements
In Form Players: Min 1
Squad Rating: Min 86
Team Chemistry: Min 65
Number of players in the Squad: 11
Reward: 1 Rare Electrum Players Pack
Total spending: 144.700 coins for PS Platforms, 152.800 for Xbox Platform, 151.850 for the PC Platform
Solution: Formation 4-1-3-2 (courtesy of Futbin)
GK: Dusan Tadic 84-Rated (Ajax Amsterdam)
LB: Luke Shaw 84-Rated (Manchester United)
CB: Harry Maguire 84-Rated (Manchester United)
CB: Jordan Henderson 84-Rated (Liverpool)
RB: Iago Aspas 86-Rated Inform Card (RC Celta Vigo)
CM: Thiago 86-Rated (Liverpool)
LM: Sterling 88-Rated (Manchester City)
CAM: Bruno Fernandes 88-Rated (Manchester United)
RM: Hakim Ziyech 84-Rated (Chelsea)
ST: Jack Grealish 84-Rated (Manchester City)
ST: Jamie Vardy 86-Rated (Leicester City)