FIFA 21 Premier League Player of the Season nominees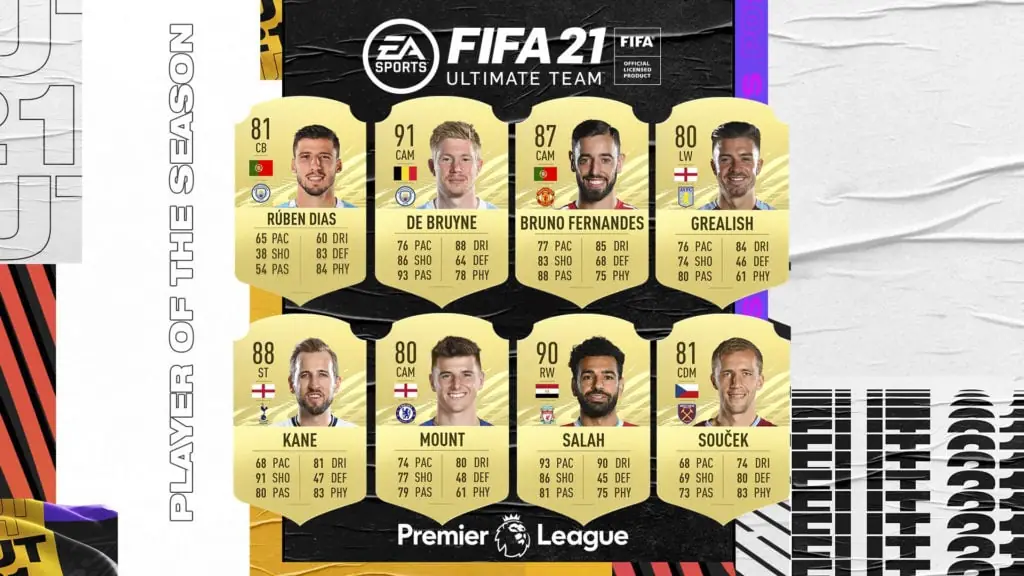 With the 2020/2021 Premier League season coming to an end, EA has kept up with their annual tradition of rewarding the league's top talent with a FIFA "Player of the Season" card. In fact, earlier today, EA officially announced who the eight nominees would be, with the only role for the fans being to vote for a winner to receive an upgraded POTS card. With so much talent spanning England's professional league, it's time to dive into who EA has chosen to be the FIFA 21 Premier League Player of the Season nominees.
FIFA 21 Premier League Player of the Season nominees
The FIFA 21 Premier League Player of the Season nominees are as follows:
Ruben DIas
Kevin De Bruyne
Bruno Fernandes
Jack Grealish
Harry Kane
Mason Mount
Mohamed Salah
Tomáš Souček
CB – Ruben Dias (81) – Manchester City
Dias has been instrumental in City's run through both the Premier League (27-5-6) and their impressive outing in the Champions League. The Portuguese man is the key to the ignition for the EPL's top-rated defense. And with over 15 clean sheets in 32 games played, you don't have to look far to see why.
CAM – Kevin De Bruyne (91) – Manchester City
Last year's POTS winner is at it yet again, as De Bruyne remains one of the world's greatest midfielders. Even after only playing in 25 games this past season, he was still able to put together 12 assists (2nd in the league). Both Dias and De Bruyne would have finished with a near-perfect season had they not lost to EPL rival Chelsea in the 2021 Champions League final this past weekend.
CAM – Bruno Fernandes (87) – Manchester United
Fernandes flourished in his first official season with Manchester United, scoring 18 goals and matching De Bruyne in total assists with 12 (2nd in the EPL). The Portuguese sensation even did so much to earn a spot on FIFA 21's Team of the Year back in January. Fernandes has been a large reason why Man U was able to rebound this year and claim the 2nd best record in the Premier League.
LW – Jack Grealish (80) – Aston Villa
Though Grealish's season was ravished with injuries, he was able to put together impressive numbers in the 26 games he did play (6 goals/10 assists). Leading Aston Villa to one of their most inspirational seasons in recent memory and their best record since 2010/11. It's crazy to think of what could have happened had Grealish been able to stay healthy.
ST – Harry Kane (88) – Tottenham Hotspur
Harry Kane has been one of England's top snipers for years now, and to think that the Tottenham man is just beginning to scratch the surface is insane. In 2020/21, we saw Kane put forth a league-best 23 goals and 14 assists, even while the Spurs struggled to remain consistent on the pitch. With exceptional individual numbers like this, it's hard not to tag Harry Kane as the favorite to win the award.
CAM – Mason Mount (80) – Chelsea
Coming off a massive Champions League win, Mason Mount and the Blues are riding high thanks in large part to the play of the young Englishman. Mount was responsible for delivering the pass to set up the game-winning shot for Chelsea this past weekend. While his regular-season stats may not match up with other names on this list, you can't deny the 22-year old's essential role within the club.
RW – Mohamed Salah (90) – Liverpool
Liverpool was one of the powerhouse clubs from England that failed to live up to their (somewhat lofty) expectations in 2021. With the club only pulling away into the Top 4 on the last day of the season. However, without the miraculous play of Salah (22 goals), who knows where Liverpool could have ended up.
CDM – Tomas Soucek (81) – West Ham United
Tomas Soucek is another exceptional talent that was introduced to the EPL this season, helping West Ham return to relevance in 2021. The Czech Republic midfielder has an unbelievable work rate, and his ability to put the ball in the net cannot be understated.
Once the fans have chosen who the winner will be, that player will be rewarded with an upgraded Player of the Season card (obtainable through Squad Building Challenges). Last year's winner (Kevin De Bruyne) was given a heavily boosted 99-rated card in-game.