Escape from Tarkov Twitch Drops December 2021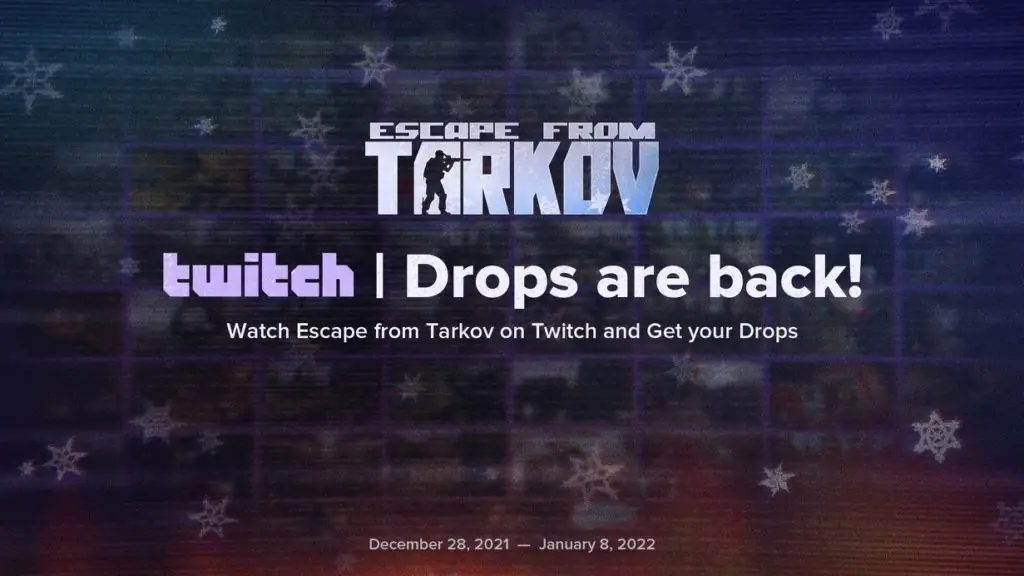 Whatever one may say about viewing and streaming on Twitch, and goodness knows there's plenty, it does bring particular benefits at times. Twitch has a pretty good track record when it comes to teaming up with game devs big and small to simultaneously promote their games and entice users to use their service. Case in point, if you happen to be a fan of Escape from Tarkov, as well as the many fine folks on Twitch who stream gameplay of it, you're about to have a very interesting week and a half. Here's what you need to know about the December 2021 Escape from Tarkov Twitch Drops.
In years past, Battlestate Games has teamed up with Twitch to utilize their Drops system, which provides in-game rewards for watching streams, in order to promote and load test their game. As Battlestate Games explains on the official Escape from Tarkov website, they've teamed up with Twitch once again this year to provide Drops to people watching particular streamers from December 28 to January 8th. If you have a copy of Escape from Tarkov active and registered to your Twitch account, then watching participating streams will reward you with weapons, gear, and other rare odds and ends.
Escape from Tarkov Twitch Drops December 2021
On any given day for the duration of the event, different streamers will be event-active for different regions. As long as you're tuned into those streamers, you can keep getting Drops all throughout the day. Here's the schedule and the event-sponsored streamers, plus their regions. Just look up these names on Twitch, and you'll find them.
Dec. 28
The first day is a free day; as long as you watch any streamer playing in the Escape from Tarkov category, you'll get Drops.
Dec. 29
Dec. 30
Dec. 31
Jan. 1
Jan. 2
Jan. 3
Jan. 4
Jan. 5
Jan. 6
Jan. 7
Jan. 8
The last day of the event is another free day. Once again, anyone streaming in the Escape from Tarkov category is fair game.