Escape From Tarkov Keys and Prices Guide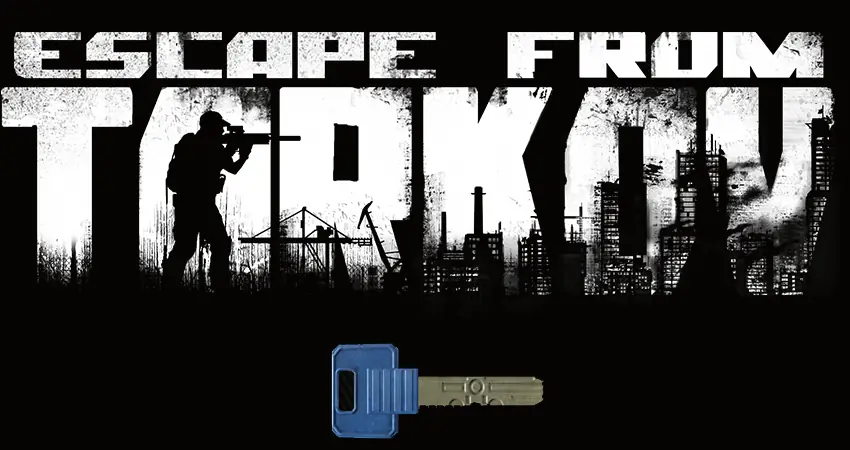 Keys are useable items in Escape from Tarkov that you can bring with you to unlock areas with high-tier loot. There are many different keys in Escape From Tarkov, and it can be a bit overwhelming for new players to get an idea of which keys are worth anything.
This Escape from Tarkov recommended keys and price guide breaks out which keys you should bring for specific maps. You'll also find a price next to each key so you can get an idea of what they are worth.
Reserve
RB-BK Key – 85,000 Roubles
RB-VO Key – 85,000 Roubles
RB-AO Key – 150,000 Roubles
RB-KPRL Key – 245,000 Roubles
RB-ST Key – 240,000 Roubles
RB-TB Key – 57,000 Roubles
RB-PSP1 Key – 65,000 Roubles
Key RB-PSP2 – 1,200,000 Roubles
RB-PS81 Key – 2,800,000 Roubles
RB-PS82 Key – 62,000 Roubles
RB-ORB1 Key – 52,000 Roubles
RB-ORB2 Key – 430,000 Roubles
RB-ORB3 Key – 65,000 Roubles
Customs
Factory Exit Key – 150,000 Roubles
Marked Key – 30,000 Roubles
Military Base Checkpoint Key – 185,000 Roubles
Customs Office Key – 10,000 Roubles
Cabinet Key – 9,000 Roubles
The Key to the Gas Station Storage Room – 7,000 Roubles
USEC Stash on Customs Key – 240,000 Roubles
Dorm Guard Desk Key – 9,000 Roubles
Dorm Room 105 Key – 1,500 Roubles
Dorm Room 110 Key – 27,000 Roubles
Dorm Room 114 Key – 11,000 Roubles
Dorm Room 204 Key – 4,500 Roubles
Dorm Room 214 Key – 60,000 Roubles
Interchange
Key to EMERCOM Medical Unit – 85,000 Roubles
Key to KIBA Store Outlet – 850,000 Roubles
Key to KIBA Outlet Grate Door – 105,000 Roubles
Object #21WS Keycard – 220,000 Roubles
Object #11SR Keycard – 3,700,000 Roubles
ULTRA Medical Storage Key – 3,000,000 Roubles
Key to Pharmacy – 61,000 Roubles
Shoreline
Office 104 West Wing Key – 380,000 Roubles
Office 112 West Wing Key – 190,000 Roubles
West Wing Room 203 Key – 23,000 Roubles
West Wing Room 216 Key – 23,000 Roubles
West Wing Room 218 Key – 132,000 Roubles
West Wing Room 220 Key – 310,000 Roubles
West Wing Room 301 Key – 153,000 Roubles
West Wing Room 306 Key – 33,000 Roubles
Health Resort Room 321 Safe Key – 17,000 Roubles
Health Resort Warehouse Safe Key – 125,000 Roubles
Health Resort Management Office Safe Key – 215,000 Roubles
Office 107 East Wing Key – 45,000 Roubles
East Wing Room 206 Key – 180,000 Roubles
East Wing Room 226 Key – 390,000 Roubles
East Wing Room 306 Key – 20,000 Roubles
East Wing Room 310 Key – 60,000 Roubles
East Wing Room 313 Key – 380,000 Roubles
East Wing Room 316 Key – 10,000 Roubles
Health Resort Utility Room Key – 27,000 Roubles
Cottage Back Entrance Key – 50,000 Roubles
Cottage Safe Key – 36,000 Roubles
Key to HEP Station Storage – 310,000 Roubles
Woods
Shturman Key – 280,000 Roubles
Key ZB-014 – 6,500 Roubles
Labs
Lab. Black Keycard – 450,000 Roubles
Lab. Green Keycard – 2,000,000 Roubles
Lab. Blue Keycard – 6,800,000 Roubles
Lab. Violet Keycard – 9,500,000 Roubles
Lab. Red Keycard – 39,000,000 Roubles
Lab. Keycard Arsenal Storage Room – 75,000 Roubles
Lab. Keycard Manager Office – 260,000 Roubles
Lab. Keycard Testing Area (Weapons) – 75,000 Roubles
Factory
Factory Exit Key – 150,000 Roubles