Differences Between Diablo 4 Early Access and Open Beta Coming Up in March
Understand the difference if you want to experience Diablo 4 early.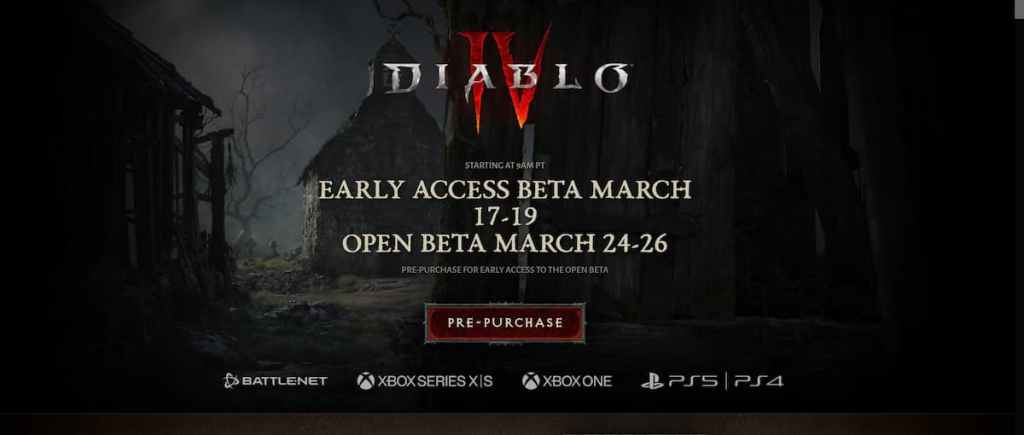 Diablo 4 is lurking behind corners and slowly but steadily coming out of the darkness and into the light. March can be called a "test drive" month for Diablo fans as it is the month when everyone will be able to try it out. Yes, we mean literally everyone.
The developers of Diablo 4 announced that on the weekend of March 17-19 they will be releasing the Early Access beta while on the following weekend, March 24-26, they will be hosting an Open beta. Read on to find out what these betas mean and how you can access either or both of them.
Related: Is Diablo Immortal Coming to PS4 & PS5?
Early Access Beta VS Open Beta Diablo 4
The difference between Diablo 4's Early Access beta and Open beta is fairly simple. Permission for Early Acces beta will be given to those who pre-purchased the game, while on the date of Open beta, everyone would be allowed in to try and play Diablo 4.
Players that go through these beta releases will be able to play through the Prologue and Act 1 of Diablo 4 in the map called Fractured Peaks. If you join on March 17-19 you will be able to play only 3 classes – Barbarian, Rogue, and the Sorcerer, while the Open beta on March 24-26 will have the additional Druid and Necromancer classes.
Even though it's only a Beta release, you will be able to fight against some bosses and get rewards. Diablo Developers noted that anyone who reaches level 20 will earn a Beta Wolf pack and more rewards when the game launches.
---
We hope our article was helpful. Read more on Diablo 4 in our article about what kind of machine you will need to play it and if you are grinding in that last season of Diablo 3 before the new release, check out our article on how to find Altar of Rites. Follow Gamer Journalist on Facebook and get a lot more exciting gaming news every day.