DELTARUNE Chapter 1 Card Puzzle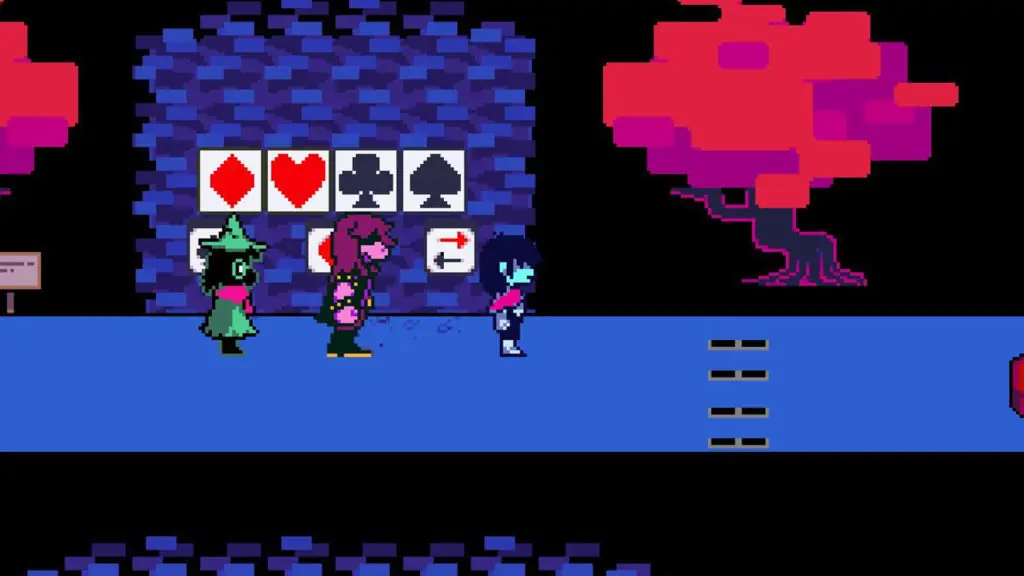 With Chapter 2 of DELTARUNE still setting the internet aflame with theories, fan art, and in-jokes, many have taken the opportunity to return to the game's first chapter. Some are looking to either go through the whole thing with a fine-toothed comb in search of missed details, while others are looking to experience it for the first time and get into the hype. Whatever the reason, and there are no bad ones, it wouldn't hurt to have some knowledge on hand to expedite the process a smidge. Here's how to solve the card puzzle in DELTARUNE Chapter 1.
Throughout Chapter 1, there are several instances where you need to solve a card suit-themed combination lock to open a path forward. Most of these puzzles will have their solutions readily available, either in the form of a clear diagram or several obvious hints. The lone exception to this is the optional card puzzle in the forest, which is blocking off one of the broken key pieces you need to assemble if you want to fight Jevil, the secret boss of the chapter.
DELTARUNE Chapter 1 Card Puzzle
The combination for the forest card puzzle is:
Diamond
Heart
Club
Spade
As a sign next to the puzzle points out, this combination can be found over in the King's castle, though it's a bit of a pain to drag yourself all the way back to the puzzle after finding it. In addition to the combination, you need to know the proper input sequence. The gimmick to these puzzles is that the suits switch when you press the switch button, so you need to press the suit and switch buttons in a particular order. Normally, you'd have to figure this part out yourself, but here's a time-saver for you:
Diamond
Switch
Diamond
Spade
Switch
Spade
This will open the way to the key piece, all three of which can be assembled by the smith near the forest bake sale to open the way to Jevil.