Booth Game Codes (May 2023)
What will you do with your booth?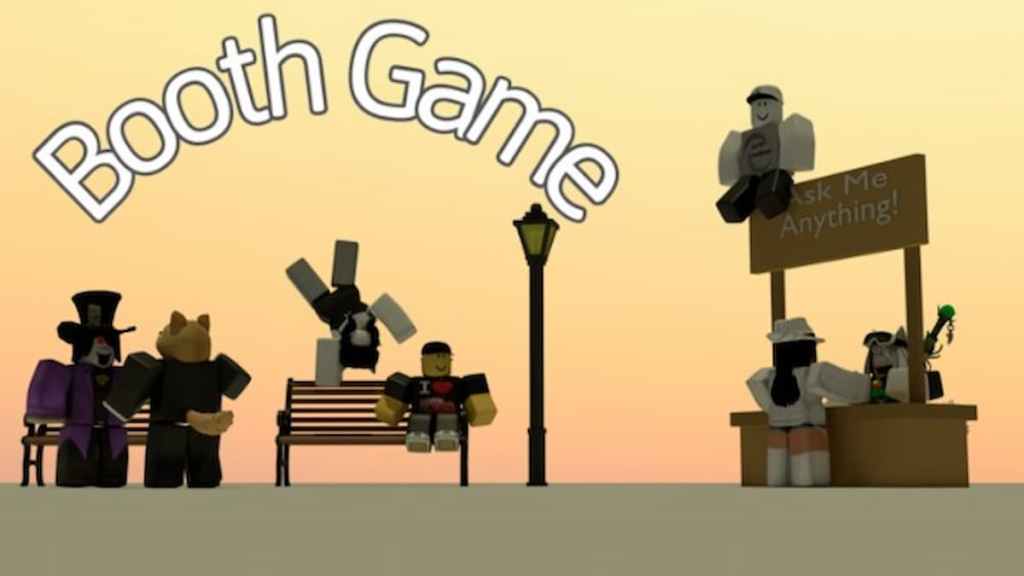 Now is the time to express yourself from the comfort of your booth in Manual's Booth Game. In this simulation, you can craft unique booths about whatever you want. A variety of booth ideas from 'Rate my Avatar' to shops await in Booth Game. You can sell and buy several things, from food items, like latkes and tacos, to random stuff, like healing potions and balloons. The choice is yours in this Roblox game!
In Booth Game, codes will give you free in-game perks. Luckily, we've got the latest codes for you here at Gamer Journalist. Use these codes to make your booth shine!
All Booth Game Codes
Booth Game Codes (Working)
Here are all the working codes for Booth Game:
LateUpdate0521 — Unlocks: +25 Minutes (New)
ChairGaming — Unlocks: +25 Minutes
TrashGaming — Unlocks: Garbage Container
UniverseGlitch23 — Unlocks: +23 Minutes
BistroFeature — Unlocks: +25 Minutes
Shutdown0203 — Unlocks: +30 Minutes
New10KLikes — Unlocks: +30 Minutes
BoothCleanUp — Unlocks: +30 Minutes
PatrickHouse — Unlocks: +30 Minutes
Booth Game Codes (Expired)
There aren't any expired codes right now.
Related: Anime Fighters Simulator Codes (February 2023)
How to Redeem Codes in Booth Game
Here's how to redeem codes in Booth Game:
Launch Booth Game.
Click the 'Codes' button at the top.
Press the 'Codes…' text box.
Type the code into the box.
Click the airplane to receive rewards.
How Can You Get More Free Codes?
Developers will often post new codes on their official Roblox profiles. They'll even announce when the next codes will be released. Manual posted that he'll release another one at 15K likes on the official Booth Game Roblox page. Keep up with the latest codes by joining their Discord too!
Why Are My Booth Game Codes Not Working?
Your codes may not be working for different reasons. The first may be because there's an error in punctuation, spelling, and/or capitalization. Check these to ensure there are no such mistakes. If the code still isn't working, it's probably expired. In that case, you'll have to search for another code to redeem.
Isn't Booth Game the Same as The Booth Plaza 2?
Yes, Booth Game and The Booth Plaza 2 are the same game. First, Friendster Society made The Booth Plaza, the original game. That game closed on October 20, 2022. Booth Game used to be called The Booth Plaza 2 back in the day. Then, Manual renamed the game to remove association with The Booth Plaza game.
What is Booth Game?
Booth Game is a Roblox experience by Manual in which you create the booth you've always wanted. You can make silly stands, like a 'Change my Mind' booth, or a legit restaurant where you sell food and drinks. Not only that, but you can make a ton of friends in this social hangout!
---
If you're into more Roblox games, check out our Roblox Game Codes List to get more freebies in your favorite titles!
About the author