Best Value Strikers in FIFA 22
Three of the best value Strikers in FIFA 22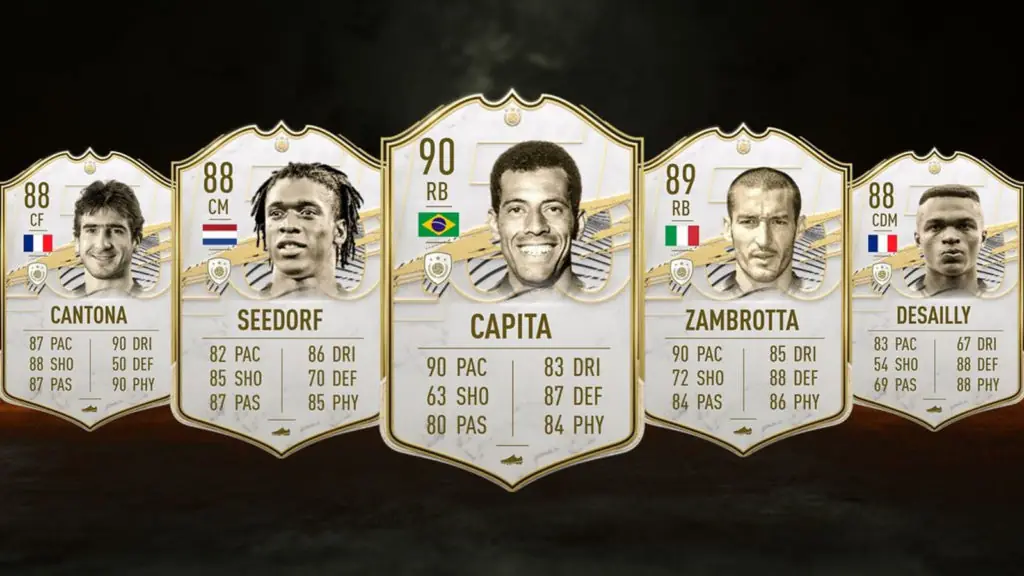 One of the biggest concerns that most FIFA players have is the price-performance ratio of an in-game footballer. However, as a matter of fact, the more expensive a card is, the better he would be. So, if you are looking for a striker who, with his penchant for scoring goals, will be the one to seal every match for you without any budget restrictions, this piece is for you. Here's a look at the best value strikers in FIFA 22.
Best Value Strikers in FIFA 22
1. Alessandro Del Piero Icon – All Versions
Shooting: 9-9.5/10
Passing: 9/10
Movement: 8.5/10
Dribbling: 8.5/10
Speed: 8-8.5/10
Physical: 7/10
To be honest, there are few differences that you can spot after using all three versions of this Icon card. This is shown by all of them being priced nearly the same, depending on what platform you are using to FIFA 22.
Although spending most time of his career as a deep-lying forward, he is currently the second-highest all-time Italian top-scorer in all competitions. In this FIFA title, he is indeed one of the highest chance conversion rate players you could find. His shooting stats of Base, Mid, and Prime version are 88, 90, and 92, respectively, but the thing that makes this Italian stand out is the 5-star weak foot.
If you are still uncertain about which version to opt for, think about what striker styles you want to have in your team. For the Base version, he has better Pace and Stamina stats compared to the rest. However, he lacks the Finesse Shot trait, which the other two versions both have. There is not much to say about the Mid and Prime version, the more expensive, the more valuable.
2. Kenny Dalglish Icon – Mid Version
Shooting: 9.75/10
Passing: 7.75/10
Movement: 9/10
Dribbling: 8.5/10
Speed: 9/10
Physical: 6/10
Kenny Dalglish will surely make you feel pleased if you want an even better shooting striker than Del Piero. King Kenny, since FIFA 20, has been a nightmare for any defense to play against him. However, in FIFA 22, things seem to be a little bit harsh for him.
As you can see from the overall evaluation above, this Liverpool legend owns everything you need from a striker. When you compare Kenny Dalglish and Del Piero, both excel at scoring goals, and there is not much to say about them. There is a slight difference that the Scottish isn't given the trait Finesse Shot, however with Outside Foot Shot, in a tight angle, Dalglish seems to be more reliable than Del Piero.
However, inconsistency is this footballer's most significant flaw in this game. This results from his poor Physicality. Yes, his assigned Physicality is better than Del Piero. However, his in-game performance shows something in contrast. In a meta in favor of "brick-wall" players with tremendous Physical stats, Dalglish has almost no chance to win a 1vs1 both ground or aerial duel. This is why he can score 2 or 3 times at some matches and then turn impotent the next game.
I opt for the Mid version of Kenny Dalglish because the price gap between the Base and Mid versions is negligible, and the Prime version is not out yet. In conclusion, avoiding needless physical contact with opponents' defenders and believing in Kenny's ability are all you need to do.
3. Eric Cantona Icon – Mid Version
Shooting: 9.7/10
Passing: 9/10
Movement: 9.5/10
Dribbling: 8.5/10
Speed: 8.5/10
Physical: 10/10
The Manchester United legend is one of the best complete forwards you could find in FIFA 22. Owning him is like owning a bulldozer in your squad, when he is agile and fast while being 6'2 and of 90 Strength. Suppose you are already fed up with experiencing your strikers being pulled aside effortlessly by the opponents' Van Dijk, Rio Ferdinand, or Kimpembe. In that case, this is surely the striker you have been searching up for.
With high Pace, outstanding Dribbling combined with his insane Strength, Aggression, Stamina, and Jumping, he bullies most defenders with his eyes closed and then goes straight to the box. You also don't have to be worried about Cantona's finishing because he will defeat the goalkeeper as effortlessly as how he gets over the defense line.
There is mostly nothing to complain about with this Frenchman. However, with higher performance comes a higher price. This is the reason why I advise you to pick the Mid version when it's just slightly more expensive than the Base Version, while the Prime one is extravagantly exorbitant.