Best Mods for The Sims 4 Rent Expansion Pack
Best mods for the new rent pack!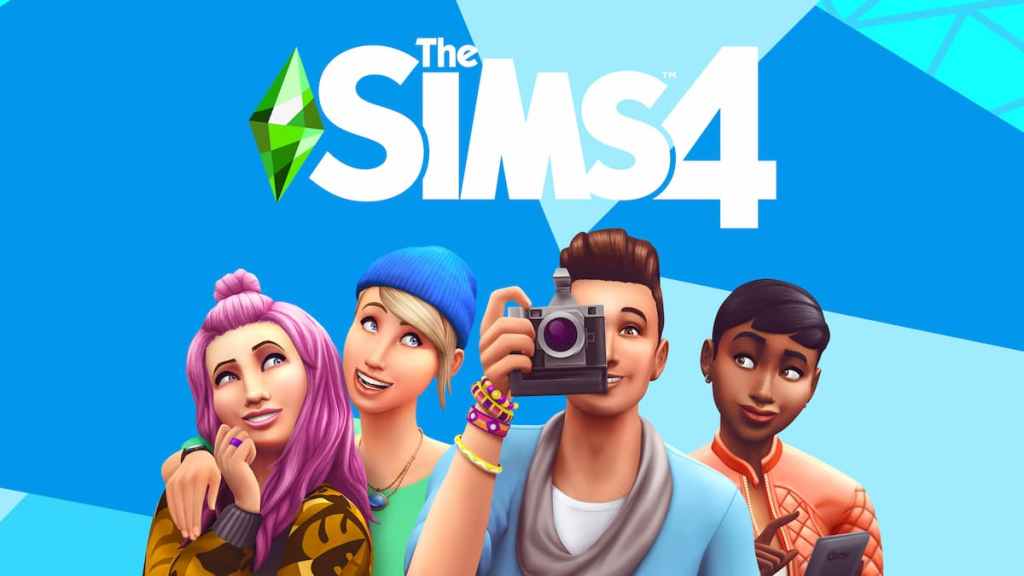 Simmers can finally regulate who can live in their apartment building with The Sims 4 Rent Expansion pack. Choose your landlord and build beautiful apartments with this upcoming pack. Before you start building, here are some of the best mods I have picked to help you live your best life in Sims 4 Rent Expansion.
Mods to Use in Sims 4 Rent Expansion Pack
Mods can help improve your gameplay by adding elements that weren't included in the pack, or they can give you tweaks to fix some of the bugs. If you want to add mods to your Sims game, it's easy to do and fun to shop for new mods. Some of my favorite moments while playing Sims involved mods, and these are mods I believe can pair perfectly with The Sims 4 Rent Expansion pack.
Will renting be difficult to navigate in The Sims 4? Will NPCs be able to gain entry into your home? Here are some mods you can use to help prepare you for the upcoming Sims 4 Rent Expansion pack.
Related: The 10 Best Sex Mods for The Sims 4
1. UI Cheats Extension – Weerbesu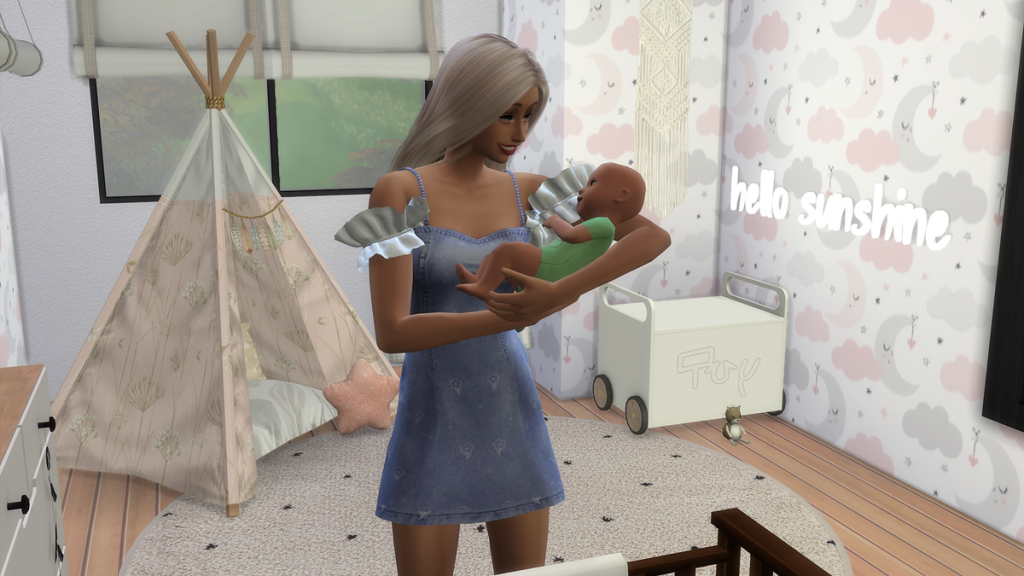 I will always recommend UI Cheats Extension because your Sim needs to be at its best if you want to manage a rental property. You can manage their hygiene, sleep, and other needs by using UI Cheats Extension by Weerbesu. This is my favorite mod to use because of how useful it is when you need to alleviate your Sims needs. You can add new milestones instantly, fill up their needs, and add relationship/romance levels with ease.
2. SNBank Bills – SimRealist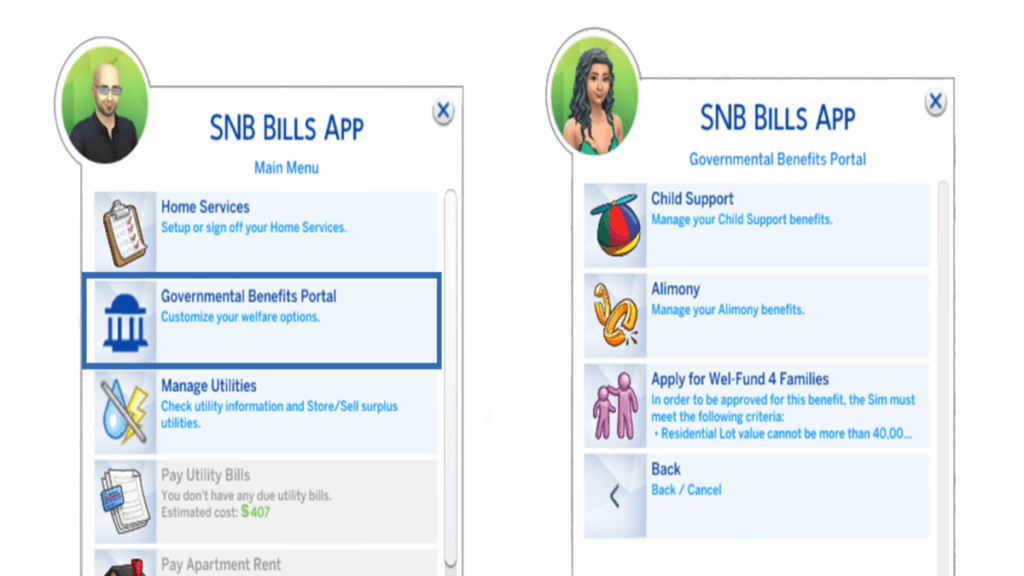 It is a complete game changer when it comes to managing your finances. SNBank Bills is a mod that allows you to pay for your utilities and property taxes in one app. You can sign up for benefits or have your Sim go on food stamps if they're not making a lot of money through the government portal. This is a great mod to use for the rent expansion pack because of how realistic it is. We all have bills to pay, and now your Sims can do it, too.
3. Autonomous Pay Bills on Computer – LittleMsSam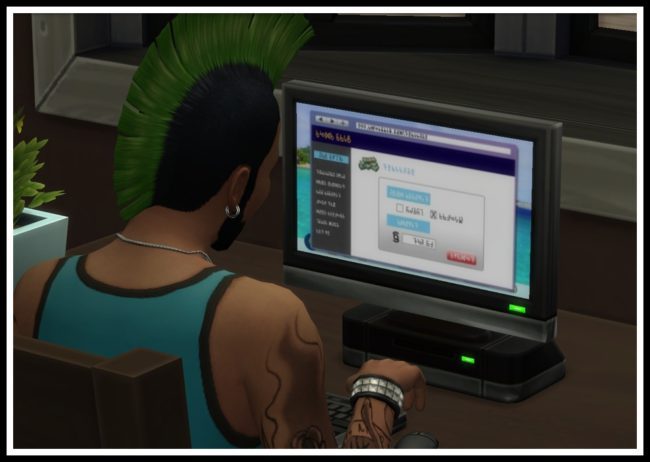 This mod tweaks your game and allows you to pay bills on your computer instead of having to pay through your phone or your mailbox. It's a tuning mod that can pay your bills instantly without you having to worry about paying them late. Once your bills hit the mailbox, they will automatically be paid, so you have no excuses for paying your rent late.
4. 25 Vacation Days (School Mod) – MSQSims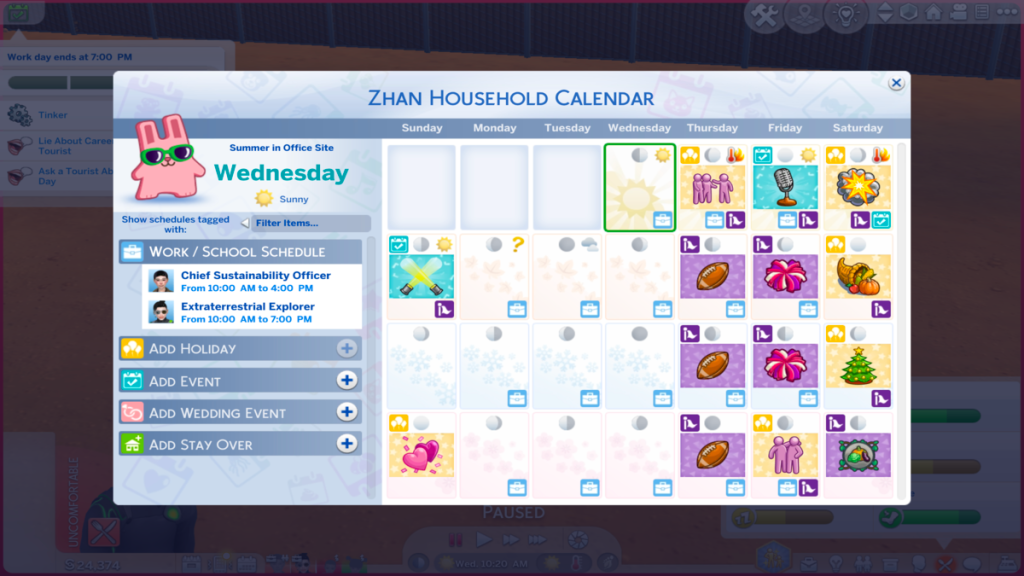 When your teenager or children are on school break, it's not enough time to enjoy their youth, in my opinion. This mod gives your Sim 25 vacation days so they can go to parties or hang out at home to unwind. I love playing with my teen Sims, and I like it when they're at home doing things such as building skills or applying for summer jobs. You can enjoy them at the house longer with this mod.
5. Trailer Park Living Mod – WICKED PIXXEL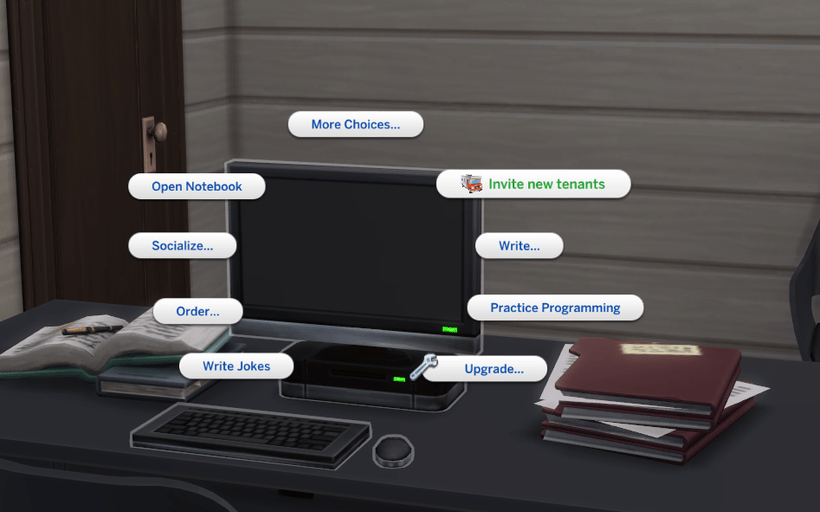 Hopefully, this mod will be able to cross over to the rent expansion when it comes out because it's a fun mod to use. The Trailer Park Living mod allowed your Sims to become real estate agents and rent out trailer parks. You can create a trailer park by giving your lot the trait, and you'll be able to approve or deny residents from moving in. As a landlord, you can choose what trailer park community you want to purchase, and you get to decide if tenants deserve to live there.
6. MC Command Center – Deaderpool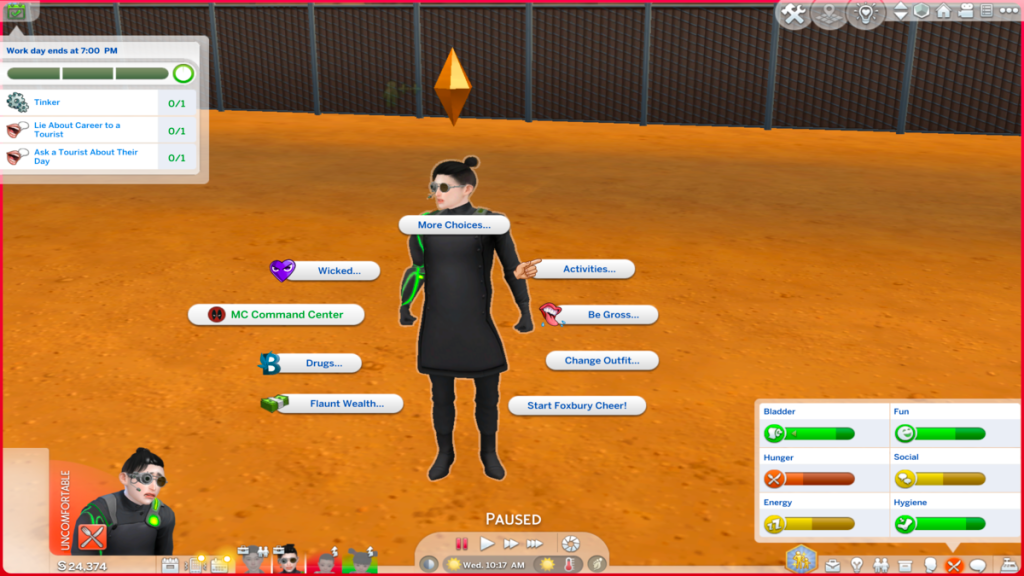 MCC is a very popular mod that monitors tons of features in The Sims. You can adjust how long you want Sim days to be or figure out who gets the kids after a divorce. Some of our favorite features have got to be the ones where you can allow teens to get pregnant (it happens) or allow homeless Sims to move in together. Another great feature is being able to adjust your Sims moving-out status in case someone plans on getting a divorce.
7. "SimDa" Dating App – LittleMsSam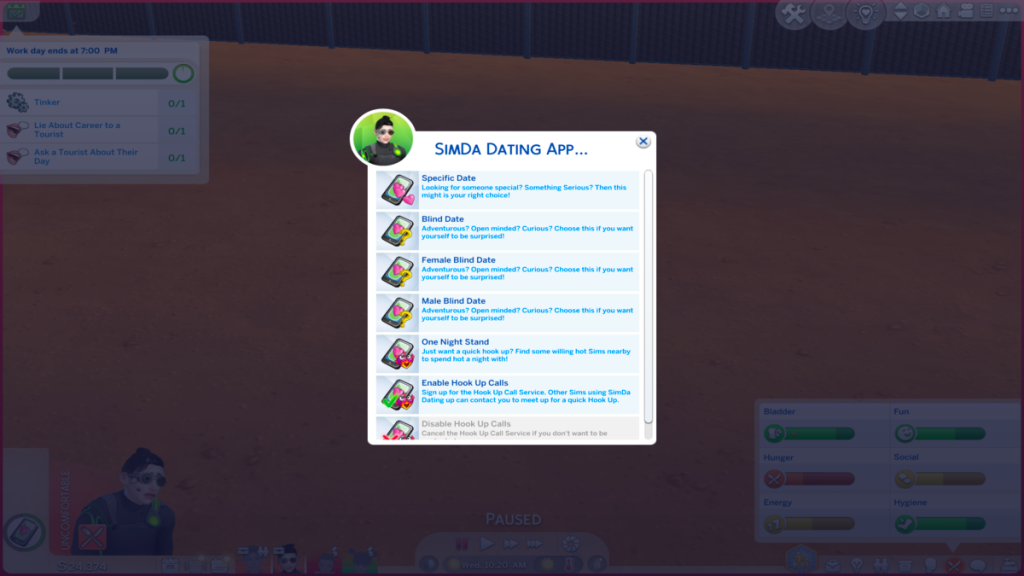 You're going to want to set up dates in your new home, and what better way than to install the SimDa Dating App? Installing the SimDa mod for The Sims 4 lets your Sim browse the available Sims in their area, go on a blind date, or even skip to the main event and have a One Night Stand with their potential paramour. This mod is great for adding an extra avenue for dating within the Sims world.
8. No Noisy Neighbors – BosseLady TV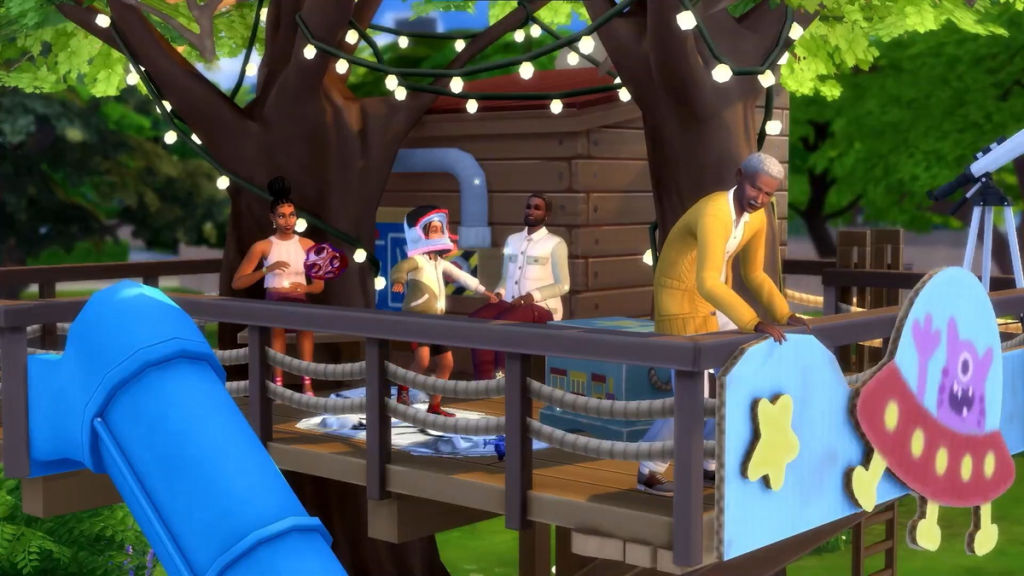 The properties you can rent today have noisy neighbors, and sometimes, it's annoying to go out of your house and bang on the doors. In the trailer for the upcoming rent expansion, I saw that you could bang on walls. With this mod, all your neighbors will stop being loud, and to get it to work, you need to add the lot traits on your property.
9. Repair and Landlord Career – Gauntlet101010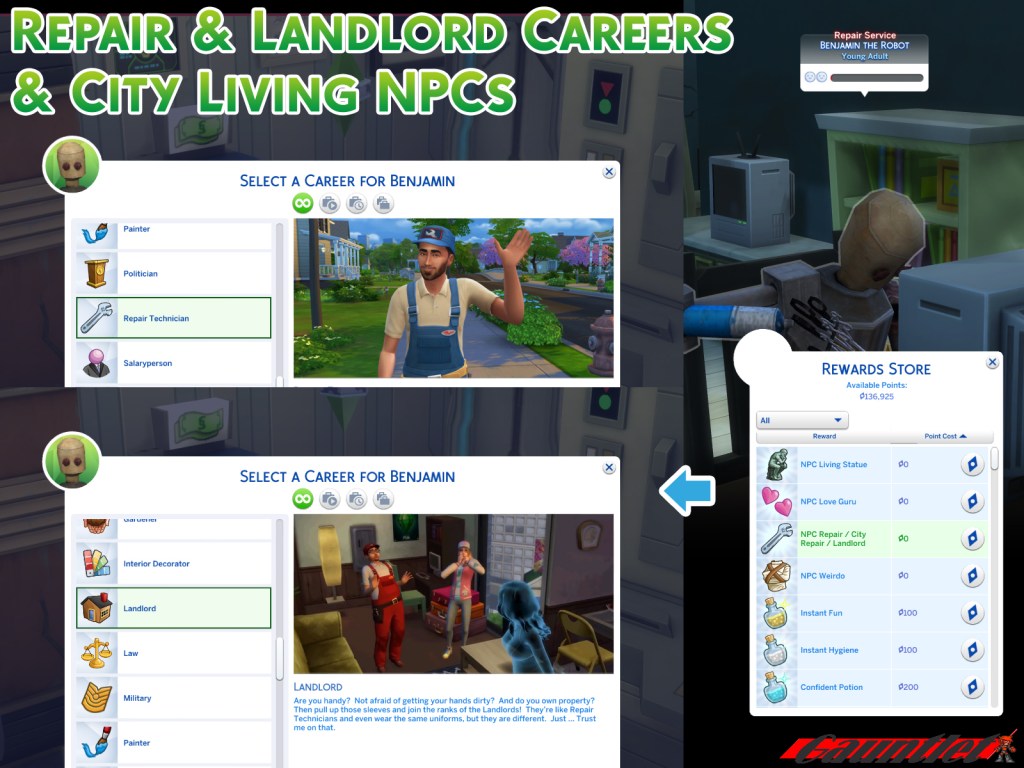 This mod gives your Sims new traits where they can become a landlord, a city repair worker, or a repair worker. You'll be able to have new careers that focus on the NPC jobs living in an apartment. If you suspect rats, you call your landlord, or you can just fix the problem yourself. You can also find these traits in the reward store. This mod might not be around once the new expansion comes out, but who knows? Maybe it will stick around since it's just a career change.
10. Ask For Money – Sparkii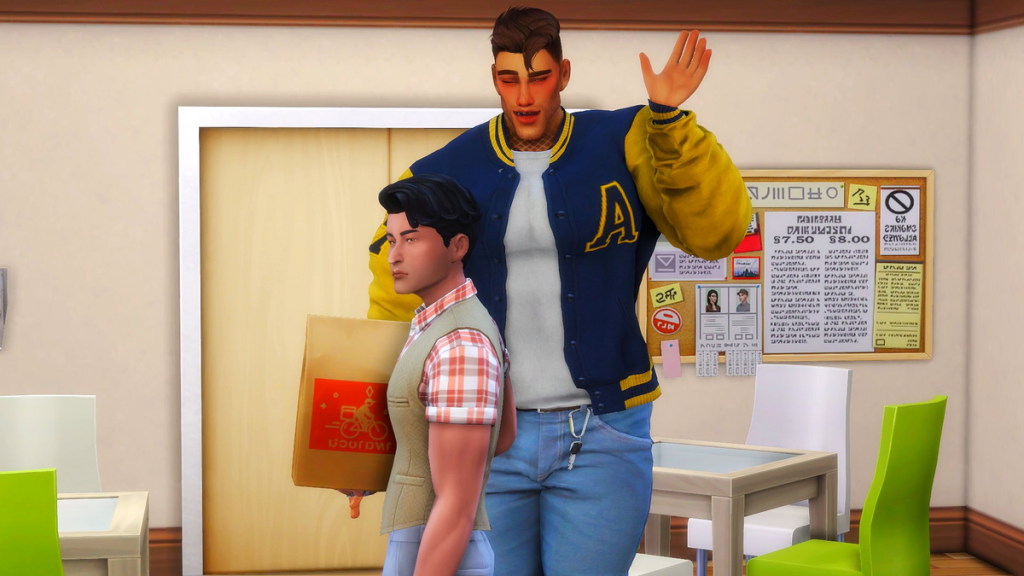 Rent is approaching, and you're running low on funds. You can't do an odd job because it's too late in the day for any jobs to become available. Your only option is to ask for money from another Sim. This is a nice mod to have if you need to beg for money to pay for rent or anything else. You'll get a new interaction in the pie menu where you can ask for money. For an extra dash of realism, if your Sims aren't on good terms, they can deny giving you money.
---
If you're looking for more tips and tricks you can use while playing The Sims 4, please check out Gamer Journalist on Facebook to join the discussion and keep up to date with our content. You may also want to check out How to Find and Remove Broken Mods for The Sims 4 or Best Mods to Immerse Yourself in Sims 4 Horse Ranch.
About the author