Animal Crossing New Horizons Perfect Snowman DIY Recipes Guide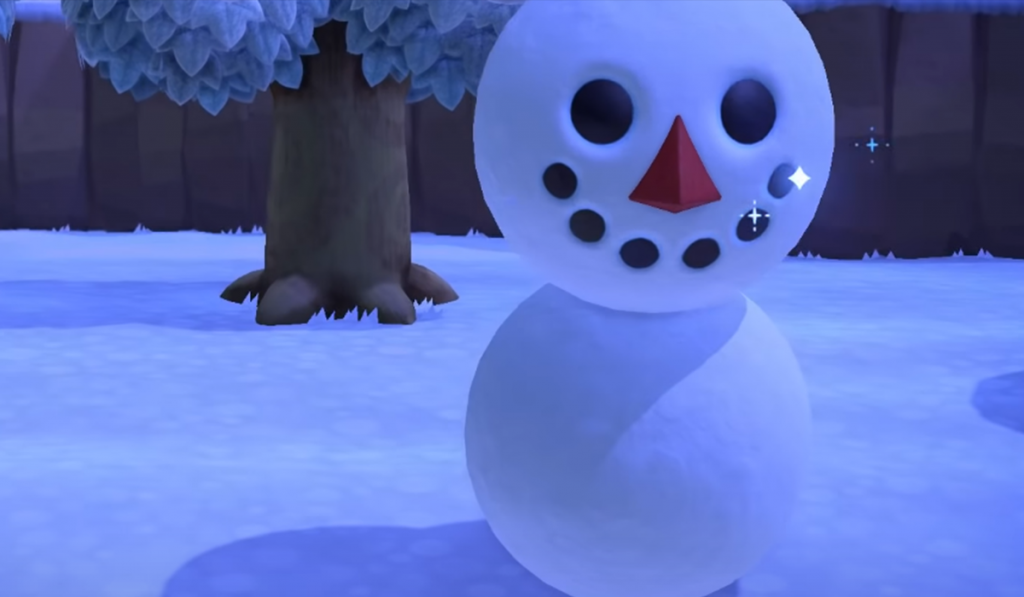 In this guide, we will take a look at all of the Animal Crossing New Horizons Perfect Snowman DIY Recipes. Obtaining these recipes requires snow to be on the ground, so you need to make sure you're in the Winter season. Next, you're going to need to build a Perfect Snowman, and we're going to show you how to do just that.
How to build a Perfect Snowboy in ACNH
During the Winter season, when there is snow on the ground in your game, you will notice some small snowballs on the ground. Usually, you will see two snowballs on the ground near each other. If the other snowball is too far away, you can kick it into the water to get a new one to spawn by entering and exiting the shop. Roll the snowballs around until they get to a proper size.
The Snowman you make needs to be perfect to get DIY recipes. A perfect one needs to have the appropriate sized body and head. When you think you have the snowballs complete, roll them into each other to form a Perfect Snowman. You can only make one Perfect Snowman a day, and they melt after three days. Again, if you feel like you made the head too large, for instance, you can destroy it and get a new snowball.
How to get Snowflakes and Large Snowflakes
After building a Perfect Snowman, you can talk to him once a day for a Giant Snowflake. The Snowman will completely melt after three days, but you can still talk to him until he's gone. The Giant Snowflakes are a material needed for each of the Frozen / Perfect Snowman DIY Recipes, which you can see down below.
Perfect Snowman DIY Recipes
Recipe
Materials
Frozen Arch
Large Snowflake x1
Snowflake x10
Frozen Bed
Large Snowflake x1
Snowflake x10
Frozen Chair
Large Snowflake x1
Snowflake x3
Frozen Counter
Large Snowflake x1
Snowflake x5
Frozen Partition
Large Snowflake x1
Snowflake x6
Frozen Pillar
Large Snowflake x1
Snowflake x3
Frozen Sculpture
Large Snowflake x1
Snowflake x4
Frozen Table
Large Snowflake x1
Snowflake x8
Frozen Tree
Large Snowflake x1
Snowflake x8
Frozen-treat Set
Large Snowflake x1
Snowflake x1
Ice Flooring
Large Snowflake x1
Snowflake x8
Ice Wall
Large Snowflake x1
Snowflake x8
Ice Wand
Large Snowflake x1
Star Fragment x3
Ski-slope Wall
Snowflake x8
Snowflake Wreath
Snowflake x4
Snowperson Head
Large Snowflake x1
Snowflake x5
Three-tiered Snowperson
Large Snowflake x1
Snowflake x6
Tree Branch x2
Frozen Arch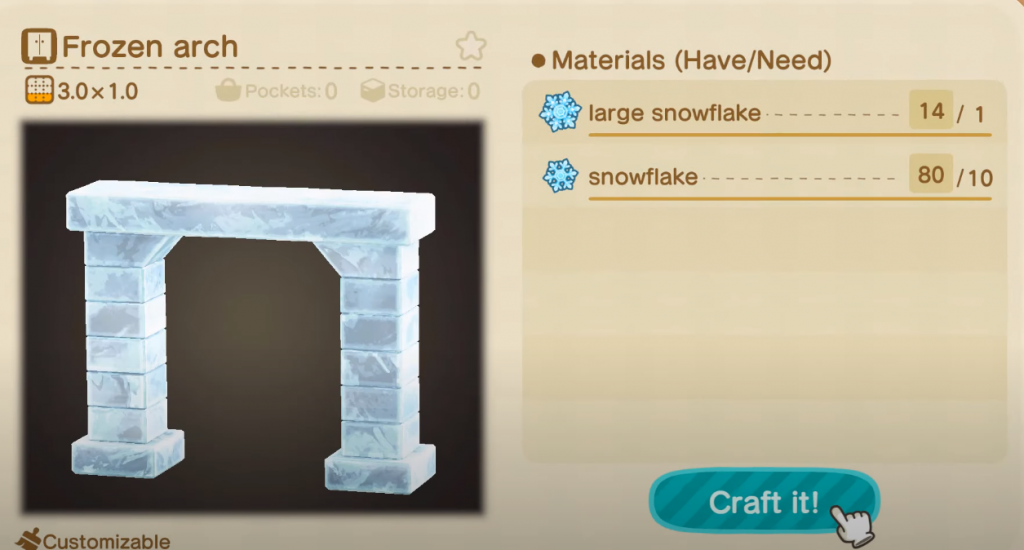 Frozen Bed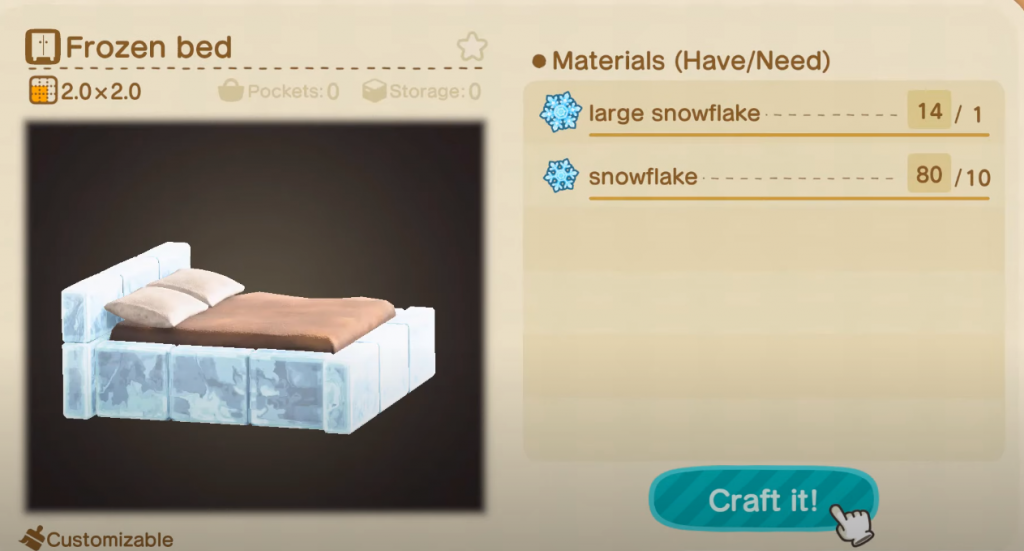 Frozen Chair
Frozen Counter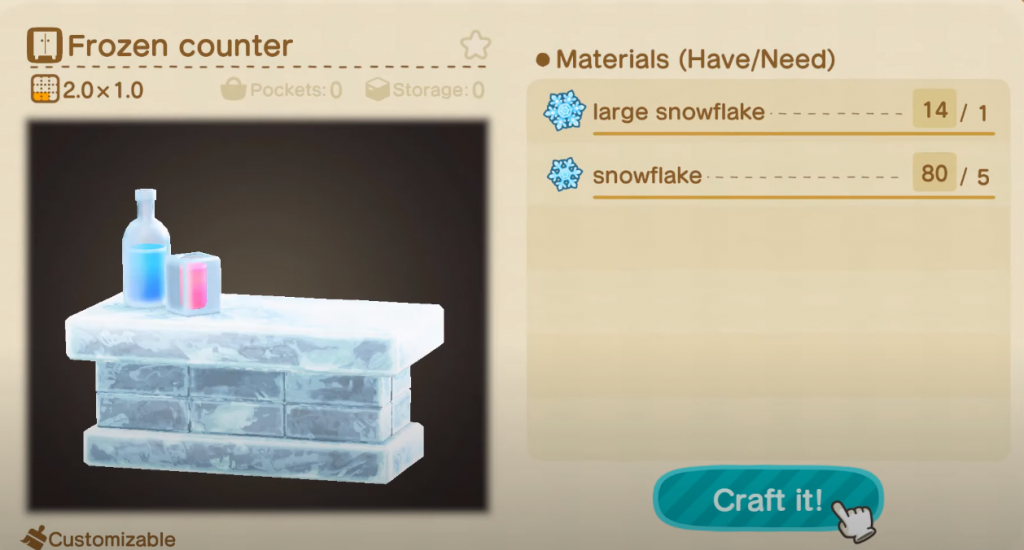 Frozen Partition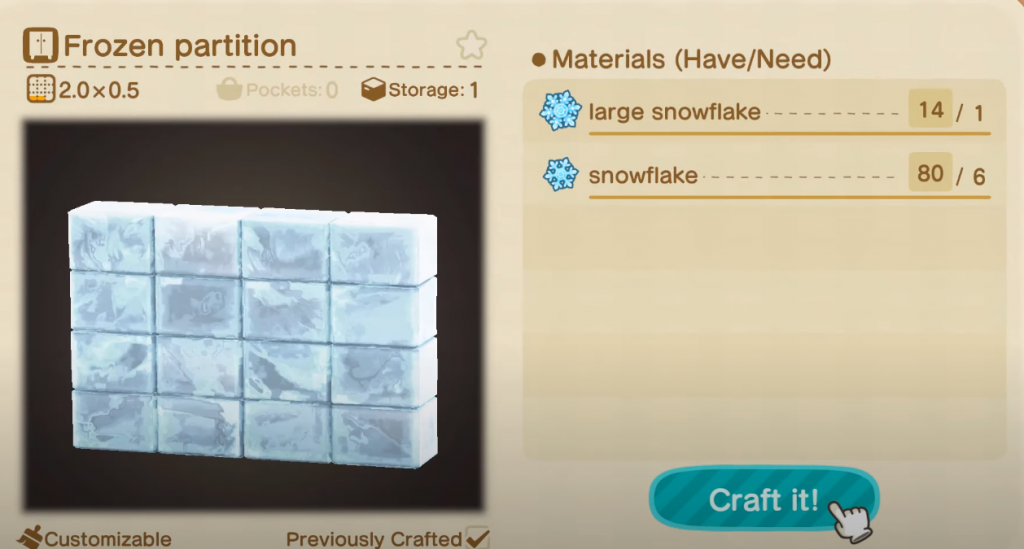 Frozen Pillar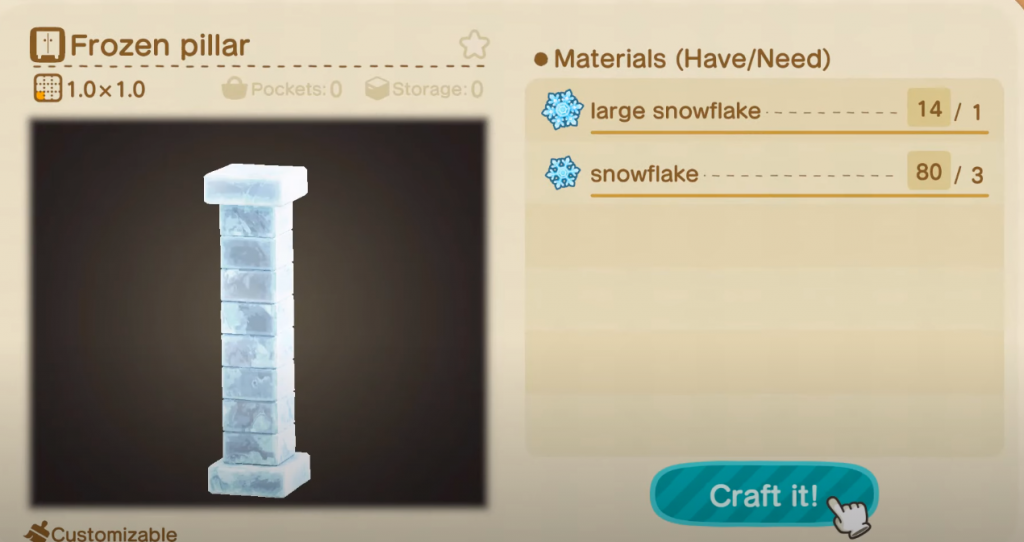 Frozen Sculpture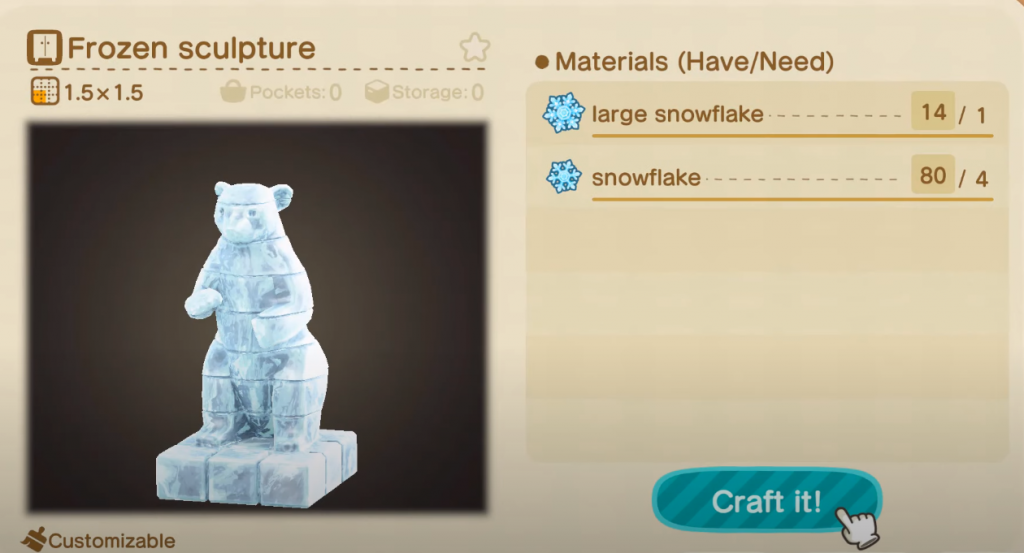 Frozen Table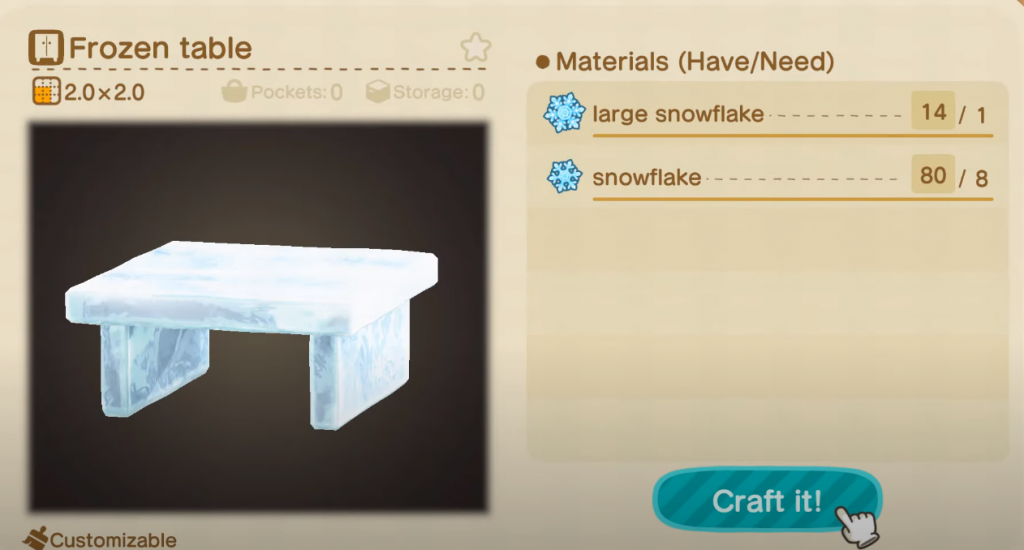 Frozen Tree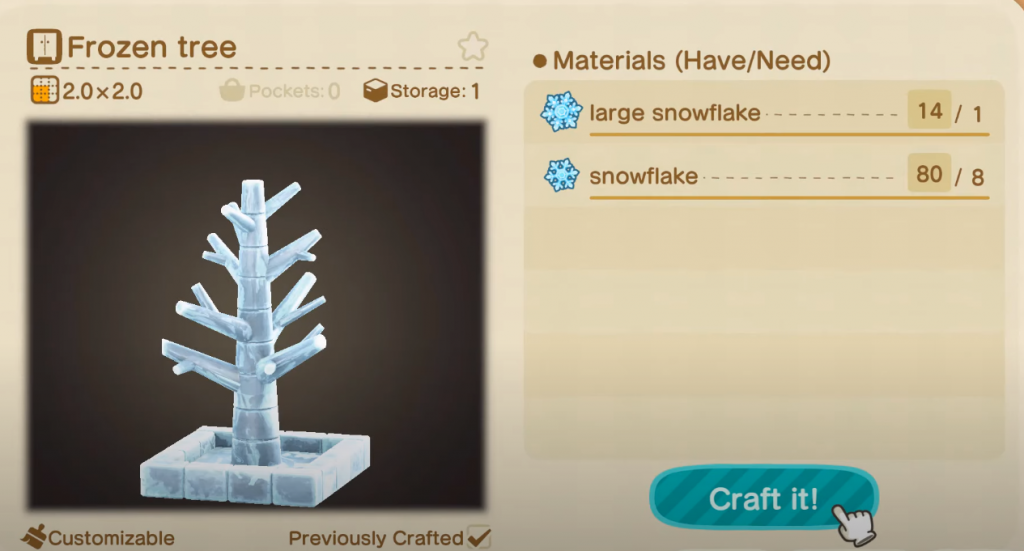 Frozen-treat Set
Ice Flooring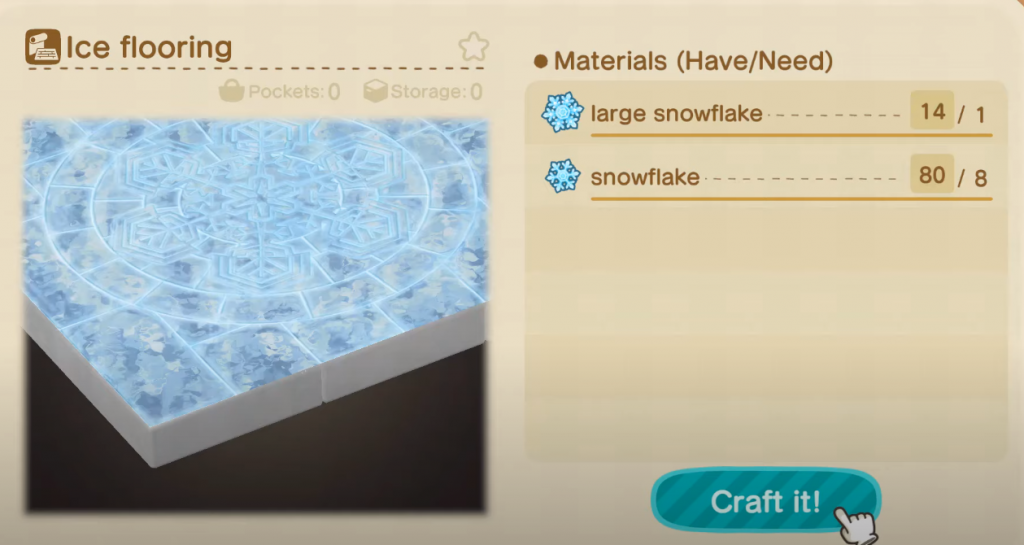 Ice Wall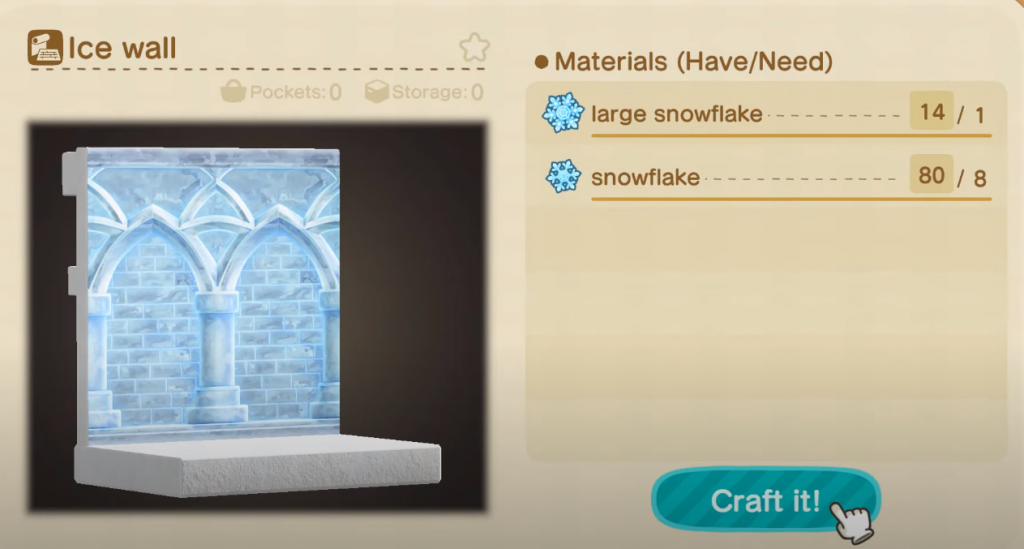 Ice Wand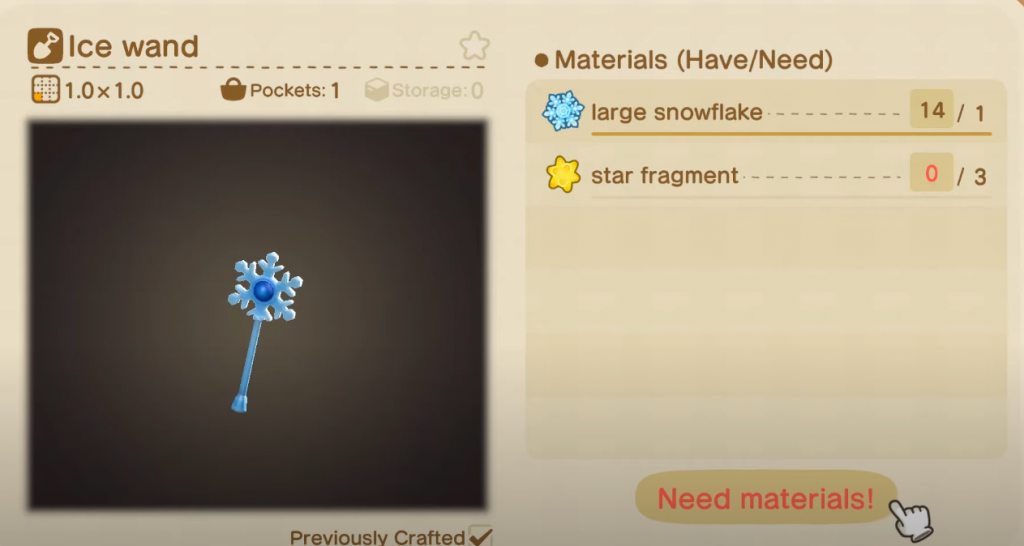 Ski-slope Wall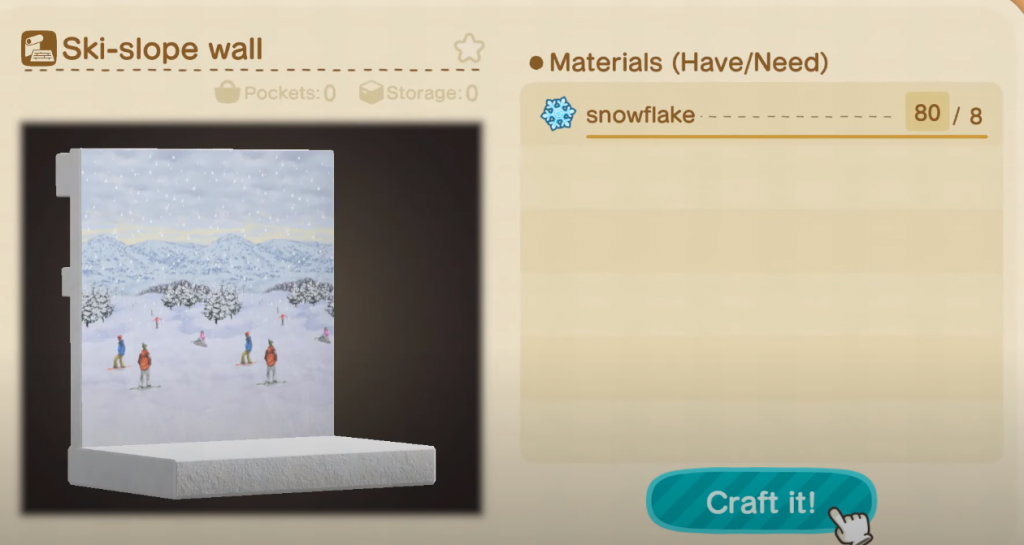 Snowflake Wreath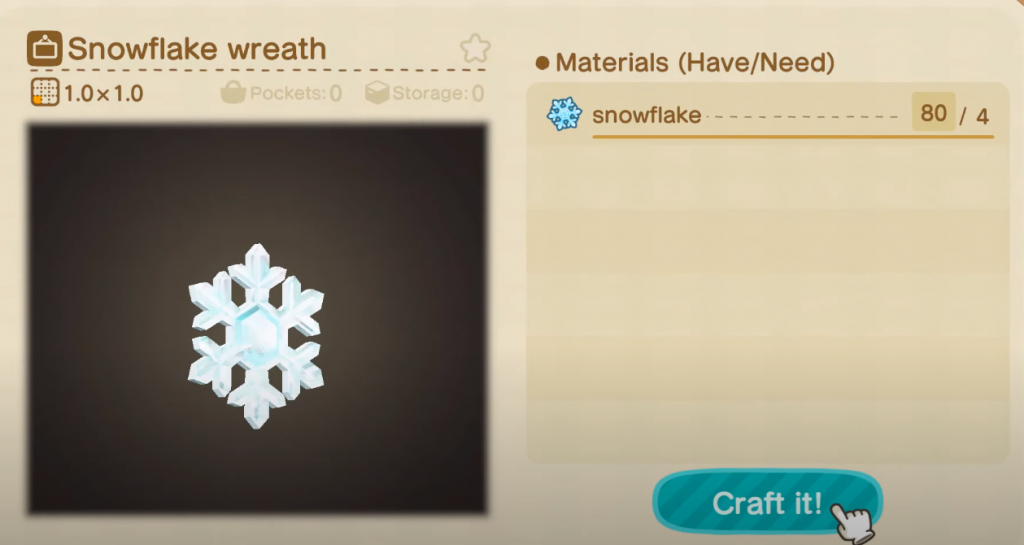 Snowperson Head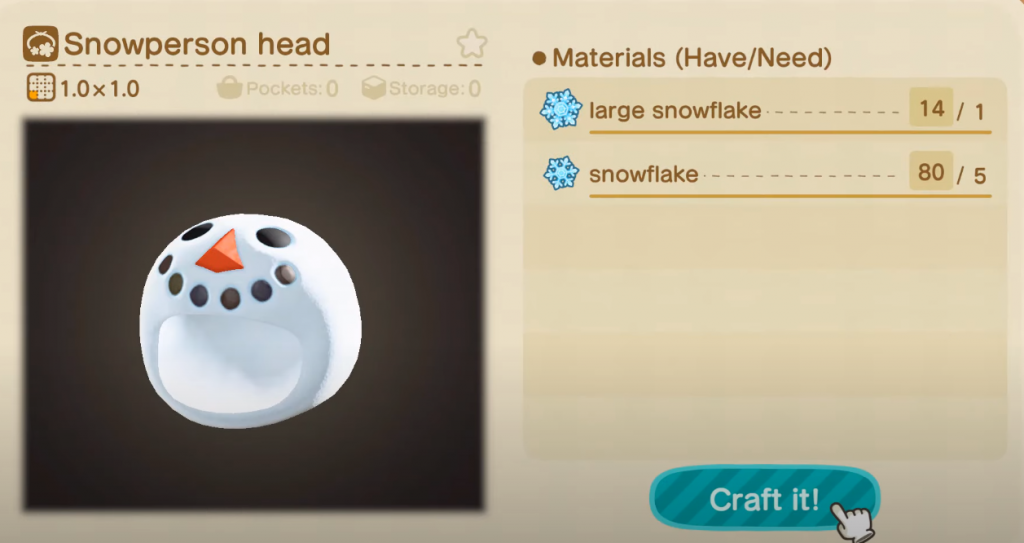 Three-tiered Snowperson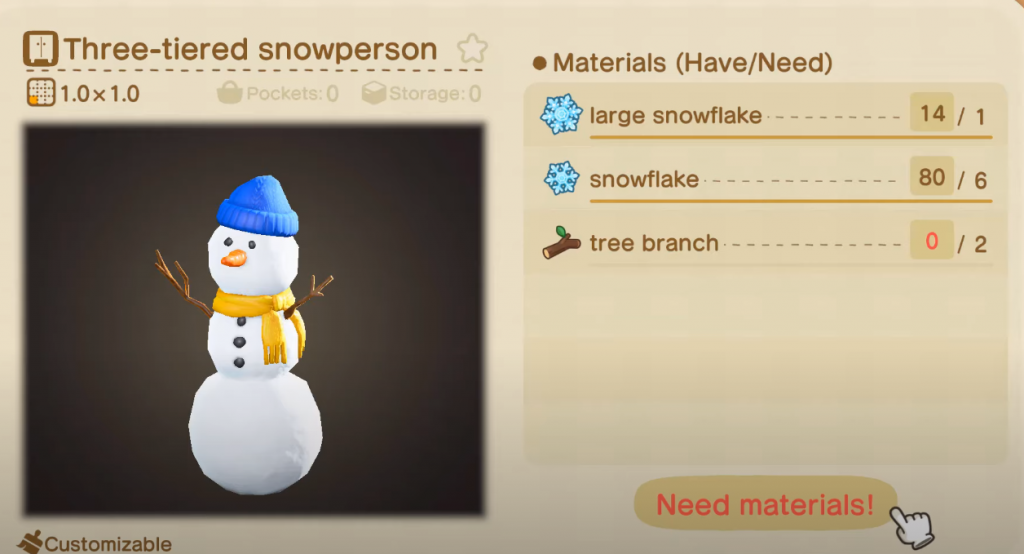 For other Animal Crossing New Horizons DIY Recipes, check out these guides:
About the author