Animal Crossing New Horizons Nature Day Guide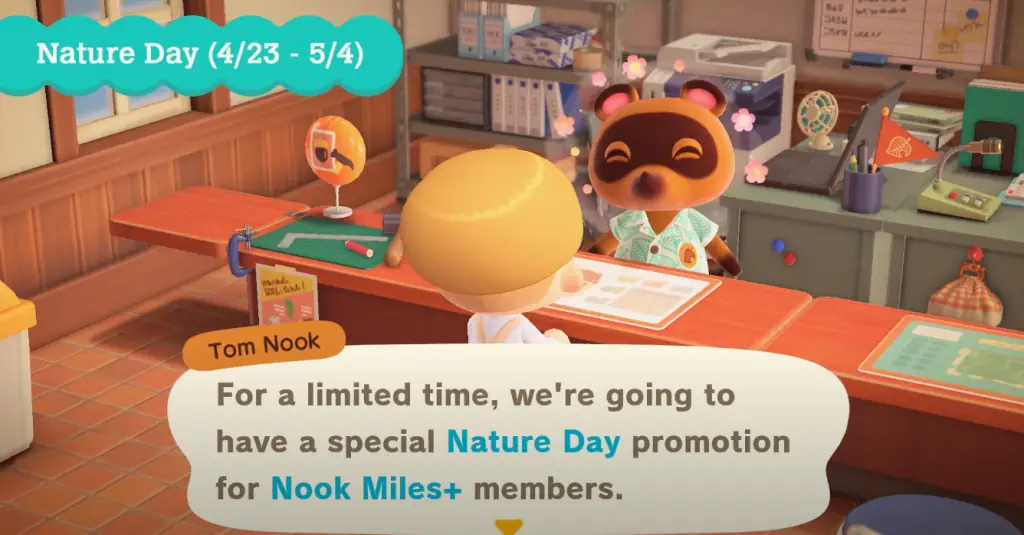 Animal Crossing New Horizons has been keeping players busy with their in game events. We saw Bunny Day and Cherry Blossoms events in the last two months, and we have another one right around the corner. Nature Day is the New Horizons version of Earth Day. Our Animal Crossing New Horizons Nature Day guide explains everything we know so far about the upcoming event.
When is Nature Day?
Nature Day starts at 5 AM on April 23 and will be active until May 4 in New Horizons. This in-game event takes place one day after Earth Day and will be introduced into the game as part of a large patch.
You will need to make sure your game is totally up to date with the latest version before you try and start exploring the Nature Day event. Check out what else you can expect in the upcoming April Free Update here.
What Happens on Animal Crossing New Horizons Nature Day?
Nintendo clued us in on what players can expect during Nature Day. First, there will be a special Nature Day promotion for Nook Miles+ members. The limited-time Nature Day activities will include tasks like planting shrubs and doing other Nature related things for Nook Miles.
Leif and his Garden Shop will also be available at the start of Nature Day. This is the place where you can pick up some bushes and other new plants. We already know for sure there will be Azaleas and Tea-Olives for sale in a variety of different colors.
Leif will be a random island visitor just like Flick and others, but his shop will be for the sale of plants and other related things. The Garden Shop will randomly pop-up in your town square when Leif decides to drop-in for a visit.