InnerSloth Announces Among Us x Arcane Crossover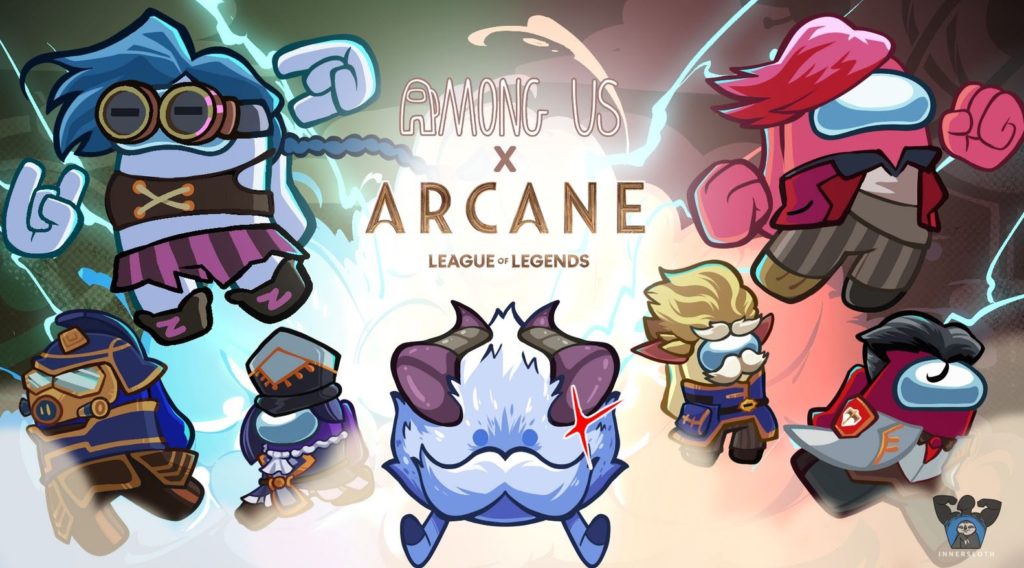 Y'know, 20 years ago I'd be completely taken aback by the news of any kind of franchise crossover, especially ones as contrasting in tone as League of Legends and Among Us, but these days, I'm not so surprised such a thing has happened. There really just aren't any rules anymore, not that I'm complaining. If you're not sure what I'm talking about, then you must not have heard: InnerSloth announced an Among Us x Arcane crossover.
As Among Us developer InnerSloth announced a couple of days ago, they're spearheading a crossover effort between their game and Arcane, the new Netflix series set in the world of Riot Games' League of Legends. They're not getting too crazy with it; the crossover event is merely a set of Arcane-themed crewmate cosmetics wrapped up in a purchasable Cosmicube. In case you missed the memo last week, Cosmicubes are a new medium of cosmetic delivery added in the most recent update to Among Us. These cubes can be purchased from the in-game store with beans or stars, and their contents can be unlocked in a branching path with Pods that you earn from playing the game with cubes activated.
InnerSloth Announces Among Us x Arcane Crossover
The Arcane Cosmicube was added to the in-game store on November 12th, and will be available for purchase until December 31st. If you don't buy the cube by then, it's gone forever, but if you do buy it, you can unlock its contents at your leisure without worrying about the expiration date.
Speaking of contents, here are the items you can obtain from the Arcane Cosmicube:
Heimerdinger's Hair
Heimerdinger's Moustache
Heimerdinger's Suit
Heimerdinger's Poro
Enforcer Helmet
Enforcer Armor
Caitlyn's Cap
Caitlyn's Uniform
Vi's Hair
Vi's Clothes
Jinx's Hair
Jinx's Goggles
Jinx's Clothes
Jayce's Hair
Jayce's Council Suit
Chomper
Claggor's Goggles
About the author