All Romance Options in Coral Island
Meet your soulmate on Coral Island.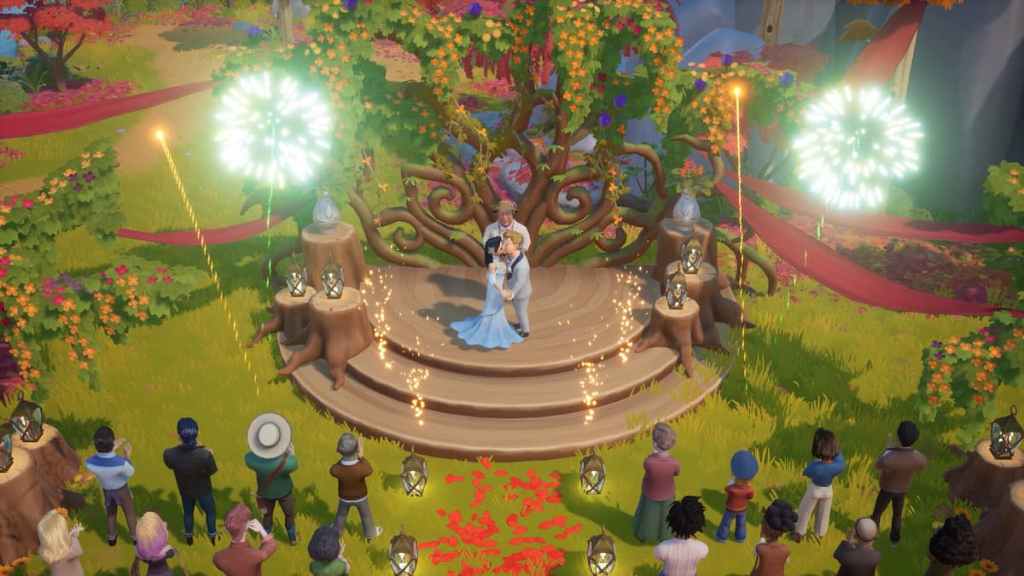 If you are enjoying playing Coral Island, then you are aware that your character can date, get married, and have children. All of the 28 NPCs you've built friendships with are eligible to become your partner, regardless of their gender. You can marry one character at a time and have up to two children.
Related: Is Coral Island Better Than Stardew Valley?
Romance Candidates Coral Island
From more than 50 characters you encounter on a tropical island, 28 are available for romance. Originally there were 25 but in the later updates, three more were added. There are 14 male and 14 female characters. Here is the complete list of all romanceable characters and in the later part of the article, we will provide details about each romanceable character.
Ben
Charles
Kenny
Luke
Mark
Noah
Pablo
Rafael
Raj
Scott
Surya
Theo

Wakuu
Aaliyah
Alice
Chaem
Eva
Leah
Lily
Macy
Millie
Nina
Suki
Yuri

Zarah
Denali
Princess Miranjani
Semeru
Coral Island Male Romance Characters
There are 14 male characters in total that you can date, marry, or have children with on Coral Island.
Ben
Ben is definitely the most carefree, life-enjoying, cool dude on Coral Island. He is a merchant who spent most of his time around his shop in the upper left-hand part of the island. His birthday is in Spring 22, and he loves Bananas, Mushrooms, and Green Tea.
Charles
If you have a thing for doctors, then Charles is the right choice for you. As a local doctor, he spends a lot of his time in the clinic. Spring is not his time of the year since he is suffering from multiple allergies. When he is not in the clinic, you can find him walking around the streets all day long. His birthday is in Winter 4, and he likes Strawberry, Diamond, Cookies, Blueberry, Burrito, and Falafel.
Kenny
The local mailman is also available for romantic interactions in Coral Island. Kenny mainly wanders around the town. He is a vegan and a big lover of nature. His birthday is in Spring 9, and he loves eating the Vegan Taco.
Luke
Luke is the owner of the local Socket Electronics store. He lives with his parents in Vineyard, where you can find him wondering when he is not in the store. His birthday is in Fall 16. He loves to drink Wine and to eat Ratatouille.
Mark
Added as a romanceable character during the Kickstarter stretch goals, Mark is a tough-to-get guy when it comes to romance. So it may be a challenge to conquer him, but if you do, you can date this grumpy dude and maybe even marry him. He enjoys Shiitake, Tomato soup, Hot cocoa, and Egg custard.
Noah
Noah runs the local tavern with his mother, Betty, and his brother Frank. When he is not in the tavern, he can usually be found in the town square talking to Alice. His birthday is in Winter 10 and he loves Durian, Sunny Side-Up, and Gnocchi.
Pablo
Pablo and his brother Rafael run the local blacksmith shop, where you can get help with opening chests and upgrading weapons. His birthday is on Spring 27, and he loves eating the Sweet Potato Poutine.
Rafael
Pablo's brother Rafael is the local blacksmith. Unlike his brother, Rafael is a shy and quiet guy, so he rarely leaves the shop. His birthday is in Fall 4, and he loves Onyx.
Raj
Eternal coffee lover and local coffee expert owns the café in town called Raja's Coffee Corner. Raj's birthday is unknown, but we know for sure that he loves nothing more in the world than his precious Coffee.
Scott
Every community has its local historian, and Coral Island has Scott. He is an enthusiastic archeologist who made interesting discoveries all around the island. Most of the time, you can find him at the caverns and at the tavern. His birthday is in Spring 12, and he loves Node, Egg Custard, and Fire Agate.
Surya
A marine biologist who is finishing his internship at Coral Island. He works with Ling and, in his free time, likes to hang out with Luke. His birthday is in Fall 25 and he likes Melon, Herbed tempeh, Wild mushroom polenta, Pufferfish, Lodeh, Pink diamond, Golden pearl, Rainbow wool, Black rose, and Marble.
Theo
Both Theo and his sister Lily are romanceable characters. Theo spends most of his time playing music in the center of the town. His birthday is in Fall 11, and he loves Yellow Moray Eel, Fish Tacos, Whole coconut drink, Snow Drop, and Bamboo Shot.
Wakuu
Wakuu is another romanceable character that was added during the Kickstarter campaign. He is a quiet and mysterious guy. You will often find him in the morning by the docks, where his family lives.
Semeru
Semeru is a Guard Leader who is very dedicated to his job. He is a cautious man and not very friendly when you first meet him. When he is not in Guards Barrack, you can usually find him in the General Shop and the Tattoo Shop. Semeru has a pet lobster called Poseidon. The date of his birthday is still unknown.
Coral Island Female Romance Characters
There are 14 female characters in total that you can date, marry, or have children with on Coral Island.
Aaliyah
Added during the Kickstarter campaign, Frank's sister Aaliyah likes food, flowers, and gems. The date of her birthday is unknown, but what we do know is that she loves Chocolate Chip Muffin, Strawberry, Luwak Coffee, Hummus, White Hibiscus, and Eggplant Lasagna.
Alice
Alice runs the Inn on Coral Island with her twin sister. She spends a lot of time with her best friend, Noah, and you can usually find them in the town square. Her birthday is in Winter 27, and she loves Green Smoothie, Minced Jackfruit Pie, Almond Oil, Olive Oil, and Dye.
Chaem
If you like girls who are into sports, then Chaem is your choice for romance. This athlete spends most of her time training, and that's where you'll usually find her. There's a good chance that she will be slightly rude when you first talk to her, but you can soften her up by offering her one of her favorite kinds of pasta. Chaem's birthday date is unknown, and she simply loves Pizza, Seafood Ramen, Veggie Ramen, Basil Pesto Pasta, and Gnocchi.
Eva
A girl who works in Sam's general store where you can buy seeds for your in-game farm. She is a baker who loves Red Velvet Cake, Cookies, and Orchids. Her birthday is in Summer 13.
Leah
A big fan of fashion. She loves to dress well and to judge other people's fashion choices. She can seem cold, but what is important for you to know is that she really likes summer and clothes. Her birthday is in Summer 24, and she loves Pearls.
Lily
Theo's sister is an introvert, and as such, she likes to spend her time in the privacy of her home near the center of the town, where she lives with her family. In order to soften her a little and get her to open up, it is worth knowing that she loves Bonsai, Kimchi, Onigiri, Omurice, Cheese, Wine, and Sunflowers. Her birthday is in Winter 17.
Macy
Local inn inhabitant Macy is a passionate photographer. Like Semeru, she also has a lobster as a pet. Macy really loves Pizza, and her birthday is in Spring 25.
Millie
She was added as a romance option during the Kickstarter campaign. Millie spends most of her time around the museum, no matter the weather conditions. She loves Veggie Ramen and celebrates her birthday in Winter 3.
Nina
A lonely she-wolf who lives far from the town center. You can usually find her by her home in the far west of the island. Note that you won't be able to meet her until later in the game. Nina loves Banana Fritter and Flower Bouquet, and her birthday is in Winter 24.
Suki
She runs the local Inn with her twin sister, Alice. Suki is the only divorced romantic option on Coral Island and has a child from that marriage. To get to her heart, you'll need to remember that she loves Green Smoothies and Daffodil and that her birthday is in Winter 27.
Yuri
Nurse who works in the local clinic with doctor Charles, who was mentioned earlier. It's hard not to notice her with her tattoos, piercings and teal-colored hair. Yuri loves Fish Sandwich, Green Curry, and Lobster. Her birthday is in Summer 28.
Zarah
Zarah lives in a houseboat on the eastern part of the map. She's quite a free spirit and usually roams around the beach with a metal detector. This interesting woman loves Rambutan and Azurite and her birthday is in Summer 16.
Denali
Denali works as a Royal Gatekeeper and proudly carries her family legacy in this job. She lives in Merfolk Kingdom near Coral Island, and if you want to start a conversation with her, you'll need to decipher the Merakih language. She was added as a romance option in a June 2023 update when she was described as a steadfast gatekeeper.
Princess Miranjani
Miranjani is a Princess of Merfolk. She is the daughter of King Krakatoa and Queen Nanda Devi. Players of Coral Island eagerly await Miranjani to become a romanceable character, which was announced in May 2023.
---
We hope you found our article useful. For more Coral Island content on Gamer Journalist, see How to Make and Organize Storage Chests in Coral Island and Coral Island: Cherry Blossom Festival Explained.
About the author