All Keepsakes in Sun Haven
A little something to remember them by.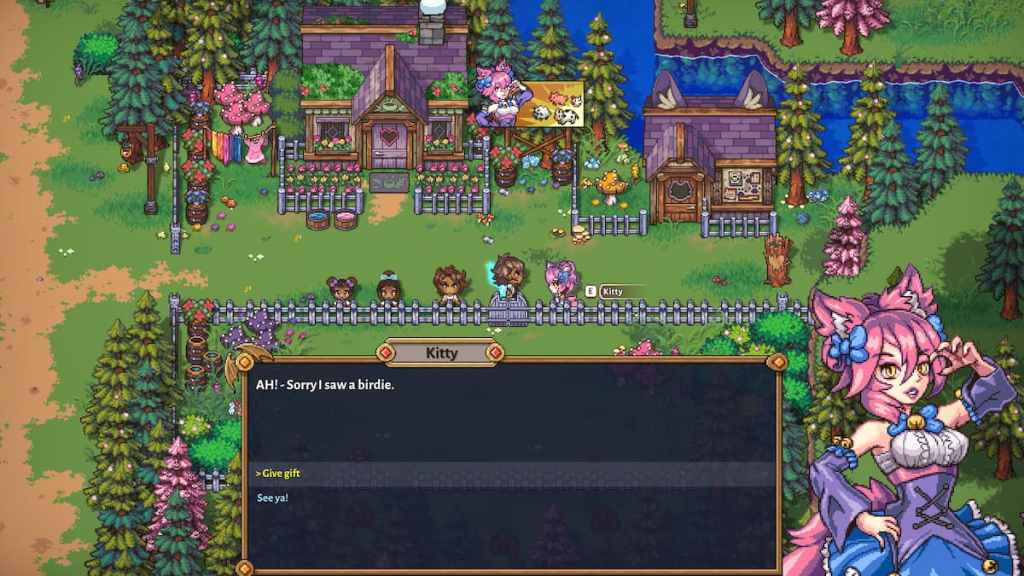 Everyone loves to give gifts to their loved ones, be they friends, family, or significant others. A gift, after all, isn't just a material bauble you think someone might like. It's a statement, something that says "think of me when you hold this." In Sun Haven, there's power in the Keepsakes you receive from those you bond with. Here are all the Keepsakes in Sun Haven.
All Keepsakes in Sun Haven
In Sun Haven, Keepsakes are special items that you can equip on your character to receive various helpful buffs and benefits. You can only have one Keepsake equipped at a time, but you can switch them out freely.
Related: Sun Haven Museum Location
Broadly speaking, Keepsakes fall into two categories: starting Keepsakes and relationship Keepsakes. The starting Keepsakes are the ones you receive at the very beginning of the game, while you're on the train to town. You're given the choice between wishing for one of several things, and whatever you wish for will be granted to you in the form of a Keepsake. Those Keepsakes are:
Adventure: +2 to Attack, 0.10 HP regen per second.
Riches: Earn 100 extra Gold per day
Romance: +1 to all Romance efforts
Peace: +5% to all earned Farming XP
While you can only get one of these for free, the others can be purchased with Gold at the market stalls and carts around town. Scott has the Adventure and Riches Keepsakes, Cynthia has Romance, and Sylvius has Peace.
Relationship Keepsakes
The other type of Keepsake, relationship Keepsakes, is given to you as a reward for pursuing a relationship with certain characters. As you reach a sufficient level of hearts with romanceable NPCs, you'll receive their unique Keepsakes through dialogue, though if you happen to miss the chance for whatever reason, you can also purchase their Keepsakes from Bernard at the Sun Haven Town Hall so long as you gained enough hearts with that NPC.
The effects of these Keepsakes are as follows:
Anne's Pearl Earrings: +10 Gold from Crafting, +100 earned Gold per day
Catherine's Charm: +20 HP, +20 Mana, 0.10 Mana recovery per second
Claude's House Key: +500 Gold earned per day
Darius's Royal Heirloom: +3 bonus to Romance efforts, +6 to Attack, +10 to Defense
Donovan's Dog Tag: +6% to movement speed, +4 damage to all attacks, +20% to jump height
Iris's Enchanted Totem: 0.20 Mana recovery per second
Jun's Diary: +40 Max HP, 1.00 HP recovery per second
Kitty's Cat Toy: +10% to attack speed, +3 to Fishing skill
Liam's Oven Mitts: +3 to Farming skill
Lucia's Fire Orb: +50 Max Mana
Lynn's Shield: +10 to Defense, +5 to Smithing skill
Nathaniel's Helmet: +40 to HP, +15 to Defense
Vaan's Ruby Ring: +15% to Damage Reduction
Wornhardt's Stethoscope: +65% to Accuracy
Xyla's Queen Chess Piece: +50 Max HP, +50 Max Mana
While you shouldn't pursue a relationship with someone for material gains, it certainly doesn't hurt to get some nifty doodads from your favorite character as thanks for being with them.
---
For more cool stuff you can get in Sun Haven, check out our guides on getting hot sauce and getting and using Bee Boxes. Visit our Facebook page as well for the latest news and guides.