All Bahamut Trials in Stranger of Paradise: Final Fantasy Origin Trials of the Dragon King
These aren't your average Trials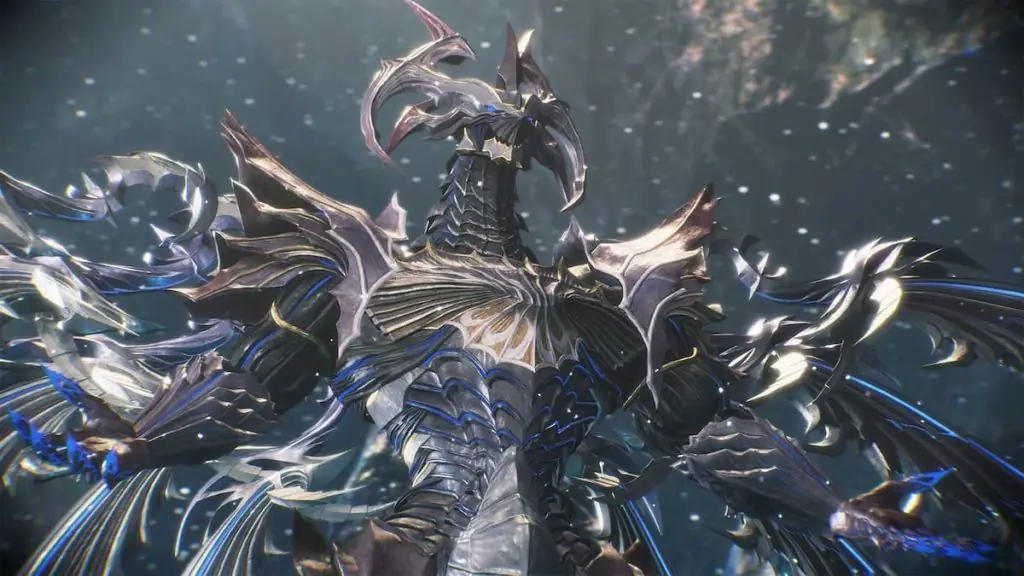 The first DLC for Stranger of Paradise Final Fantasy Origin Trials of the Dragon King sure had mysteries surrounding it. Questions asking what content would the DLC add and just exactly what these "trials" would mean. In quite a surprising turn, what many would expect to be missions given to you by the King of Dragons himself, Bahamut, the "Bahamut's Trials" are actually a new and creative way to test yourself using a specific list of in-game restrictions and limiters. Here is a complete detailed list of every Bahamut's Trials.
List of Bahamut's Trials
Instead of just regular missions given to you by Bahamut, his trials come in the form of a list of de-buffs to make things a lot more difficult for you as you go on new missions once you've completed certain scenes in "Conversations with Bahamut".
Once you accept his first mission, you can go to the menu screen and a new tab named "Bahamut's Trials" can be selected. This brings you to a menu with the title "Trial list" and you are given the option on a level of extremes you'd like from 1 to 5 out of 12 listed "trials".
This is a complete list below of each trial, a short description and their minimal effect and maximum effect:
Buff Duration (Reduces the duration of beneficial effects) Level 1 min: -2.1% Level 5 max: -42.0%
Max MP Boost and Recovery (Reduces the amount of MP and max MP gained) Level 1 min: -1.8% Level 5 max: -36.0%
Max HP (Reduces max HP) Level 1 min: -2.5% Level 5 max:-50.0%
Break Gauge Max (Reduces max break gauge) Level 1 min: -3.0% Level 5 max: -60.0%
All Break Gauge Recovery (Reduces all break gauge recovery) Level 1 min: -2.0% Level 5 max: -40.0%
Break Damage Dealt (Reduces break damage dealt) Level 1 min: -1.5% Level 5 max: -30.0%
Comand Ability MP Cost (Increases MP cost of all command abilities) Level 1 min: +3 Level 5 max: +60
Soul Shield Break Cost (Increases the amount of break gauge consumed while performing a soul shield.) Level 1 min: +4.0% Level 5 max: +80.0%
Suffer Ailment When taking Damage (Accumulate a random ailment based on the amount of damage taken. Level decides the number of ailments afflicted.) Level 1 min: +1 Level 5 max: +5
Ailment Accumulation & Duration (Makes it easier to be inflicted with ailments and slows their recovery time.) Level 1 min: +5.0% Level 5 max: +100.0%
Potions Replenished (Reduces the number of potions that are replenished at cubes.) Level 1 min: -1 Level 5 max: -5
Negate all armor Effects (Nullifies all armor effects. Does not affect equipment level) This is the only Trial that does not have 5 difficulty levels. Instead, it is either on or off, completely taking away your armor effects or not.
Depending on the combination of Trials difficulty determines a new Rank of mission difficulty, Ranks I through IV. That Rank level creates a Rate multiplier, with a max of 29. That rating multiplier determines how many Dragon Treasures you get each mission. You need Dragon Treasures to unlock the next important conversation with Bahamut. The higher the Rank and Rate, the more Treasures you get and the faster you unlock more Conversations with Bahamut and progress to the next storyline event, and unlock more missions after each conversation scene.
Related: All New Jobs in Stranger of Paradise: Final Fantasy Origin Trials of the Dragon King