7 Best Fallout 4 Sex Mods
The boob-pocalypse is here!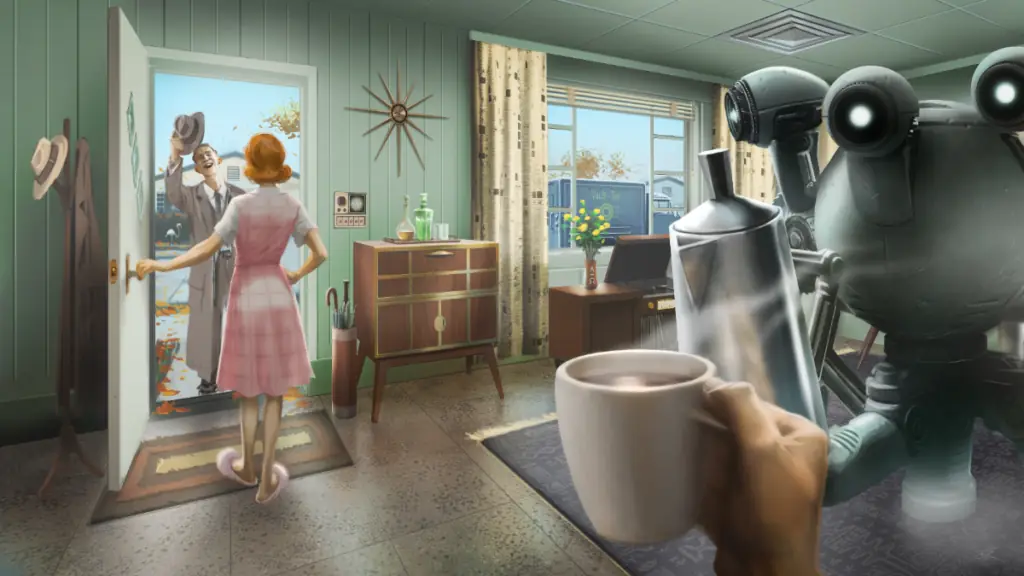 Fallout 4 is a massive game that only rivals Skyrim: Elder Scroll V in its vastness. It would take a long time to explore every inch of this game, let alone get bored of it! That being said, however, even the most massive games can get stale on the 50th playthrough. Mods are a great way to keep gameplay exciting, and sex mods are an even greater way to keep gameplay exciting! If you want to know all the juicy details on the best Fallout 4 sex mods, you've come to the right place!
7 Best Fallout 4 Sex Mods
Atomic Lust Mod
Atomic Lust is currently one of the most popular Fallout 4 sex mods, and with the amount of detail and dedication that was put into this mod, it's no wonder why! Atomic Lust is a mod that adds numerous sexual animations to the game, with some animations relating only to foreplay and others relating to much more complex intimate acts. According to its creator, TheRealRufgt on Nexusmods, the goal of Atomic Lust is to "allow players to go beyond the romance system of vanilla Fallout 4", which this mod definitely accomplished!
Hookers of the Commonwealth (HotC) Mod
The Hookers of the Commonwealth mod is surprisingly detailed for what it is, it adds so many new features to the game it might as well be a Fallout 4 expansion pack! This massive mod adds functional prostitutes to Diamond City, Club Fusion, Fusion City, Bunker Hill, Goodneighbor, and 7 newly added functional, connected subway stations!
The only potential downside of this mod is that it requires the Fusion City Rising mod to be installed beforehand, which is another free mod offered on Nexusmods (it's worth getting even without the HotC mod, it's a free DLC-sized quest mod that adds a lot to the game). If you're interested in some potential, paid romance, check out this mod on Nexusmods by Recluse and rbddc12!
Classy Chassis Outfits – Cheeky Casuals Mod
This mod by GrafPanzer is only one of the many "Classy Chassis Outfits" mods they've created, but it's definitely one of the best. The Cheeky Casuals mod is the fourth edition of the Classy Chassis Outfits mod series, and it offers 19 brand new, sexy remodels of pre-war and casual vanilla outfits in Fallout 4. If you've ever wanted to see your favorite Fallout 4 characters in sexier versions of their classic outfits, check out this mod or any of the other Classy Chassis Outfits mods by GrafPanzer on Nexusmods!
Just a Hairy Male Body Mod
This mod is pretty self-explanatory; if you didn't get what this mod was about from the title, all you have to do is take one look at the screenshot to know what you're getting yourself into with this mod. This mod by friffy on Nexusmods offers players exactly what you think it does: a hairy male body!
If you've ever found yourself wishing the male form of Fallout 4 had a little extra fuzz, you can finally achieve that dream and more with the Just a Hairy Male Body mod! In addition to adding some fuzzy texture to the arms, legs, chest, and "other minor body parts", this mod also generously provides players with "other minor body parts" attached to the character model. You can finally have the Teen Wolf character of your dreams with this mod in Fallout 4!
Atom Bomb Pinups Paintings Mod
This mod by Zoran07 lets you completely decorate your home with pictures of naked women (who could want anything more than that?)! The Atom Bomb Pinups Paintings mod features over 200 new pinup paintings for you to enjoy, in 25 different formats each!
The screenshot chosen for this mod was honestly the least raunchy one I could find; almost every single pinup painting offered in this mod offers complete or partial nudity, so be warned. If you think your home in Fallout 4 could use a little spicing up, check out this mod on Nexusmods and give it a download!
Caliente's Beautiful Bodies Enhancer -CBBE- Mod
This Fallout 4 sex mod by Ousnius and Caliente has got to be the most popular NSFW mod for Fallout 4, hands down. The Caliente's Beautiful Bodies Enhancer mod, or CBBE for short, allows players complete and total freedom over the appearance of their character's bodies. This may not seem very NSFW at first, but once you download this mod and start playing, you'll see why it's one of the most popular Fallout 4 sex mods of all time.
CBBE replaces Fallout 4's vanilla female body that all adult female characters (player and NPC) share, with a body that is fully customizable (and I mean fully customizable) down to the last detail. If you've ever felt unsatisfied with the lack of body-type diversity in Fallout 4, you need to check out the CBBE mod on Nexusmods!
Absolutely Skimpy Attire Mod
This mod by Dikr on Nexusmods is another self-explanatory mod that doesn't require much thinking to figure out. One look at the title or at the screenshot will let you know exactly what's in store for you in this mod (a lot of skin and not much else)!
Not only is this mod unique for having 65 totally brand new 'wasteland-worn and torn' clothing items available, but also because it requires the CBBE mod (the mod mentioned above) to operate. The Absolutely Skimpy Attire mod works together with the CBBE mod to give you the raunchiest, spiciest Fallout 4 experience possible; don't let this opportunity for the ultimate Fallout 4 playthrough go to waste!
Related: Top 10 Adult/Sex Games You Can Play In 2022
You're definitely going to need a couple of cold showers after playing one of these mods, let alone multiple! If you like spicing up your video game playthroughs with naughty mods like these, check out Gamer Journalist's guides for the best sex mods for The Sims 4 or the best NSFW Genshin Impact mods!