Where to Land at Sticks Restaurant Location in Fortnite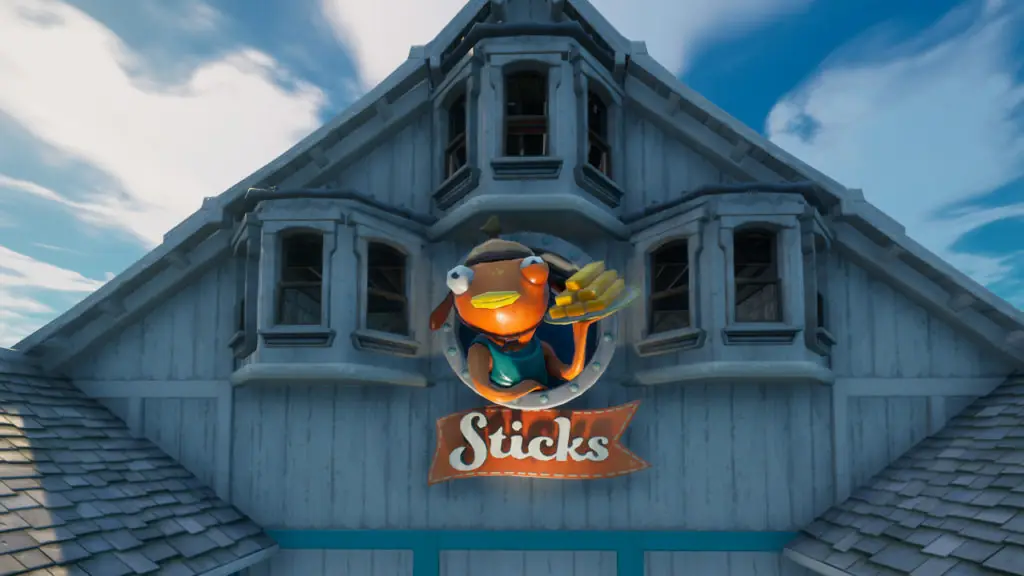 One of the new twenty-four-hour timed challenges in Fortnite Chapter 2 Season 5 is to land at a place called Sticks Restaurant. If you don't know where this building is, we got you covered in this article. Don't let this challenge go unfinished because it's a great way to earn some super easy XP. Here's where to land at Sticks Restaurant location in Fortnite Chapter 2 Season 5.
Where to Land at Sticks Restaurant Location in Fortnite
Sticks Restaurant refers to Fishstick's Restaurant located on the north side of Craggy Cliffs. It's easy to spot because it is the largest building in the area. For this challenge, all you need to do is drop-in and land on top of the building. Pull up your map before the match starts, and mark the large building up north in Craggy Cliffs. Refer to the map below for the exact area to mark.
Thanks to your giant blue marker, you now know exactly where to land. Drop-in to the zone and land on the building to get credit for the challenge. Completing this one awards you with 10,000 XP and should also give you a new challenge after it's complete.
You can check out our guide on all 40 character locations and start completing your collection if you haven't done so already. There are lots of tasks, quests, and challenges to help you grind the XP this season. Now you know where to find Sticks Restaurant in Fortnite, so check that one off the list.