Where is the Cozy Lodge in Fortnite?
Here's how to access the Cozy Lodge and warm yourself at the Yule Log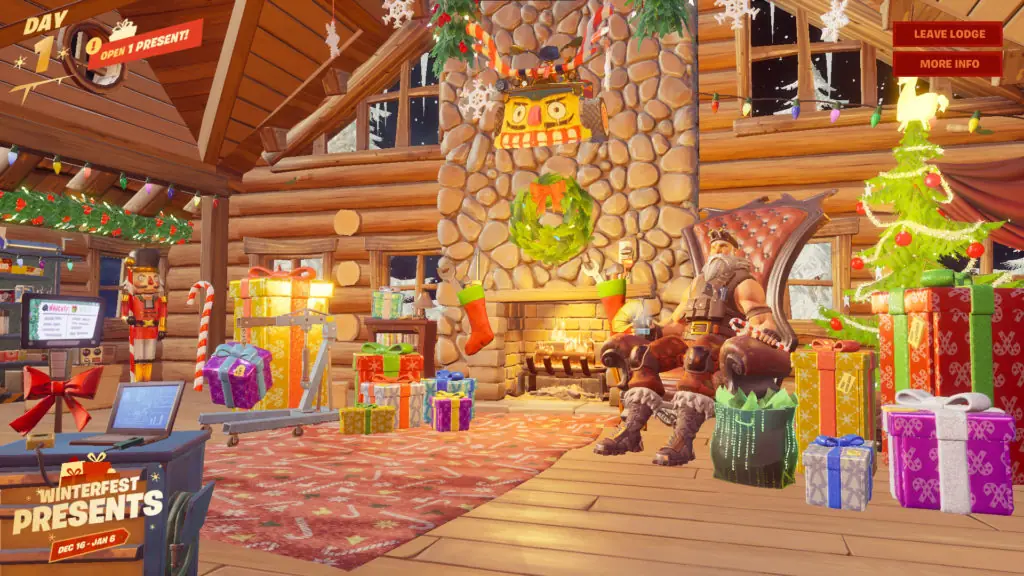 Having grown up in a northern climate and currently living in a southern climate, I have to say I miss some of the trappings of winter. It's true what they say, "the weather outside is frightful, but the fire is so delightful." Coming in from the frigid outdoors to a warm fire, hot cocoa, and a comfy chair is the best part of winter, even more so when there's also a dude giving out presents. Speaking of which, where is the Cozy Lodge in Fortnite?
The Cozy Lodge is a special place only open during Fortnite's newly-launched Winterfest holiday event. Sgt. Winter is hanging around on his holiday throne, there's a toasty yule log roaring in the fireplace, and there's even a tree with free presents underneath it! Of course, if you actually want to take in the holly jolly atmosphere, you gotta find the Lodge first. So where is it?
Where is the Cozy Lodge in Fortnite?
To get to the Cozy Lodge in Fortnite
Click "Battle Royale" on Fortnite's main menu
Scroll the top bar all the way to the right, past the V-Bucks option, to find a clickable snowflake
Click the snowflake, and you can enter the Cozy Lodge menu
As it turns out, the Cozy Lodge doesn't actually exist, at least not on Fortnite's map. It's not a tangible place, but a menu that you can access from Fortnite's main menu. No reason to bar people from claiming their presents with a physical location. The point of access to the lodge is in a bit of an obtuse spot, though.
When you enter the Battle Royale menu from Fortnite's main menu, there's a top bar with a handful of options like your Locker and the Item Shop. Normally, when you scroll all the way to the right of this bar, you'd stop at the V-Bucks menu, but now you can scroll one option further to find a little blue snowflake. If you click on that snowflake, you'll be whisked away to the Cozy Lodge, where you can open your presents and, after a quick chat with Sgt. Winter, warm yourself by the yule log. Tis the season!