Where is Lake Canoe in Fortnite?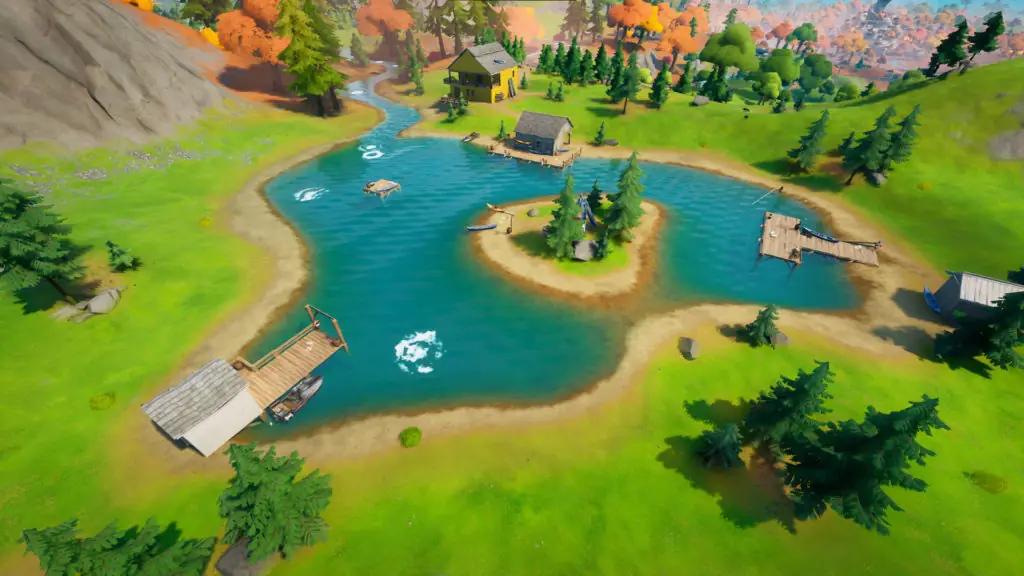 Fortnite is filled with various little towns and named locations which you'll need to learn. A lot of these areas have labels for you on the map. However, you'll need to know some of these areas by heart for quests and challenges. One of the popular locations you need to visit is called Lake Canoe. It's a small lake and a popular fishing area, but where is Lake Canoe in Fortnite Chapter 2? We'll show you down below.
Where is Lake Canoe in Fortnite?
Lake Canoe is between Dirty Docks and Retail Row in Fortnite's Chapter 2. It's a small body of water with a tiny island in the middle. The center area has many canoes and kayaks, with a chest and a campfire to boot. You'll also find a bunch of fishing rod barrels scattered around the area.
There's a good chance you're looking for this exact location because of some of the Chapter 2 Season 6 quests, such as catching fish at Lake Canoe. Well, aside from hitting up this spot to complete quests, it's not a bad starting area either. You can find a large yellow house here, which usually has a couple of chests inside. There's also a motorboat if you're looking to head up the river. It's a low-key spot where you can drop in to if you want to do some fishing in peace and quiet.
So now you know where Lake Canoe is in Fortnite Chapter 2. Refer to the map above if you need a quick reference. It's time to knock those quests of your list and level that Battle Pass. Good luck!