When Does Minecraft Dungeons Release?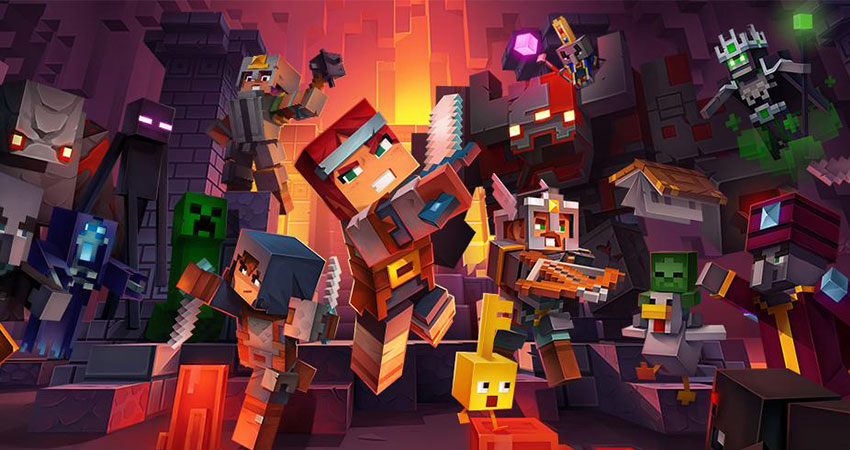 Minecraft Dungeons is the upcoming dungeon-crawler from Mojang, the company behind the original sandbox game Minecraft. The upcoming game is a totally different concept than Minecraft, and more similar to Diablo 3 or Path of Exile in the character leveling and looting aspect. It is set in the Minecraft Universe and features unlimited procedurally generated dungeons to explore and conquer.
When Does Minecraft Dungeons Release?
Minecraft Dungeons releases on May 26, 2020, at 4:00 AM EST, on all major platforms. The price is currently set to be $19.99 for Minecraft Dungeons or $29.99 for the game plus two upcoming DLCs and some additional in-game cosmetics like a Hero Cape, 2 player skins, and a pet chicken.
Up to four players can play together online drop-in style or via couch co-op mode. Cross-platform is likely to be enabled for PC and Xbox, though there has been no official confirmation for the other platforms.
The limited closed beta is currently active for Minecraft Dungeons but is coming to an end on Monday, April 20.
For Minecraft fans looking to pre-order this new title, you can do so here on the official Minecraft website. Pre-orders are currently only available for the PC and Xbox One platforms.
Minecraft Dungeons Character Creation
When you first create a character in Minecraft Dungeons, you can select from dozens of different skins. If you pre-order the Hero Edition of Minecraft Dungeons you will have two additional skins available from this skin selection screen.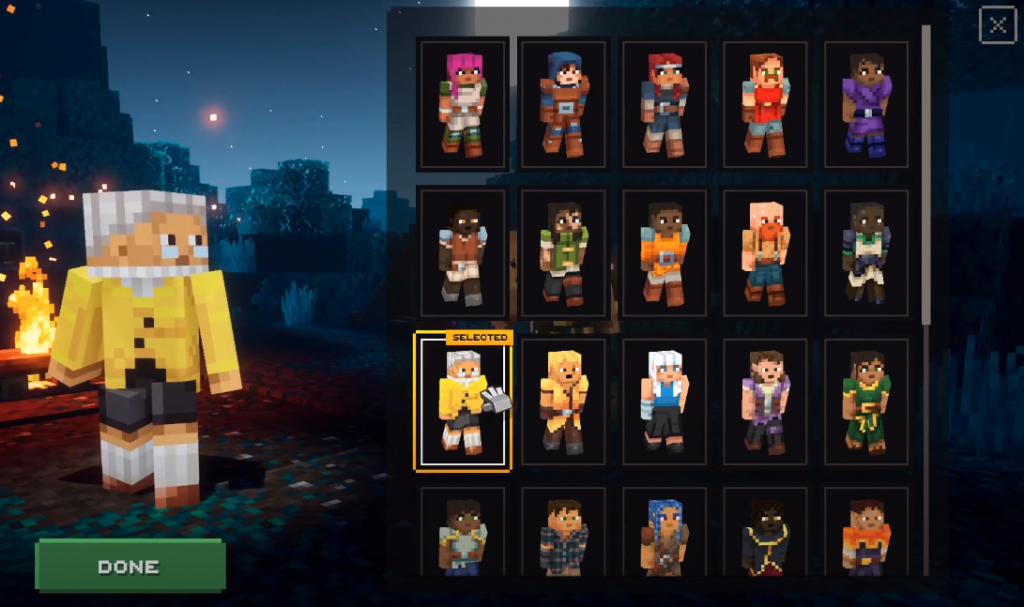 The skins are only cosmetic and offer no competitive advantages throughout the game. In traditional aRPG games, you would typically pick some sort of Hero or Class that would determine your spell set.
Getting Loot in Minecraft Dungeons
All loot will be found through dungeons from killing enemies and searching through chests. You can also buy loot with emeralds that you obtain from doing missions. There will be no in-game microtransactions, so there's no pay-to-win in Minecraft Dungeons which is a huge plus.
The loot system works similarly to Diablo where each player sees their own unique loot so the party won't have to fight over it. Other items and resources like food and arrows will be shared throughout the party with whoever gets it first.
Mobs in Minecraft Dungeons
A wide variety of mobs will be available to fight including creepers, spiders, skeletons, wraiths, and special mobs that drop tons of loot when they are killed, like Treasure Goblins from Diablo.
At the end of each dungeon level you will likely find mini-bosses as well, which are much more difficult than normal mobs and have a higher chance to drop better items.
Minecraft Dungeons End Game
The end-game is what makes or breaks most action RPGs. End game content determines the game's replayability and if there is none, the game will unfortunately not last very long.
After beating the Minecraft Dungeons story mode, two additional difficulties will unlock. You can then go back and redo missions you've already completed at an increased difficulty rate for better loot.
As of right now, that's all we know about the end-game but there will likely be complex end-game mechanics built out to keep players coming back for more and decking out their characters.
About the author