Warzone Season 4 Reloaded Patch Notes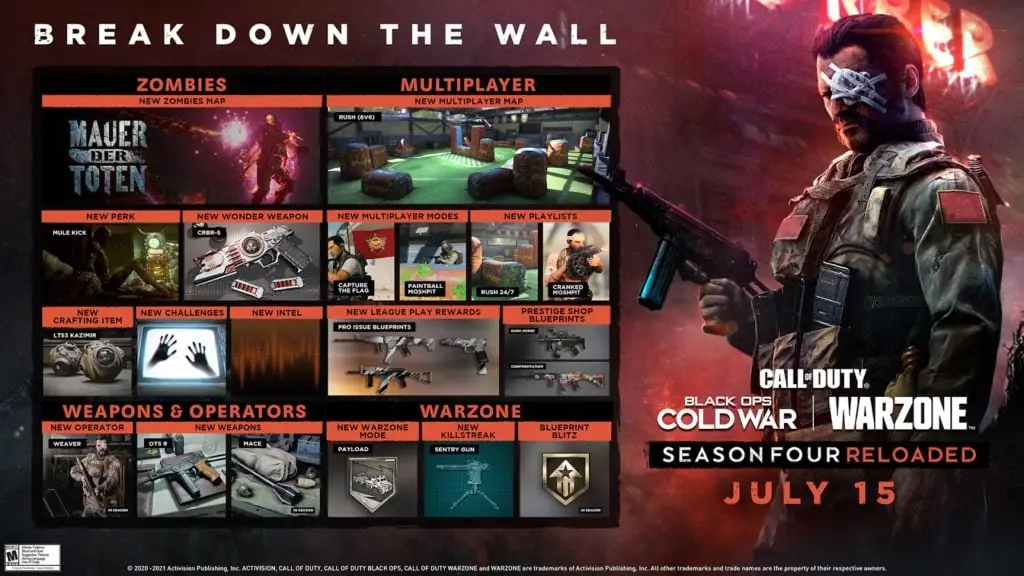 Warzone Season 4 Reloaded has launched, and with that comes a myriad of changes to various parts of the game. There's a lot to unpack with this update, both in the form of new content as well as weapon rebalances, so let's get right into the Warzone Season 4 Reloaded patch notes.
Warzone Season 4 Reloaded Update Size
First things first, we've got to talk about how big the update actually is. Thankfully, Season 4 Reloaded isn't too large, taking up around nine gigs on both PlayStation and Xbox. PC players will need to allocate a little extra space for the 10.4GB download they have, requiring around 12.5GB free for the update to install correctly.
So, we've already known what new stuff we're getting. What we didn't know was when. Now that S4 Reloaded is out, we have a better idea of where all the fresh goodies stand. For example, the new OTs9 SMG has been released on launch with the Mace melee weapon coming later on down the road, along with a brand new operator: NATO. Payload has also launched with Reloaded Day 1 alongside the new Sentry kill streak. Collectors and F2P players alike will have to wait a bit longer for the Blueprint Blitz event, though, as that hasn't seemed to have gone live just yet.
Call of Duty Warzone Season 4 Reloaded Patch Notes
Global:

New weapon: OTs 9 SMG (launch)
New weapon: Mace (In-season)
New Daily 2XP Token Reward
Prestige Shop Weapon Blueprints
Tracer Pack: Weaver Operator Bundle (In-season)
High Resolution Texture Packs (PlayStation®5)

Zombies:

New Zombies map: "Mauer der Toten"
New Perk: Mule Kick
New Wonder Weapon: CRBR-S
New crafting item: LT53 Kazimir
New feature: Dynamic Wall Buys
New Challenges
New Dark Aether story Intel
Enemy health cap and armor reductions
Sniper rifle and melee weapon buffs
Equipment, Support, and Field Upgrade damage tuning
Dead Ops Arcade 3 updates
New Onslaught map: Rush (PlayStation®)
New Onslaught mode: Onslaught Accelerated (PlayStation)
New Onslaught Challenge and Intel (PlayStation)

Multiplayer:

New 6v6 map: Rush
New modes: Capture the Flag, Cranked TDM, Cranked Kill Confirmed (Launch)
New mode: Paintball Moshpit (In-season)
New Featured Playlist: Rush 24/7 (Launch)
New Featured Playlist: Cranked Moshpit (Launch)
New Scorestreak: Nuke

League Play:

New League Play Rewards (In-Season):

CDL-themed "Pro Issue" Weapon Blueprints
CDL-themed Weapon Charms, Emblems, and Stickers
New XP Bonuses up to 10,000 XP
Call of Duty Season 4 Reloaded goes live in Black Ops Cold War and Warzone on July 14th at 9 PM PT.