Warhammer 40,000: Darktide Psyker Build and Weapons
Space wizards are always cool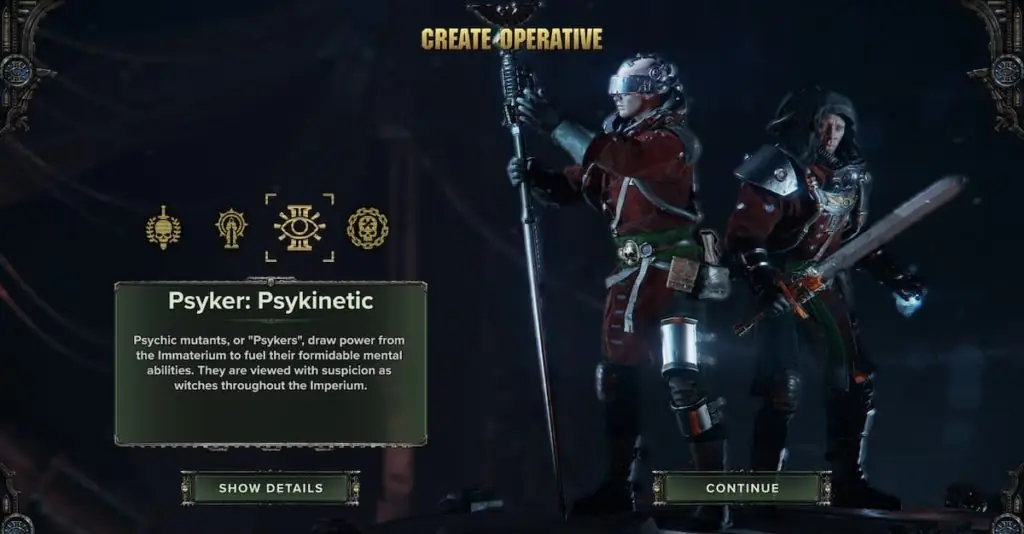 Warhammer 40K: Darktide features four great classes that you can choose from to lead the charge as you crush through the heretical ranks of Nurgle's demons. If you want a glass cannon build to blast away at the hordes, then the Psyker: Psykinetic build is the way to go. But if you want a more detailed run down of the build before you start, then here is a list of all the weapons and abilities the psyker holds in Warhammer 40K: Darktide.
Psyker build in Warhammer 40K: Darktide
The Psyker: Psykinetic is an interested build that uses the warp to perform magical abilities. Here is a run down of their abilities and bonuses.
Ability
Psykinetic's Wrath: Quell 50% of peril and stagger foes in front of you.
Blitz
Brain Burst: Target an enemy and charge the attack to deal high damage.
Aura
Kinetic Presence: Enemies within coherency gain +10% damage to elite enemies.
Iconic
Warp Siphon: Killing an enemy with Brain Burst gains you a warp charge, with the max being four. Each warp charge gives you +3% damage. Each warp charge will expire in 25 seconds.
Battle Meditation: 10% chance to quell 10% peril upon a kill.
Related: All Darktide Grimoire Locations in Warhammer 40K: Darktide
Psyker weapons in Warhammer 40K: Darktide
Psyker exclusive weapons
Obscurus Mk II Blaze Force Sword
Rifthaven Mk II Purgatus Force Staff
Nomanus Mk VI Surge Force Staff
Equinox MK III Trauma Force Staff
Equinox Mk IV Voidstrike Force Staff
Melee weapons
Rashad MK II Combat Axe
Antax Mk V Combat Axe
Achlys Mk VIII Combat Axe
Atrox Mk VII Tactical Axe
Atrox Mk II Tactical Axe
Atrox Mk IV Tactical Axe
Cadia Mk IV Assault Chainsword
Catachan Mk III Combat Blade
Catachan Mk VII "Devil's Claw" Sword
Catachan Mk IV "Devil's Claw" Sword
Catachan Mk I "Devil's Claw" Sword
Maccabian Mk IV Duelling Sword
Maccabian Mk II Duelling Sword
Maccabian Mk V Duelling Sword
Ranged weapons
Columnus Mk II Braced Autogun
Graia Mk IV Braced Autogun
Agripinaa Mk VIII Headhunter Autogun
Vraks Mk VII Headhunter Autogun
Vraks Mk III Headhunter Autogun
Graia Mk VIII Infantry Autogun
Columnus Mk V Infantry Autogun
Agripinaa Mk I Infantry Autogun
Ius Mk III Shredder Autopistol
Accatran Mk VId Recon Lasgun
Lucius Mk III Helbore Lasgun
Lucius Mk II Helbore Lasgun
Lucius Mk I Helbore Lasgun
Kantrael MG IV Infantry Lasgun
Kantrael MG XII Infantry Lasgun
Kantrael MG Ia Infantry Lasgun
Accatran Mk VIIa Recon Lasgun
Accatran Mk II Recon Lasgun
Accatran MG Mk II Heavy Laspistol
Zarona Mk IIa Quickdraw Stub Revolver
Keep an eye on Gamer Journalist for more gaming and Warhammer 40K: Darktide content, such as a list of the best weapons.