Wacky Wizards ingredients list (October 2023)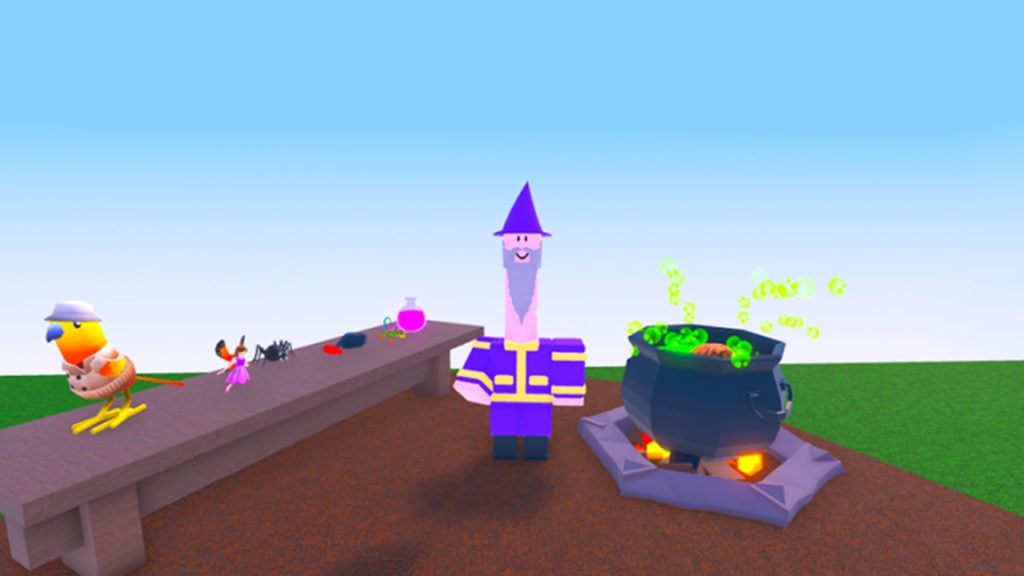 Wacky Wizard is a crafting game developed by Wacky Wizards Studio for the Roblox platform. Players can combine several different ingredients to create potions and drink them up for various powers. Different combinations produce different types of potions with unique effects. Make them more potent by adding more of the same ingredients. Finding all the ingredients can be challenging, so we put together this list of all Wacky Wizards ingredients, what they do, and their locations to help you out.
Some Wacky Wizards ingredients are found at the brewing table, but others require venturing out into the world. Premium ingredients require a Game Pass subscription, like the Hat of Gears. Bring the ingredients back to the brewing table to store them and get more.
Refer to our Wacky Wizards potions list to find every recipe that you can brew at the cauldron. You can refer to the list of ingredients down below if you aren't sure where to find them. If you're wondering where to find Mr. Rich, it appears every hour and attacks players. Load the cannons near the brewing areas to destroy Mr. Rich to get a Cyclops Eye, which can be turned in at Oz the Wizard.
Wacky Wizards all ingredients list
2021 Snowman – Purchase for 1,800 Candy Canes during the Christmas Event
Turkey – Complete the Thanksgiving Update quest
Airstrike – Premium ingredient acquired with gems
Alien Parasite – Complete the quest from Dumpster Diver Dan
Anime Sword – Premium ingredient acquired with gems
Axolotl – Under the waterfall
Beans – Complete the Volcano Beans quest
Beard – Premium ingredient acquired with gems
Bird – Find this in the large obby tree in forest
Boxing Gloves – Complete the Witches vs. Wizards quest
Brain – Basic starting
Chameleon – Find this on a tree limb in the forest

Chilli – Find this in the desert underground
Cleetus's Hat – Find this on a rock in the Wizard's Cave
Corn – Complete the Halloween 2021 Maze
Cow Hat – Obtained from Dumpster Diver Dan
Cyclops Eye – Drop from Mr. Rich boss
Disco Ball – Complete the Cave Club quest
Dynamite – Find this under the train tracks in the desert
Fairy – Basic starting ingredient
Fedora – Goblin's Village behind a boulder
Fish – Find this underwater in the cave by the waterfall
Foryxe's Head – Find this in the cave by the waterfall
Frog – Complete the quests in Goblin Village

Frozen Egg – Premium ingredient acquired with gems
Ghost – Complete the Halloween 2021 Ghost Hunter quest
Giant's Ear – Basic starting ingredient
Giraffe Hoof – Basic starting ingredient
Gun – Reach level 9 by crafting spells
Hat of Gears – Premium ingredient acquired with gems
Honey – Complete the quest at the Queen Bee to receive Honey
Jandel's Head – Find this by the cactus at the Witch's Cave
Jayingee Note – Find this on the Spider Cave wall
Justin – Find this in the bushes by Oz the Wizard
KSI – Find this at the top of the Volcano
Magic Seed – Premium ingredient acquired with gems

Mariofly5 Mask – Inside the Goblin Village
Mount – Premium ingredient acquired with gems
Nexure's Head – Found in the Wizard's Cave
Nomer's Head – Found in the desert on a cactus
Pet Tags – Find this by completing the cave quiz
Pool Noodle – Basic starting ingredient
Premiumsalad – Find this on top of a tree in the forest
Robux – Dropped by Mr. Rich boss and you turn the Cyclops Eye in to the Wizard
Rotten Sandwich – Basic starting Ingredient
Sleepy Bee – Find a sleeping bee near the trees with the honeycombs
Sketch – Find this underwater near the waterfall
Skull – Kill zombies during the Halloween 2021 event
Spider – Find this in a Spider Cave, accessible by using a Tiny Potion
Void Star – Next to Dumpster Dive Dan
Walking Cane – Find and return Oz's Wallet
Wheel – Premium ingredient acquired with gems
Witches Brew – Witch's quest in the desert cave
About the author