Summit1g Hits 100k Viewers on VALORANT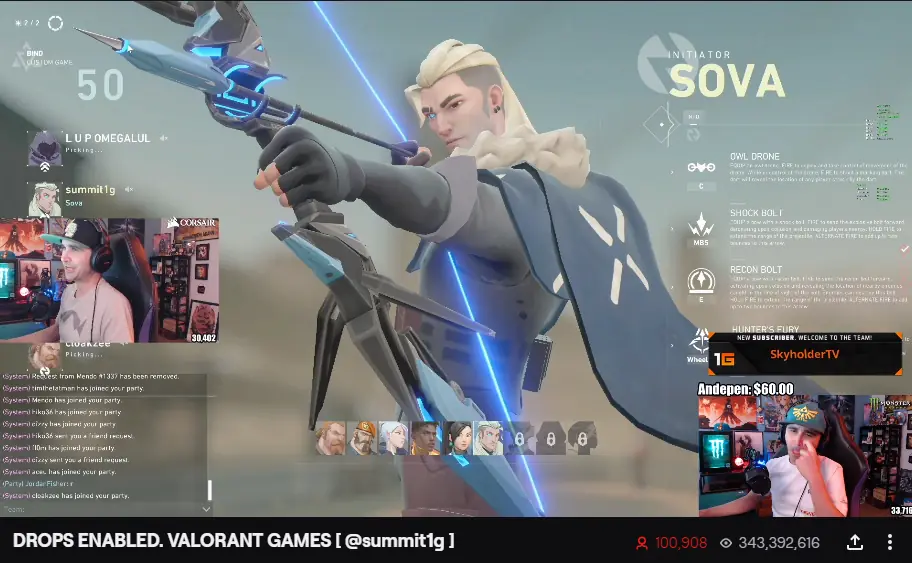 Summit1g currently has 100,000 viewers watching his stream, and he's not even playing a game. Today is the day that streamers who participated in the VALORANT Bootcamp playtest showcase their footage.
Viewers have a chance at receiving a VALORANT closed beta key by watching eligible Twitch streamers. As long as you have your Riot Games account and Twitch account linked up, you can head over to Summit1g's stream, for example, and just watch him for a chance to play the closed beta this upcoming Tuesday, April 7th.
As of writing this, the VALORANT game has 907K viewers. This number is down from the 967k peak earlier this afternoon. Will the VALORANT concurrent viewer numbers break 1M? Only time will tell.
Update: Summit is now sitting at 172,000 viewers. VALORANT concurrent viewers overall have dropped to 755k, meaning his channel is pulling in over 20% of the total viewership.
We've learned some interesting things about VALORANT today from the streamers and content creators, including:
VALORANT Sensitivity Conversions
VALORANT Ranks
VALORANT Hero Details
Here's a video of Summit1g explaining how Molotovs will work in the game.
The Molotovs will hurt enemies and your teammates, but they will heal your own Agent. Stay tuned to our VALORANT page for more updates.