Search Skye's Sword in a Stone Found in High Places Location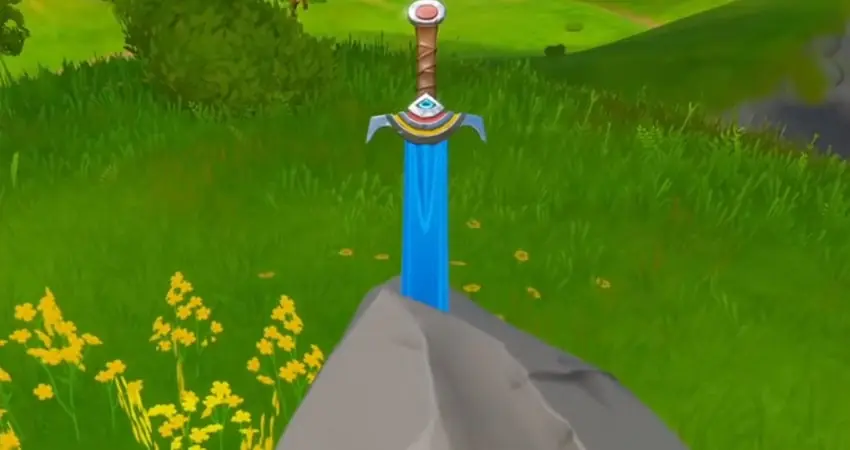 It's Week 8 of Fortnite Season 2 Chapter 2, and that means it's time to finally unlock the different styles for Skye. You will need to complete a couple more challenges before you can do that, though. Eighteen out of the twenty challenges need to be complete to unlock the special mission.
Skye's Sword Locations
You will need to go around the Fortnite map and find a few of Skye's Swords, and you might need some help with that so we'll show you where you can find those.
Skye's Sword Northwest of Pleasant Park
The first sword is located just northwest of Pleasant Park. Head over in that direction and check on the first mountain you come across when heading northwest.
Skye's Sword Overlooking Risky Reels
The next one is a bit southwest of Pleasant Park, overlooking Risky Reels. Again, this one is on top of a mountain sticking out of a rock. It's southeast of Pleasant Park, at the location shown on the map below. An easy way to find this one is by going to the Steel Bridge and heading south.
Skye's Sword at the Radio Station
Overlooking the north end of the map right near Fortnite Radio Station, you can find the next sword. Once again it's on top of a mountain, and you can check the location on the map below. It's on the northern side of F2, east of Craggy Cliffs.
Skye's Sword at The Grotto
The next sword is located near one of the new locations, The Grotto. It overlooks the hole in the ground at The Grotto and is just off to the west. It's just north of Retail Row right between G5 and H5.
Skye's Sword Overlooking Lazy Lake
The final Sword is overlooking Lazy Lake, not too far away from the previous one. North of Lazy Lake on the mountains between a few large rocks is where you will find it. It's to the left of the very small house you can see next to the mountain range.
That's it for this challenge. You'll soon have to decide if you are going to choose Ghost or Shadow for Skye.