Shortest Answer Wins Codes (November 2022)
Be concise or lose!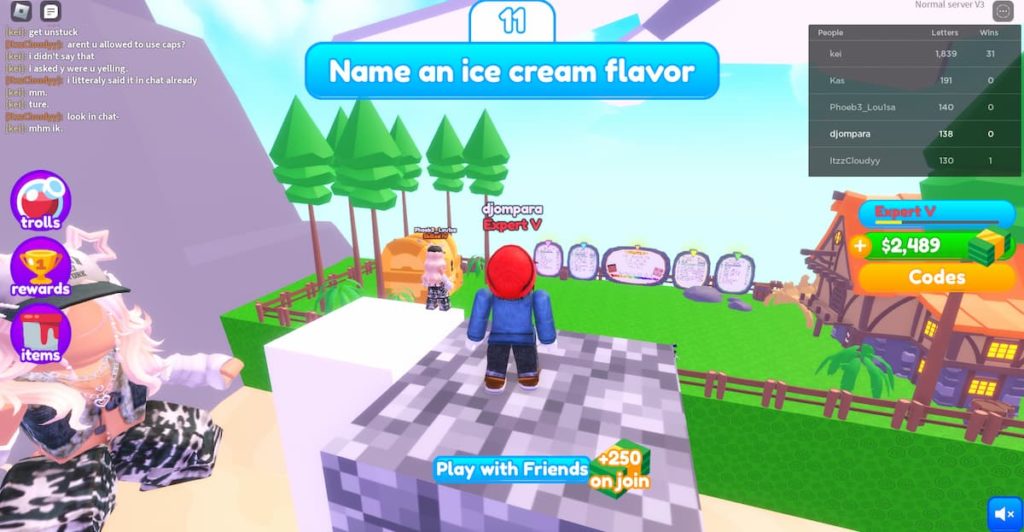 Shortest Answer Wins is developed by NOOBEstudios and is meant for players of all ages. It is a parody quiz game prompting you to give the shortest answer to a question with a wide array of correct answers. Essentially, it is a parody game to the Longest Answer Wins game, and as its author amusingly describes it it's a game they created due to losing Longest Answer Wins often. The resources you will be acquiring in the game are classic US bucks.
The codes in this game give you money and a tile style upon which your character stands while playing the game.
All Shortest Answer Wins Codes List
Last Checked: November 29, 2022
Shortest Answer Wins Codes (Working)
5000Likes — Dragon Scale Tile
2000Likes — Enter code for Cobblestone tiles
1000Likes — Earn 1000 in-game bucks
500Likes — Enter code for Albert (Flamingo) tiles
200Likes — Get Rainbow tiles with this code
50Likes — Earn 750 bucks
Shortest Answer Wins Codes (Expired)
There are no expired codes for Shortest Answer Wins.
How to redeem Shortest Answer Wins codes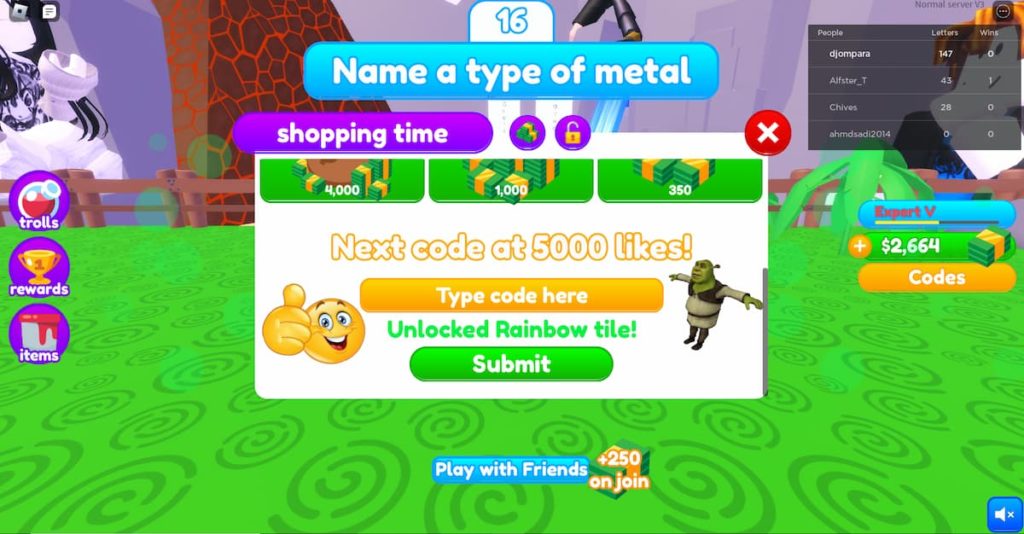 Redeeming items and money for codes is pretty simple in Shortest Answer Wins. All you need to do is click on the orange "Codes" button on the right and enter your code. You will receive your reward instantly and just to be on the safe side, make sure you copy and paste the code and avoid any typos.
How can you get more Shortest Answer Wins codes?
The developers have stated that more codes will be coming in as the game receives more likes. They post the latest updates and codes on their Roblox page and you can also check out their Discord channel for all codes.
Why aren't my Shortest Answer Wins codes working?
Most often codes are failing due to a typo. Make sure you copy and paste codes from the source to avoid this. Furthermore, there might be a bug. You can go to the official Shortest Answer Wins Discord channel and ask the community about your issue. Lastly, there is a chance that the code simply expired.
H2 What is Shortest Answer Wins?
Shortest Answer Wins is a game with two phases. In the first one, you are standing on top of a tile pile and need to answer various questions that have many correct answers such as "Name something that you can climb on." The goal is to offer correct answers while using the smallest amount of letters possible. While the game progresses the pile of tiles on which you're standing is building up (the more letters you use, the more it rises up). There is a big ceiling fan above you and other players that is threatening to chop your character and eliminate you from the game. Keep your answers short, let others get chopped before you and you will be the winner as the last man standing. The second phase is called "Money rain" where it literally rains with cash, pots, and chests of money.
If you're looking for more codes for other Roblox games, we got you covered at our Roblox Game Codes post! Additionally, you can find more free stuff on our Roblox Promo Codes page. Meanwhile, you can head out to our homepage and see what's new in the gaming world.