Grand Piece Online Codes (May 2022)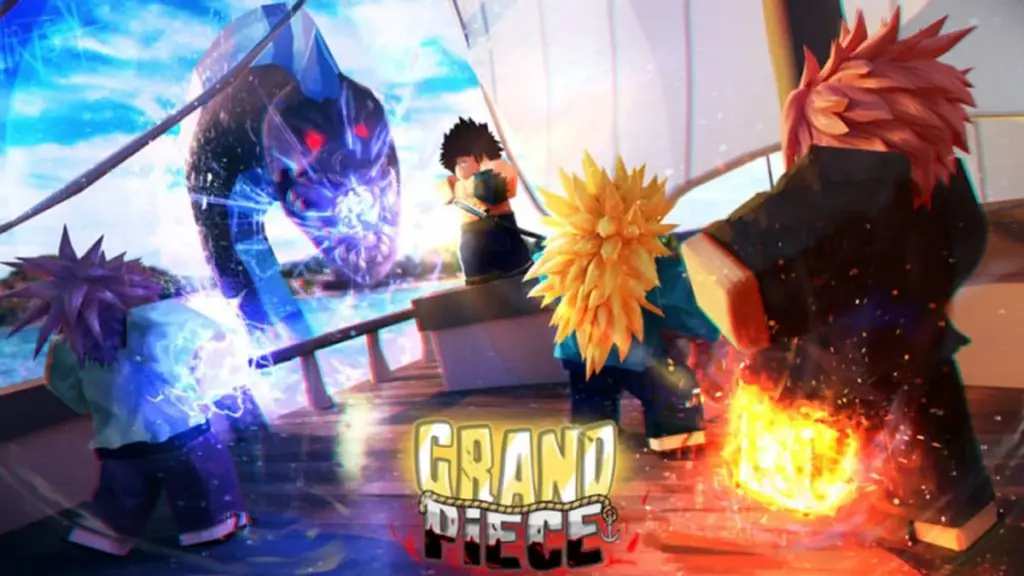 Grand Piece Online (GPO) is a maritime naval adventure game developed by Grand Quest Games on the Roblox platform. Players can scavenge the lands in search of treasure and exotic fruits to empower themselves. Level up and put together your ideal build while discovering new and hidden locations and challenging bosses. Compete with others as you hunt pirates or choose to fight by their side. We have a list of all active Grand Piece Online codes, which you can claim for stat point resets, DF notifiers, and double XP and drops.
Grand Piece Online codes are a great way to get a fresh start in the game, whether you want to choose a different devil fruit or reroll your race. Bookmark this page and check back for updates regularly, as we add new codes to the list whenever they become available.
All Grand Piece Online codes:
470K14XRACEREROLLS – Race Reroll
Expired codes:
FREE1HOUR2XDROPRATE – 1 Hour Double Drop Rate
440KLIKESSPRESET – Stat Reset
FREEDFRESET – Fruit Reset
435K8XRACEREROLLS – Race Reroll
CHRISTMASDFNOTIFIER – DF Notifier
CHRISTMASDFRESET – Fruit Reset
SPRESET1 – Stat Reset
SPRESET2 – Stat Reset
SPRESET3 – Stat Reset
SPRESET4 – Stat Reset
16RACEREROLLS – Race Reroll
360K2XRACEREROLLS – Race Rerolls
130KSUBSSPRESET – Stat Reset
125KSUBSDFRESET – Fruit Reset
115KSUBSPRESET – Stat Reset
335KLIKES2XRACEREROLLS – Race Reroll
325KLIKES2XRACEREROLLS – Race Reroll
320KLIKES2XRACEREROLLS – Race Reroll
315KLIKESSSPRESET – Stat Reset
DAHNOOBDFRESET – Fruit Reset
305KLIKES2XRACEREROLLS – Race Roll
290KLIKESDFRESET – Fruit Reset
280KLIKESSPRESET – Stat Reset
285K2XRACEREROLL – Race Roll
ArickuSubSP – DF Notifier
SUB2RYANREQUIEM – Fruit Reset
DragGotCombos – Fruit Reset
Tiktokvznity – Fruit Reset
KikuSPReset – Stat Reset
SUB2ANCHOR – Stat Reset
SUB2DUZZK – Stat Reset
SUB2HEORUA – Stat Reset
SUB2KODA – Stat Reset
SUB2TSKTBOY – 2x Drop Rates
sub2SAGE – 2x Drop Rates
SUB2XBTREE – 2x Drop Rates
KLOUDZSPRESET – SP Reset
3D2Y – SP Reset
spresetFREE – SP Reset
BLESSINGBYGPO – 4 Hr DF Timer
275K2XRACEREROLL – Race Roll
270KLIKESDFNOTIFIER – DF Notifier
265KLIKESSPRESET – Stat Reset
ArickuSub – Redeem for 15 minutes DF Notifier
TYTISBIGBOY – Redeem for 2x Drop Rates
35kBl0x – Redeem for 2x Drop Rates
SUBTO2Y8Z – Redeem for 2x Drop Rates
SUB2SAGEz – Redeem for 2x Drop Rates
SUB2KAGE – Stat Reset
AGZGANG – Fruit Reset
255KLIKESSPRESET – Redeem for 2x free Race Rerolls
250k2XRACEREROLL – Redeem for 2 free Race Rerolls
240KLIKESDFRESET – Stat Reset
235KLIKESSPRESET – Stat Reset
225KLIKESDFRESET – Stat Reset
230KLIKESSPRESET – Stat Reset
X220KLIKESSPRESET – Stat Reset
215KLIKESDFNOTIFIER – Notifier
210KLIKESDFRESET – Stat Reset
205KLIKESRACEREROLLS – Race Rerolls
200k2XRACEREROLL – 2 Race Rerolls
200kLIKESSPRESET – Stat Reset
65KSUBDFNOTIFIER – Notifier
195KDFNOTIFIER – Devil Fruits notifier
190KLIKESDFRESET – Devil Fruits reset
185kLIKESSPRESET – stat point reset
165k2XRACEREROLL – two face reroll
160kLIKESSPRESET – stat point reset
155kLikesRACEREROLL: Use the code in the trading hub or v3.56+ server (New).
130kLIKESSPRESET: Stat Point reset.
135kLIKESDFNOTIFIER: Devil Fruits notifier.
Ba1teD: 2x XP.
BeanboiResetsYourSP: Stat Point reset.
CookieGuyONTOP: Devil Fruits notifier.
DetectiveInc: Devil Fruits notifier.
ilikehomura: 2x drop.
KonnaTBonTOP: 2x drop.
LOVEACYIENE: 2x drop.
SAGEzEZ: Stat Point reset.
SUB2ASHZX!: 2x drop.
SUB2BIRD: Devil Fruits notifier.
SUB2COSMOS: 2x drop.
SUB2ETHER: Devil Fruits notifier.
Sub2KiddStan: Devil Fruits notifier.
Sub2P3dr0: 2x drop.
SUB2PEEPGUY: 2x drop.
SUB2PEPPA233: 2x drop.
SUB2REVOLVERAGZ: Stat Point reset.
SUB2RYANREQ: Devil Fruits notifier.
Sub2SenpaiCiro: 2x drop.
SUB2SENSEIDRAGON: Stat Point reset.
Sub2ThiefDayz: Devil Fruits notifier.
Sub2Yuto: 2x drop.
SUBTOJUSTDYN: 2x drop.
SUBTOTSKTBOY: 2x drop.
TYTISCOMEBACK?: Devil Fruits notifier.
ZON20KSUBS: 2x drop.
New codes release often, and we do our best to update our list as soon as they come out. Codes usually expire after a short time, as well, so be sure to use them when you see them on our active list above.
Grand Piece Online FAQ
How do I redeem codes for Grand Piece Online?
To redeem codes in Grand Piece Online, start by launching the experience in Roblox. Choose the 'Set Sail' option and then open the menu by pressing the M key. Tap on the settings icon, enter a code into the box, and then click enter to claim your rewards.
How do I get more codes for Grand Piece Online?
To get more codes for Grand Piece Online, you can follow their official Trello board for updates. New codes are also posted across the GPO social media channels. The easiest way to stay updated on new codes is to bookmark our codes list and check back daily for new updates.
Game Description
PC ONLY
Long awaited naval adventure experience.

Work towards your ideal build, discover hidden locations, and challenge difficult bosses while competing with others! Scavenge the lands for treasure and exotic fruits known to empower their eaters. Hunt the pirates, or side with them.

Perhaps you'll join a crew, or better yet, make one yourself.
2x logia rates are AUTOMATICALLY applied every friday-sunday

Miscellaneous controls:
M-Menu
Ctrl-Climb
P-Sit on ship
WW-Sprint
Explore other experiences on our Roblox game codes page to find your favorites. Check out our Roblox promo codes page for new outfits and other freebies for your in-game avatar.