Today's Octordle Answers (May 2022) – Today's Solution
We have the daily Octordle answers and a full list of all the previous historical solutions for the month!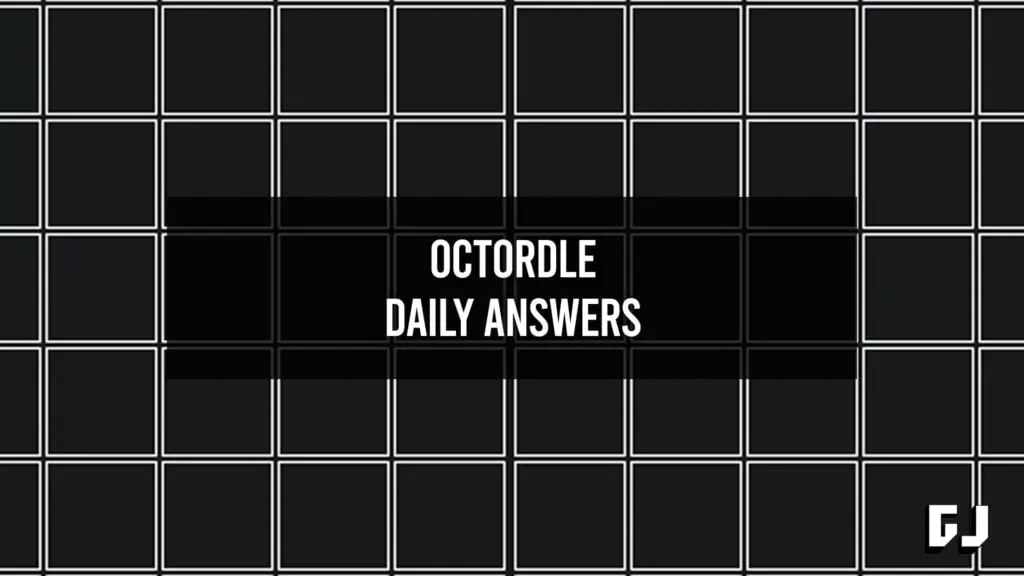 Octordle is a spinoff of the popular social word puzzle game that's taken over social media. Rather than six guesses, players get 13 tries to guess all eight Octordle words. As always, each guess needs to be a valid five-letter word. The game provides feedback as to correct and incorrect letters, as well as their placements. You can use these clues to make better-educated guesses.
Octordle is a step up in difficulty over the traditional game, so you may be having some trouble figuring out certain words. If that's the case, and you need some help, we've got you covered with this Octordle answers post. Below, you can find all the answers for today's puzzle, as well as solutions for previous days in case you want to check what other words were used recently.
Hints
Octordle can be one of the more challenging puzzle games to spring up since Wordle captivated audiences. After all, you're looking for not just one five-letter word but eight! Fortunately, you don't have to blindly try to answer the challenge. Instead, go into the game prepared with some of these helpful hints for each word:
What a volcano does.
A beautiful woman.
Using a strong dance rhythm.
Ability to do something well.
Charming or confident.
In a timid manner.
Hot chocolate, a popular drink.
Having knowledge of something.
Spoiler warning if you rather go into the puzzle blind: We hope you find these hints helpful and that they will give you a beginner's advantage as you attempt to tackle the daily puzzle. But if you get stumped and rather peek at the answers, you can find the complete list below.
Today's Octordle Answer
The Octordle answers for today, May 21, are ERUPT, BELLE, FUNKY, FLAIR, SUAVE, SHYLY, COCOA, and AWARE.
May Octordle Answers
Octordle #116 (May 20, 2022) – DAIRY, UNTIE, REPEL, RAMEN, SPACE, SOLAR, RUDDY, STUNG
Octordle #115 (May 19, 2022) – WORRY, BOAST, RAJAH, SPORE, PRANK, BERET, SOBER, NANNY
Octordle #114 (May 18, 2022) – TOAST, BROIL, LOGIN, WAXEN, STRUT, SHAKE, POSIT, LOAMY
Octordle #113 (May 17, 2022) – SPORT, SLUSH, BARON, SLANG, GLAZE, BATCH, READY, DROWN.
Octordle #112 (May 16, 2022) – ANGLE, EXTRA, CYBER, VOTER, TUTOR, ASSET, CRIED, SCAMP
Octordle #111 (May 15, 2022) – CORNY, STOIC, FLUME, LEAKY, SKUNK, SHOAL, MAFIA, MUSHY.
Octordle #110 (May 14, 2022) – SHOWN, ALOFT, DANDY, HARDY, DREAD, DITTO, REFIT, AWARE.
Octordle #109 (May 13, 2022) – ALTER, DEUCE, GIDDY, SPELL, FULLY, INLET, DIODE, AFIRE
Octordle #108 (May 12, 2022) – CHALK, DINER, FROTH, MACAW, GROWN, REHAB, NATAL, PRIME
Octordle #107 (May 11, 2022) – PUPAL, ROUND, SLICE, FELON, SHAPE, EYING, DIMLY, AROMA.
Octordle #106 (May 10, 2022) – REPLY, SOUND, VYING, SHOCK, LEASE, ROVER, STORY, BRUTE
Octordle #105 (May 9, 2022) – INEPT, DOUBT, TRICK, ZESTY, DOLLY, STONY, SLANG, SYRUP
Octordle #104 (May 8, 2022) – SISSY, TIBIA, KRILL, MAIZE, GUEST, GRAVE, PLACE, STICK.
Octordle #103 (May 7, 2022) – SPASM, BEGET, FLECK, ALOUD, DODGY, RUDER, STORE, REBUS
Octordle #102 (May 6, 2022) – BEACH, HOLLY, BRICK, BRUTE, CONIC, SLYLY, SINCE, PALSY.
Octordle #101 (May 5, 2022) – KITTY, UNFIT, ALIKE, BREAD, SHOOT, THINK, BLOND, and SPRING
Octordle #100 (May 4, 2022) – GROWL, EARLY, DANCE, CLOSE, STARK, BEECH, YEARN, BARON
Octordle #99 (May 3, 2022) – HYENA, SCOOP, PIZZA, TRIPE, CHEEK, EYING, SIREN, LOYAL
Octordle #98 (May 2, 2022) – JUICE, FAULT, ROGER, STORY, SYRUP, VOWEL, UNFIT, PREEN
Octordle #97 (May 1, 2022) – GLADE, CRANK, ROCKY, KNEEL, DEBUG, DAIRY, FUNNY, RELAY
April Octordle Answers
Octordle #96 (April 30, 2022) – OVERT, GLAND, AXIAL, SHIRT, OFFAL, SKIER, SUITE, GRILL
Octordle #95 (April 29, 2022) – ALLOY, UNMET, SANDY, MODEL, TROUT, BEECH, NEIGH, GAVEL
Octordle #94 (April 28, 2022) – BONGO, DREAM, CRAZE, FOIST, TOAST, PINCH, BERET, WATER
Octordle #93 (April 27, 2022) – BUTCH, GLINT, REVEL, TOKEN, GLAZE, ADOPT, SLOPE, AMISS
Octordle #92 (April 26, 2022) – INBOX, SLUNG, DICEY, BROKE, THESE, BAWDY, DULLY, DRAWN
Octordle #91 (April 25, 2022) – SPELL, FLUNG, ROGER, OTHER, VALVE, STONE, LOFTY, CACTI
Octordle #90 (April 24, 2022) – GROVE, OFTEN, SANDY, REACT, SNORE, CRAMP, GRACE, STUFF
Octordle #89 (April 23, 2022) – WACKY, FRILL, AGATE, JEWEL, DITTO, UPSET, GREED, BROAD
Octordle #88 (April 22, 2022) – EIGHT, EIGHT, EIGHT, EIGHT, EIGHT, EIGHT, EIGHT, EIGHT
Octordle #87 (April 21, 2022) – FALSE, PLUMP, VAPOR, THRUM, MOVER, SONAR, INDEX, TIBIA
Octordle #86 (April 20, 2022) – TASTY, CLOUD, CEDAR, AWARE, EAGER, LANCE, ERECT, MONEY
Octordle #85 (April 19, 2022) – DOWEL, DULLY, ADMIN, CLOUT, TRUNK, MOTIF, BRINK, OVARY
Octordle #84 (April 18, 2022) – HORSE, GIVEN, METRO, NAVAL, ANGLE, ELBOW, BREAK, ETHIC
Octordle #83 (April 17, 2022) – FLINT, OVARY, ALOOF, JOLLY, FRONT, FJORD, BRUSH, SWUNG
Octordle #82 (April 16, 2022) – PLIER, SHAKY, SERVE, BICEP, PATTY, SHADE, NATAL, GRIPE
Octordle #81 (April 15, 2022) – SCALE, PAPER, HUSKY, GROPE, HATCH, SIEVE, TRIPE, ANKLE
Octordle #80 (April 14, 2022) – STEAM, BYLAW, SWORD, DITTO, STOKE, BEVEL, EXALT, WRING
Octordle #79 (April 13, 2022) – OCTAL, POUTY, SCORN, SERVE, WHEAT, HASTY, AXIAL, DOGMA
Octordle #78 (April 12, 2022) – BOUGH, HOMER, WIMPY, WORRY, QUIRK, CARRY, RIDGE, SEPIA
Octordle #77 (April 11, 2022) – WREAK, WHICH, CUTIE, CRIER, DEVIL, FILLY, JUICY, ANVIL
Octordle #76 (April 10, 2022) – TRAIT, RADIO, BLUNT, SINCE, FLARE, KITTY, FUROR, BUILD
Octordle #75 (April 9, 2022) – QUEUE, BRUTE, FISHY, VIRAL, FLAKY, HAPPY, BUSHY, LAPSE
Octordle #74 (April 8, 2022) – PIPER, CORNY, SIXTH, DODGE, SHALL, CHIRP, STUNT, BROAD
Octordle #73 (April 7, 2022) – REARM, GAMER, DREAM, BENCH, FEMUR, SNACK, ANIME, POOCH
Octordle #72 (April 6, 2022) – FLEET, SLICE, BERRY, GRAPE, SLOPE, CRUMP, GAVEL, PANEL
Octordle #71 (April 5, 2022) – QUIRK, POUTY, MODEL, CHAOS, SCALD, ZONAL, SPARK, CHAFE
Octordle #70 (April 4, 2022) – ACTOR, AGREE, PIGGY, CANON, FOLLY, MINIM, HASTY, RASPY
Octordle #69 (April 3, 2022) – ATONE, SLURP, UPSET, JAUNT, SPICE, WHOLE, IDIOM, BINGO
Octordle #68 (April 2, 2022) – CRAWL, DRAWN, VIDEO, BRIAR, GROUP, SWEPT, CHASM, TEETH
Octordle #67 (April 1, 2022) – GROUP, TEPEE, DEMON, ADOBE, AWFUL, GLOOM, EJECT, STOLE
Octordle Answers FAQ
How to Play Octordle
Octordle is free to play on the official website. Players need to input a five-letter and press enter to submit their guess. Each player gets 13 total tries to try and solve all eight words of the day. The game provides feedback as to which letters are correct, as well as the positioning of those letters. Green letters mean the letters are in the correct spot, whereas yellow means the letter is correct but it's not in the right position.
What does the clock mean in Octordle?
The clock emoji in the results have baffled many players. But fear not, we have an answer for you. The clock refers to how many tries it took a player to guess a word. The game uses emojis to reveal how many guesses it took. Since, there are no 11, 12, or 13 emojis, the game uses a clock instead. In this instance, 1:00 refers to 13 and not the time.
Is Octordle timed?
No, Octordle fortunately isn't timed. Instead, you only have 13 guesses to get all of the words correct.
What do red letters mean in Octordle?
After finishing the game, you may notice red blocks if you didn't finish and correctly guess all the words. These red blocks signify that you failed to guess that word correctly.
When does Octordle Reset?
The Octordle daily puzzle resets every day at midnight. There's a countdown on the official website for the new daily. Players can also use play-free Octordle mode to play as much as they want.
For other related games, you may want to check out our Quordle answers and Nerdle answers posts..