Quordle Answers (May 2022)
A look at today's daily Quordle answer, as well as historical solutions from previous days.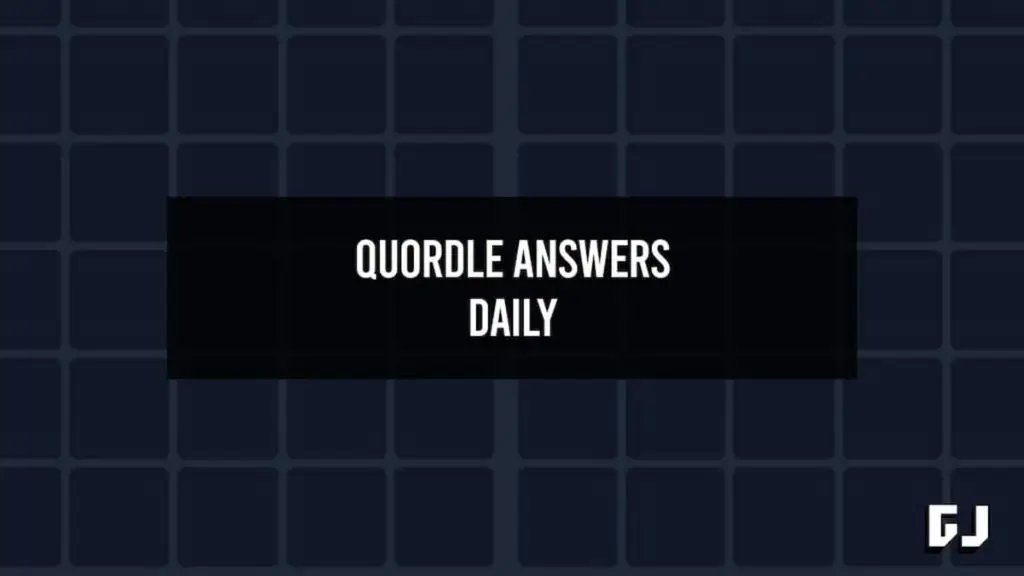 Four times the fun, four times the challenge. Quordle offers the same dose of dopamine and frustration as Wordle four times over. Developed by Freddie Meyer, the game challenges players not to guess one five-letter word but four five-letter words instead! With such a high difficulty level, we can't blame you for wanting to find the answers!
While it may sound easy on paper, Quordle is even more challenging than Wordle. Fortunately, if you are feeling stumped or just want to strategize, you've come to the right place. Gamer Journalist has put together our crackpot team of scientists and wordsmiths to help you find the answer!
While we could give you today's four words outright, where is the fun in that? Isn't it better to come up with the answer on your own first? After all, as the old saying goes, "If you give a man a fish, he'll eat for a day. But if you teach a fish, then you'll have a subspecies of mutant highly-intelligent fish."
Okay, maybe we're not the best at analogies, but below you'll find several hints to give you a leg up as well as the answers you seek, so spoiler warning.
Today's Quordle Hints
That's right, it's officially time for today's Quordle hints! Today's words remind us of extreme pain, a woman's dress, a fright, and cooking outdoors.
Still can't figure out what they are? Well, here are a few more hints:
The third word has two vowels
The fourth word has a repeating letter.
The first and second words have the same vowel.
Today's Quordle Answer
The Quordle answers for today, May 21, are AGONY, FROCK, SCARE, and GRILL.
May Quordle Answers
Quordle 116 (May 20) – QUAIL, DRIER, GIVEN, PLACE
Quordle 115 (May 19) – KOALA, BUILD, SCAMP, NOSEY
Quordle 114 (May 18) – PRONG, GRAPH, WITCH, VOILA
Quordle 113 (May 17) – FULLY, PURER, FISHY, KNOCK
Quordle 112 (May 16) – CHINA, FAINT, BONEY, GAFFE
Quordle 111 (May 15) – DELTA, ROTOR, QUOTE, TAPIR
Quordle 110 (May 14) – THIRD, SLIMY, SUNNY, AVIAN
Quordle 109 (May 13) – MOTEL, GROWL, WELCH, TUMOR
Quordle 108 (May 12) – WASTE, CRAVE, HAUNT, YOUNG
Quordle 107 ( May 11) – GLINT, OPIUM, WORSE, DROIT
Quordle 106 (May 10) – URINE, HEDGE, NORTH, LASSO
Quordle 105 (May 9) – RALPH, INGOT, COVET, AMITY
Quordle 104 (May 8) – BRAKE, AORTA, OPERA, HASTY
Quordle 103 (May 7) – WORDY, ORDER, SCOFF, SPOOL
Quordle 102 (May 6) – FLUFF, REARM, WEEDY, BROOK
Quordle 101 (May 5) – SONIC, CABIN, SHACK, BROOM
Quordle 100 (May 4) – VOILA, AWAKE, SILLY, PHONE
Quordle 99 (May 3) – EPOXY, THOSE, CANNY, TORUS
Quordle 98 (May 2) – VIGIL, SERUM, VAPID CRANE
Quordle 97 (May 1) – CLACK, CRIME, GENRE, HAREM
April Quordle Answers
Quordle 96 (April 30) – CLUNG, SYNOD, MELEE, CLANG
Quordle 95 (April 29) – NEVER, STAVE, LOUSE, QUALM
Quordle 94 (April 28) – FOYER, PRONE, STERN, SHEEN
Quordle 93 (April 27) – RABBI, SUING, RISEN, SWOOP
Quordle 92 (April 26) – DROLL, ROCKY, AMISS, SPICE
Quordle 91 (April 25) – PASTE, FATTY, TWICE, SIGHT
Quordle 90 (April 24) – SCENE, BLARE, BRINE, INFER
Quordle 89 (April 23) – CANON, FAUNA, FLEET, SMITH
Quordle 88 (April 22) – TUNIC, BIGOT, SWOON, POUCH
Quordle 87 (April 21) – CRISP, EXTRA, TROOP, SQUAD
Quordle 86 (April 20) – RERUN, HYDRO, MADLY, MOIST
Quordle 85 (April 19) – KNOCK, BADLY, ABLED, HARDY
Quordle 84 (April 18) – SPOIL, UNFIT, GRAZE, WHINE
Quordle 83 (April 17) – SNIDE, HENCE, ENSUE, GULCH
Quordle 82 (April 16) – BASIL, STUNK, CLASP, IDEAL
Quordle 81 (April 15) – RATTY, BADGE, AWFUL, FLUNG
Quordle 80 (April 14) – TREND, DEATH, LOWLY, LUSTY
Quordle 79 (April 13) – DRUNK, HAPPY, INANE, MAKER
Quordle 78 (April 12) – GROWN, ODDER, SCAMP, TACIT
Quordle 77 (April 11) – QUEER, BAWDY, OZONE, SPUNK
Quordle 76 (April 10) – LORRY, TOAST, CHEST, SPARK
Quordle 75 (April 9) – SULLY, ICILY, UNCLE, INTER
Quordle 74 (April 8) – REBUT, KNOCK, TONAL, SKULL
Quordle 73 (April 7) – GRIME, BLOOD, DEMUR, NIECE
Quordle 72 (April 6) – APHID, HOLLY, DEATH, BLEED
Quordle 71 (April 5) – BRUSH, ACORN, IRONY, JOINT
Quordle 70 (April 4) – PITHY, SHYLY, TRACK, HUMAN
Quordle 69 (April 3) – SPLIT, POKER, PARTY, REALM
Quordle 68 (April 2) – THORN, ANNOY, PUFFY, JAZZY
Quordle 67 (April 1) – MAUVE, MINOR, HANDY, GOUGE
Quordle Answers FAQ
How to Play
Quordle is free to play on the official website. Like the original game it was inspired by (Wordle), players get a number of guesses to find a hidden five-letter word. However, in this version, players get nine tries to do so, and there are four hidden words instead of just one. Green letters mean they are in the correct spot, and yellow letters mean it's a letter in the hidden word but it's in the wrong spot.
How to Share Results
After finishing a game of Quordle, you can tap on the Copy to Clipboard option or even choose to share it as an image. If you copy it to your clipboard, you can then press CTRL+V to share it somewhere, like on social media or a chat application such as Discord.