Wordscapes Daily Puzzle: Hint & Answers (December 2022)
Let's go on a Word Adventure!!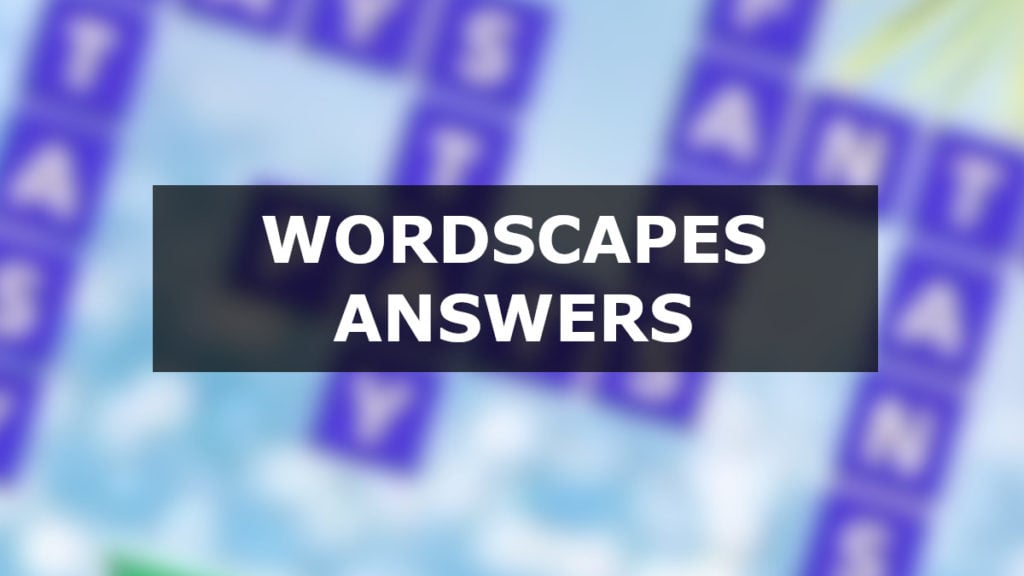 It's time to go on an adventure! I mean — of course — an adventure through words! Wordscapes is a mobile game published by PeopleFun. In the massively popular word game, players are given a set of five randomized letters that must then be turned into words. It's helpful that we see a crossword-like grid that contains all of the available words that can be made from the given letters.
In addition to the pre-set levels — which total over 6000 — there is a puzzle that's updated daily. Not only does the Wordscapes Daily Puzzle increase the number of letters at your disposal from five to seven, but it also increases the number of words you have to uncover. And, like with Wordle, there is only one puzzle per day! So, follow along for some hints, answers, and Wordscapes cheats!
Wordscapes Daily Puzzle Answers
We here at Gamer Journalist know first-hand how difficult these word games can be. There is no reason one should feel bad about seeking help every so often. To that end, we'll be providing clues and answers for each day's daily puzzle in Wordscapes! Don't worry: we won't immediately spoil the Wordscapes answers. We'll first offer hints or clues to help you figure it out on your own, then we'll spoil the answers.
So, here are the clues for December 4, 2022:
In the daily puzzle for December 4, 2022, these are the letters you're given: A, A, C, F, L, L, Y. There are 9 words that you must suss out if you would like to complete today's puzzle.
Resembling lace
To peel off the skin
Put something at rest
A mistake
A narrow street
A formal friend often used to refer to a country
A young cow
The main purpose of a phone
Fine-grained earth mixed with water to create pots
Losing one's balance
Today's Wordscapes Answers
The Wordscapes answers for December 4, are LACY, FLAY, ALLAY, FALLACY, ALLY, CALF, CALL, CLAY, and FALL.
Wordscapes Archive
December Wordscapes Answers
December 3: HEEL, HOLE, LONE, ONCE, HONE, NOEL, CLONE, HENCE, LEECH, ECHELON, CON, HEN, ONE, EEL, HOE, CONE, and ECHO.
December 2: PER, PET, TEE, REP, PEER, TEXT, TREE, PERT, EXERT, EXPERT, and PRETEXT
December 1: BIB, BRO, ION, NOR, RIB, ROB, BIN, ORB, BIO, BORN, IRON, ROBIN, and RIBBON.
November Wordscapes Answers
November 30: SUEDE, SEE, FED, FUSE, DUE, SUE, USE, DEFUSE, FEE.
November 29: TINT, TAN, TITAN, CAT, ACT, ANT, CAN, TIN, NIT, ANTI, TACT, TIC, INTACT, ATTIC, TAINT, TACIT
November 28: AVAIL, LIAR, VIRAL, RIVAL, LARVA, LAVA, RAIL, LAIR, VIAL, ARRIVAL.
November 27: BORN, BORE, ROBE, BROKEN, NOR, ONE, ORE, ROB, ORB, BRO, KNOB, BONK, BONE, BORNE, BROKE.
November 26: EMPRESS, SEEP, REPS, PRESS, SEES, PEER, SPERM, MERE, SPREE, SEER, SEEM, MESS
November 25: TONIC, VINO, INTO, ICON, COIN, NIT, ION, TON, TIC, CON, NOT, CONVICT, TIN, COT.
November 24: DELL, LED, DUAL, DUEL, ALE, ALL, LAD, DUE, DEAL, DULL, DALE, LADLE, ALLUDE.
November 23: TEMP, DRAMA, MAR, RAM, MAD, ARMADA, RAD, ARM, DAM
November 22: TEMP, PLUMMET, MUTE, MELT, ELM, LET, MET, MUM, EMU, PET, PUT, LUMP, MULE, PLUM, PELT, LUTE, PLUME.
November 21: RAT, TAR, CAR, ARC, ACT, AIR, ART, TIC, CAT, CART, CIRCA, CACTI, ARCTIC.
November 20: SHIRE, RELISH, RILE, SIRE, SIR, HEIR, ISLE, LIE, HIRE, HIS, SHE, HER, RISE, IRE.
November 19: STIR, IRIS, RIP, STRIP, ITS, PIT, SIP, SIR, SPIRIT, SIT, TIS, SPIT, TRIP, TIP
November 18: BRO, BORN, ROB, BORE, ONE, NOR, ORE, ORB, ERR, BONE, ZERO, ROBE, BORNE, BRONZE, REBORN, BRONZER, ZONE.
November 17: AIL, ILL, LEGAL, ALL, AGE, ALE, GAL, GEL, LAG, LEG, LIE, GILL, GALL, ILLEGAL, GALE, AGILE.
November 16: NUDE, FIEND, FEUD, FINE, FEND, DINE, FIND, UNIFIED, DUNE, FUND.
November 15: NUN, INN, UNISON, SON, SUN, SIN, ION, ONUS, NOUN, UNION.
November 14: SESSION, SIS, SIN, SON, ONE, NOISE, NOSE, ION, SINE.
November 13: CLAIM, MAIL, ALUM, CALM, LAM, CLAM, AIL, MIL, CAM, MICA, CALCIUM, AIM, and MAUL.
November 12: CREME, NEWER, WREN, WERE, MERE, CREW, WEE, CREWMEN, MEN, NEW, RENEW, EWE, REM.
November 11: RETIREE, RETIRE, TIER, RITE, TIRE, TEE, TIE, EERIE, ERR, IRE, TREE. Today's BONUS words are TRIER, ERE, EERIER, RETIE.
November 10: NONE, ANNOY, NEON, ONE, AYE, YON, NAN, ANY, NAY, YEN, YEA, ANYONE. Today's BONUS word is EON.
November 8: MOLT, YON, MONTH, HOLY, MYTH, TOY, THY, HYMN, OHM, LOT, NOT, TON, HOT, MONTHLY, ONLY, HOTLY, MOTH. Today's BONUS words are: LOTH, HOY, MOLY, NOM.
November 7: MARRY, YAM, TRY, RAT, RAY, MAY, MAT, ART, RAM, MAR, ARM, MARTYR, TRAM, MART, TRAY, TAR.
November 6: OUR, RUN, CON, OCCUR, NOR, CORN, CONCUR, URN.
November 5: AVENGE, NAVE, EVEN, EVE, GAVE, NAG, VAN, VANE, AGE, GEE, GENE, VEGAN.
November 4: PUG, TIP, TIGHT, GUT, HUG, THUG, HIT, UPTIGHT, HIP, HUT, PIT, PUT, TUG, GIT, PUTT, PIG.
November 3: CHI, HID, DOC, COD, RID, ROD, ORCHID, RICH, CHOIR, CHORD.
November 2: FLAG, FUNGAL, LUNG, GNU, NAG, FANG, FUN, FAN, FLU, LUG, LAG, GULF, GAL, FLUNG, GUN.
November 1: YIN, HINGE, NIGH, YEN, HEY, HEN, GIN, GEE, EYE, EYEING, HYGIENE, GENIE, GENE.
October Wordscapes Answers
October 31: SUE, SUN, NUCLEUS, LENS, UNCLE, CUE, CLUE, USE.
October 30: WOBBLE, ELBOW, BELOW, EBB, BLOB, LOBE, WOE, WEB, BOWL, LOW, OWL, LOB, BOW, BLOW, BOB, BLEW, OWE.
October 29: GOO, ROOF, FOR, ROOT, GOT, OFT, ROT, FRO, TOO, FOOT, GOOF, FOG, FORT, FORGO, FORGOT, FROG
October 28: OBLONG, BOON, LOON, LOGO, BOG, BOO, LOB, LOG, BLOG, GOO, LONG, BONG, GOON, BONGO, GLOB, BOLO.
October 27: BEREFT, BERET, FETE, FRET, TREE, BEER, FREE, BEEF, FEET, BET, BEE, REF, FEE, BEET, TEE, REEF.
October 26: KNEEL, KERNEL, KNEE, LEER, REEK, REEL, KEEL, KEEN, LEEK. Today's BONUS words are: LEKE.
October 25: ICON, COIN, SONIC, IONS, COUSIN, SCION, ONUS, CONS. Today's BONUS words are: ICONS, INCUS, COINS.
October 24: COFFEE, ONCE, FENCE, OFF, ONE, FOE, CONE, FEE, CON, OFFENCE.
October 23: LAT, TOT, TOTALLY, LAY, TOY, OAT, LOT, ALL, TALL, ALT, TOLL, ALTO, LOYAL, ALLOY, TOTAL.
October 22: DAMAGE, ADAGE, MAGE, DAME, MEG, MADE, GAME, DAM, AGE, GEM, MAG, MEGA, MEAD, MAD. Today's BONUS words are: GAMED, AGED, MED, GAD, GAM, EGAD.
October 21: SHOVEL, SHOVE, VOLE, SOLE, HOES, SHOE, HOLE, HOSE, HOVEL, LOVE, SOLVE, LOSE.
October 20: PROVOKE, PROVE, ROOK, POKER, ROPE, PERK, PORK, POOR, POKE, REP, PER, PRO, ORE, REPO, ROVE, PORE, OVER. Today's BONUS words are: ROE, OKE, REV
October 19: FLAT, ALT, AFLOAT, AFT, LOFT, FAT, LOT, OAT, LAT, LOAF, ALTO, OFT, FATAL, FLOAT, ALOFT. Today's BONUS words are: OAF, FOAL, TAO.
October 18: DEFT, DEFICIT, FETID, EDIT, TIDE, DICE, CITE, FIT, FED, ICE, DIET, EDICT, TIE, TIC. Today's BONUS words are: DIE, FIE, CITED, ICED, DIT, TIED, FICE, ETIC.
October 17: MOLT, MET, MOTEL, MOLE, ELM, LET, TOE, YET, TOY, MOTLEY, TOME, LOT, MELT.
October 16: LEAF, ELF, LEAN, NAN, ALE, FELL, ALL, LANE, FAN, FALL, FLEA, FALLEN, FLANNEL.
October 15: CEDE, DEN, SEEN, SCENE, END, ENDED, DENSE, SEE, DESCEND. Today's BONUS words are: ENDS, NEED, NEEDS, CEDED, CEDES, DENS, DEED, DEEDS.
October 14: BOG, BOGEY, YON, BONY, BEG, EGO, ONE, BYE, BOY, BYGONE, BONE, BONG, GONE, YEN. Today's BONUS words are: BEY, BEN, BONEY, GOBY, EON, GOB, OBEY, EBONY.
October 13: GRIM, GEE, MEG, GERM, MERGE, GEM, IRE, RIM, REM, RIG, GRIME, MERE, REGIME. Today's BONUS words are: MIRE, ERE, ERG, EMIGRE, EMIR, RIME.
October 12: COY, COG, GEL, EGO, LOG, LEG, GOO, GOOEY, ECOLOGY, COO, COOL, LOGO, CLOG. Today's BONUS words are: LOO, LEY, LYE, LOCO, CEL, CLOY, OGLE, LOGE, LOGY, OLEO, COOLY.
October 11: CORE, EURO, OUR, RUE, CONE, CUE, ORE, ONE, CON, CORN, RUN, NOR, URN, CONJURE, CRONE, OUNCE, ONCE, CURE.
October 10: TOY, YIN, NIT, TON, NOT, FIT, FIN, ION, TIN, YON, NOTIFY, FONT, INFO, INTO, OFT, NIFTY.
October 9: ERA, EAR, BARE, ARE, ERR, RIB, BAR, AIR, BRA, BEAR, IRE, BARRIER, RARER, RARE, REAR.
October 8: WHERE, THREW, THREE, THERE, WERE, THEE, ETHER, TREE, WHETHER, HERE.
October 7: EVER, DEER, VERSE, SEER, VEER, EVE, RED, DESERVE, SEE, SERVE, SEVER, VEERED, SEVERE.
October 6: SVELTE, SLEET, STEEL, ELVES, LEST, VETS, LETS, VEST, TEES, EELS, ELSE.
October 5: IDLE, DYE, EEL, EYELID, EYE, LIE, IDLY, LED, DELI, LID, YIELD.
October 4: MILE, MOBILE, LIME, BILE, MOLE, BOIL, LIMO, LOBE, LIMB, LIMBO. Today's BONUS word is BOLE.
October 3: DAB, BAN, BANANA, NAN, BANDANA, AND, NAB, BAD.
October 2: LOAN, RAN, LUNAR, ROAN, ORAL, OUR, OAR, NOR, URN, JAR, JOURNAL, RUN.
October 1: SECRETE, SECRET, SCREE, RESET, STEER, SEER, REST, SET, TERSE, SEE, ERECT, CREST, SECT, TREE, TEE. Today's BONUS words are: SERE, TEES, TREES, ERECTS, RESEE, REC, ERE.
September Wordscapes Answers
September 29 – BOGGLE, BLOG, EGO, GEL, LEG, EGG, GLOB, LOBE, BEG, BOG, GLOBE, LOG, LOB. Today's BONUS words are: GOB, BOLE, LOGE, OGLE.
September 28 – SLIM, MILE, MESS, SIMILE, ISLE, SLIME, MISSILE, SMILE, SIS, SIM, MIL, LIE, LESS, LIME, ELM. Today's BONUS words are: MISS, MILS, ISLES, SLIMS, MILES, SIMILES, SLIMES, SMILES, LIES, LEIS, LEI, SEMIS, SEMI, ISMS, ELMS, LIMES.
September 27 – DOZE, ODE, IDOLIZE, LIE, LED, LID, OIL, DELI, OLD, DOE, IDLE, IDOL, DOLE, LODE, OILED. Today's BONUS words are: OLDIE, DEL, ELD, ZED, LEI.
September 26 – CEDE, CUE, CRUDE, CREED, DUE, RED, REDUCE, DEUCE, DEER, and CURE. Today's BONUS words are: CRUD, CUD, CUED, CUR, CURD, CURED, ERE, ECRU, REC, REED, and RUED.
September 25 – bone, bore, born, borne, bro, err, nor, one, orb, ore, reborn, rob, and robe. Today's BONUS words are: ben, boner, and borer.
September 24 – SPICE, PIES, EPIC, SPEC, PICS, SPICY, SPECIFY, ICES. Today's BONUS words are: EPICS, PICE, YIPS, FICE, PECS.
September 23 – RILE, LIFE, FLIER, RIFLE, FIRE, REFILL, FELL, RIFE, FILE, FILL. Today's BONUS words are: FILLER, FILER, LIFER, RILL, RILLE, FRILL.
September 22 – ARC, CON, OAR, ORCA, CAN, RACOON, CORONA, ACORN, COCOA, RACCOON, NOR, ROAN, RAN, CORN, COCO, COO, CAR. Today's BONUS words are: COR, ORC, NARCO, COCA, CROC, CROON.
September 21 – SIR, SEE, SIRE, SUE, QUERIES, SURE, USER, RISE, SQUIRE, IRE, REUSE, RUE, USE, RUSE, SEER. Today's BONUS words are: IRES, RUES, ESQUIRE, RISQUE, ERE, QIS, SERE.
September 20 – RETURN, RERUN, TRUER, TUNER, RUNT, TRUE, ERR, RENT, TURN, URN, RUE, TEN, NUT, RUT, RUN, TUNE, NET, TERN. Today's BONUS words are: RUNE, TUN, TURNER
September 19 – HOST, MOOS, MOST, MOTH, SHOT, SOOT, SHOO, HOOT, MOOT, SHOOT, SOOTH, and SMOOTH.
September 18 – gnus, guns, guys, lugs, lung, slug, slung, snug, snugly, sung, and ugly.
September 17 – FIR, FITTER, FIT, TIE, IRE, REF, FIRE, RIFT, RIFE, RITE, TRITE, TIER, TIRE, FRET. Today's BONUS words are: TITRE, TITER, FIE.
September 16 – UTTERLY, UTTER, TRULY, LUTE, TURTLE, RUT, RELY, TRY, RULE, LET, RYE, RUE, YET, TRUE, LURE. Today's BONUS words are: LEY, LYE, YULE, LYRE, YURT, RULY, TREY.
September 15 – OUNCE, ONCE, CONE, CUE, CON, NUB, BONE, ONE, CUBE, BUN, BOUNCE, CUB, COB. Today's BONUS words are: BEN, BUNCO.
September 14 – ICE, CHIEF, FILE, FLY, LIFE, CHIEFLY, ELF, LIE, ICY, CHI, CHILE, CHEF, HEY. Today's BONUS words are: LEI, LEY, FEY, CEL, LICE, FIE, LYE, HIE, LICH, FICE, CLEF.
September 13 – PELTED, PELT, PLED, DEPLETE, PEEL, TEPEE, DELETE, DEEP, PEELED. Today's BONUS words are: TEED, PEED, EPEE, LEPT.
September 12 – AEGIS, AGES, GAVE, GIVE, SAGE, SAVE, VASE, VISA, VISAGE, and VISE. The Bonus words are: GIVES, VIES.
September 11 – ONCE, ONE, SCONE, CONFESS, EONS, CONES, FOES, SONS, NOSE, and ONES
September 10 – STALL, SLAT, LASTLY, SLAY, LAT, TALL, SLY, SAT, ALT, LAY, ALL, STAY, SAY, SALT, LAST
September 9 – ROTE, OVER, VETO, ROVE, VOTE, VOTER, TROVE, TORE, VORTEX, OVERT. Today's BONUS Words are VERT, VEXT.
September 8 – CADENCE, ACE, DEN, DANCE, ACNE, CEDE, END, CAD, CANE, DEAN, AND, CAN. Today's BONUS Words are ACED, ACNED, ACCEDE, CANED.
September 7 – SIRE, RIM, SKIM, SKI, SIM, SIR, REM, MIME, IRE, RISE, RISK, SMIRK, SKIER, SKIMMER, SIMMER. Today's BONUS Words are IRES, MIRE, MIRES, MIMES, RIMS, EMIR, EMIRS, MEM, MIKE, MIKES, IRK, IRKS, MIMERS.
September 6 – NOSE, ONES, SOON, ZONE, ZOOS, OOZE, EONS, OZONE, NOOSE, and SNOOZE
September 5 – Relay, Layer, Year, Ray, Rely, Era, Real, Lay, Rye, Are, Ear, Ale, AYearly, Yea, and Earl
September 4 – Bicycle, Icy, Cycle, Ice, Lie, Bile, and Bye. Bonus words: Bey, Cel, Ley, Lib, Lye
September 3 – Outdoors, Outdo, Dour, Rout, Root, Odor, Trod, Door, Rut, Rot, Rod, Dot, Our, Tour, Out, DUO, and Too.
September 2 – JURY, PREY, PURE, RUE, RYE, PER, PRY, REP, YEP, ERR, PURR, PURER, PERJURY, YUP. Today's BONUS Word is: PYRE.
September 1 – LARD, GRADUAL, AURA, GALA, DUAL, AURAL, GLAD, DRUG, DRAG, GRAD. Today's BONUS Words are: ALGA, RAGA, AGAR, DURAL, DURA, LAUD, GUARD.
August Wordscapes Answers
August 31 – MAR, ARM, ADO, ROD, ROAR, RAM, DAM, MAD, DORM, RAD, ROAD, RAMROD, ROAM, ARMOR, ARDOR. Today's BONUS Words are: MOD, DRAM.
August 30 – STRAY, STAR, RATS, ARTS, TRAY, ARTY, RAYS, STAY, ASTRAY. Today's BONUS Words are: SATAY, ARTSY, TARS, SATYR, TSAR.
August 29 – Loon, Roof, Nor, Forlorn, Fro, For, Loor, and Fool.
August 28 – jag, jar, rang, nag, jargon, ran, oar, rag, ago, jog, groan, roan, argon, and organ.
August 27 – USUALLY, USUAL, LAY, SULLY, SLY, SAY, ALL, SLAY. Today's BONUS words are SALLY, LUAU, ALLY
August 26 – FACTUAL, ACTUAL, FAULT, FAT, FATAL, FLAT, TALC, ACT, FACT, CULT, CAT, CALF, CUT, FLU, AFT, LAT, TAU, ALT. Today's BONUS words are CAUL, FLAUTA, TUFA.
August 25 – UNEASE, SEE, SEA, SUE, EASE, SEEN, ENSUE, SANE, USE.
August 24 – MARROW, ROAR, ARMOR, ROAM, WORM, MAW, MOW, ROW, OAR, RAM, MAR, ARM, ARROW, WARM, RAW, WAR.
August 23 – ARC, RACE, ACRE, CARE, ERA, CAR, NEAR, CRANE, EAR, ACE, ARE, CANE, EARN, RAN, ACNE, CAN. Today's BONUS word is: CANCER.
August 22 – ANY, APP, HAY, NAP, PAN, PAY, PUP, YUP, PAP, NAY, PUN, HAPPY, and UNHAPPY.
August 21 – ACE, AIR, ARC, ARE, CAR, CUE, EAR, ERA, ICE, RUE, IRE, CARE, CURE, RACE, RICE, ACRE, CIRQUE, and ACQUIRE.
August 20 – DENT, TENT, TEE, END, DEN, TENET, NETTED, TEN, TEEN, DETENTE, and NET. Today's BONUS words are NEED, TEED, TEND, TENTED.
August 19 – ODOR, OVER, RODE, ROVE, DOVE, DOE, RED, ROD, DOOR, ORE, ODE, OVERDO, REDO, DROVE, RODEO. Today's BONUS words are ROOD, ROE, ROVED, DOER, REV.
August 18 – RIDER, RIVER, DRIER, DRIVER, DIVE, DRIVE, DIVER, IRE, VIE, RED, ERR, RIDE, DIRE, RID. Today's BONUS words are REV, IRED, VIED, DEV, VID.
August 17 – BELIEVE, BILE, VILE, VEIL, EVIL, LIE, VIBE, BEE, EEL, EVE, LEVEE, LIVE, VIE. Today's BONUS words are BEVEL, LEI, VEE, LIB.
August 16 – DIVER, DRIED, DIVIDE, DRIVE, DIVE, VIE, IRE, RIDE, DID, DIVIDER, DIRE, RED, RID. Today's BONUS words are VIED, DIED, DIE, IRED,
August 15 – Sue, See, Cede, Due, Deuce, Suede, Seduce, Use, Cue, and Scud.
August 14 – FUR, HER, HUE, HUT, RUT, THE, RUE, ERR, REF, HURT, TRUE, TURF, FRET, HEFT, THRU, TRUER, and FURTHER.
August 13 – LAY, LIT, TAU, TIL, AIL, ALT, LAT, QUIT, TAIL, QUAIL, QUILT, LAITY, QUALITY.
August 12 – LINE, LIME, MILE, LIEN, LINEMEN, LINEN, MINE, NINE. BONUS words are MIEN, NEEM, LIMN.
August 11 – FISH, HIS, SHIN, FUN, FIN, SINUS, SUSHI, SUNFISH, FUSS, SHUN, SUN, SIN, SIS.
August 10 – SHRINK, SHIRK, IRKS, RISK, SINK, SKIN, SHIN, INKS, RINK. BONUS word is RINKS.
August 9 – ICE, CUBE, LIE, CLUE, LUBE, CUBICLE, CUB, BILE, BLUE, CLUB, CUBIC, CUE. Today's BONUS word is LICE.
August 8 – ERA, ERR, ARRIVE, REAR, AIR, ARE, EAR, RIVER, VIE, IRE, RAVE, and VIA
August 7 – EEL, LET, SET, SLEET, TEE, SEE, ELSE, TEST, SETTLE, LEST, STEEL.
August 6 – WETTER, TEE, TREE, TWEET, EWE, WEE, WET, WERE
August 5 – HEAL, AIL, LAW, AWHILE, AWE, ALE, LIE, WAIL, HEW, WHALE, WHILE, HAIL.
August 4 – ROT, ONTO, TOO, TOP, POOR, PORT, TROOP, TOON, PROTON, ROOT, OPT, NOR, TORN, NOT, PRO, POT. Today's BONUS Words are: POO, PRONTO, POON.
August 3 – TRUER, PURER, PERT, PURR, ERR, REP, PUT, PET, ERUPT, RUT, PER, RUPTURE, RUE, TRUE, PURE
August 2 – LEDGER, EDGER, ELDER, LEDGE, REEL, LEER, RED, EEL, GEL, GEE, DEER, LED, EDGE, GLEE, LEG. Today's BONUS words are: REED, GELD, DEL, ERG, GREED, GELDER.
August 1 – SINE, FINE, FINS, SEEN, SINS, SEES, SENSE, FEES, and FINESSE.
July Wordscapes Answers
July 31 – CAFE, FACE, FACT, FATE, FEAT, FETA, FACET, and AFFECT
July 30 – SUITE, SITE, SIT, TISSUE, SIS, USE, SUIT, TIS, ITS, TIE, SUE, SET, ISSUE. Today's hidden, BONUS words are: TIES, USES, SUITS, SUET, SITS, SETS, SITES, SUES, SUITES.
July 29 – EGO, GOES, GODDESS, GOD, ODD, DOG, ODE, DOSE, SOD, DODGE, DOE. Today's hidden, BONUS words are: GODS, ODDS, DOES, ODES, EGOS, DOSES, SODS, DOGS, SOS, DOGE, DOGES, DOSED, DODGES, GESSO.
July 28 – ROB, ORE, ZONE, BORNE, ONE, BONE, BRONZE, BORN, ORB, BORE, NOR, ZERO, ROBE, and BRO.
July 27 – ONCE, COP, CUP, COUPE, POUNCE, ONE, OUNCE, CUE, CON, NOPE, PUN, COPE, PEN, UPON, OPEN, CONE, and COUP. Today's BONUS words are: PEON, PONE, PUCE, EON, and PEC.
July 26 – TILE, EXIT, TEXT, TILT, LITE, ELITE, TEXTILE, EXILE, TITLE
July 25 – TAN, CAT, ACT, OAT, CANNOT, ANT, CANON, NAN, TON, CAN, COAT, TACO, NOT, COT, and CON
July 24 – MERE, SIR, SEEM, IRE, MIME, SIRE, REM, SEE, SIM, SEER, RISE, IMMERSE, RIM, and SIMMER
July 23 – BEDSIDE, BESIDE, BIDS, SIDE, SEED, DEED, EDDIES, BEDS, BEES, and DIED
July 22 – SEW, SIM, RIM, IRE, SIMMER, SWIM, RISE, WIRE, REM, MIME, WISE, SIR, SIRE, WISER, and SWIMMER.
July 21 – ITS, VISIT, VISITOR, VISOR, RIOT, SORT, SIR, ROT, SIT, STIR, TRIO, TIS, IRIS
July 20 – PROMPT, POP, POMP, ROT, POT, PRO, MOP, PORT, TOP, OPT, TROMP, PROM, PROP, and ROMP
July 19 – roof, gore, fore, ogre, forge, goof, forgo, forego, and frog. The three BONUS words are: ergo, goer, and gofer.
July 18 – Tee, Tree, Cite, Rice, Tire, Rite, Ice, Tier, Tic, Recite, Tie, Erect, and Ire
July 17 – dean, dens, ends, sadness, sand, sane, seas, sedan, and send
July 16 – luge, gee, ale, gale, age, eel, lag, gal, glee, lug, league, eagle, gel, glue, and leg
How to Unlock the Wordscapes Daily Puzzle?
If you're just getting started with Wordscapes, you won't be able to play the daily puzzle. In order to unlock the daily puzzle, you'll need to complete the SUNRISE block of levels, comprising of 12 levels. If you complete this initial gauntlet, you'll notice the daily puzzle is now accessible via the main menu.
How to Get Coins in Wordscapes?
In Wordscapes, you can earn coins by completing the main game's levels — not the daily puzzle. You can earn coins by doing a number of tasks in-game, such as finding bonus words or finishing a set of puzzles. Coins can then be used to purchase hints for a puzzle that you're particularly stuck on.
What are Wordscapes Bonus Words?
Bonus Words in Wordscapes are words that do not appear in the crossword. Sometimes, you may take a stab at a bonus word, but it won't be recognized by the in-game dictionary. This is, alas, by design. You can net one coin for every successful bonus word. See if you can guess some for yourself!
Can You Play Wordscapes on PC?
As of writing, the only means of playing Wordscapes on PC is through a virtual machine called Bluestacks, or via Chromebook's built-in Android emulator. It does not have an official port for PC.
How Many Levels are in Wordscapes?
There is — technically — an endless number of levels in Wordscapes. It has 6000 levels to start with, at which point you can play the Master Levels, of which there is no numerical limit.